*A Walmart gift card and information have been provided by CoverGirl. All thoughts are my own.*
I admit it. Since leaving my day job four years ago, I look at makeup differently. It used to be a must-have and part of my daily routine. But with three young kids and working from home, I don't always bother to put makeup on. If I leave the house, which in this bitterly cold winter in Minnesota isn't as often as I would like, it is my excuse to get out of my lounge clothes. I style an outfit that is comfortable but still chic. You'll typically see me with boots, skinny jeans or leggings and a long cozy top. I also love accessorizing with jewelry and warm scarves.
And I would never forget to finish this look off without makeup.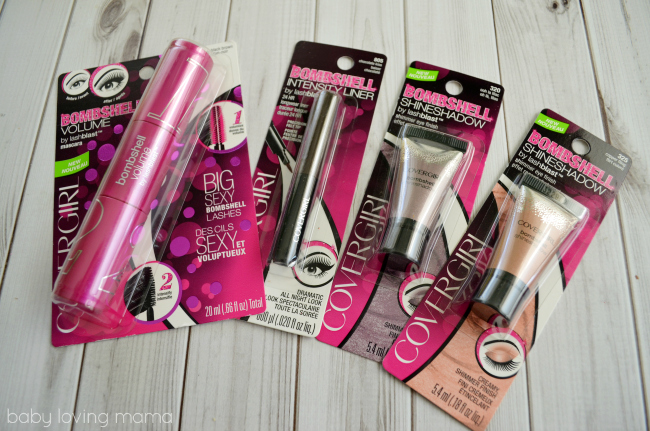 CoverGirl recently asked me to visit my local Walmart to check out their CoverGirl BOMBSHELL collection. An excuse to get out of the house AND spend some time on me creating a fun look?  Yes, please!
My eyes are my favorite area to concentrate on when applying makeup. I keep things simple in the other departments but my eyes are what really stand out and makes me feel confident. It works out well then that this CoverGirl collection focuses solely on the eyes with three distinct products.
COVERGIRL Bombshell Intensity Liner
Bombshell eyes can be intense – and your liner should live up to the look.
Intensity Liner is a precision felt tip pen with a smooth formula that glides on for a little or a lot of deep, dark sexy.
The longwear liner is available in two shades, Pitch Black Passion and Chocolate Kiss – both providing liquid intensity for 24 hours of sexy Bombshell eyes.
I went with chocolate kiss to keep my eyes a bit softer. I wanted to create a look that is simple and works well for every day.
COVERGIRL Bombshell Shine Shadow by LashBlast
With big sexy Bombshell volume, you need sexy shimmer and shine shadow that lasts all night. Shine Shadows feature reflective pigments that play with light to bring dimension to any look.
Available in six buildable, blendable, get-me-noticed shades, each shadow is easy to apply and leaves behind a creamy shimmer finish.
Shades: Ice Queen, Platinum Card, Color Me Money, Gold Goddess, Copper Fling and Ooh La Lilac
I'm a sucker for purple eye shadow. I love the color with my skin tone and blue eyes so I couldn't resist buying the Ooh La Lilac, but branched out by also picking up Copper Fling. In the pictures online, copper fling seems to have a pink hue but in person, this is definitely a beautiful copper color. It goes on easily and leaves a sparkling finish that really stands out. Love it.
COVERGIRL Bombshell Volume by LashBlast™ Mascara
Bombshell Volume mascara is now the best-selling CoverGirl product at Walmart*! This entirely new mascara experience, unlike any other two-step offering available, features a first-of-its-kind Boost System that has two brushes and two formulas for MEGA VOLUME and DRAMATIC INTENSITY.  It's time to take lashes way beyond big.  Shades: Very Black, Black, Black/Brown and Brown
Step 1: Extreme volume basecoat that loads on the volume with a big brush and mega-volumizing formula to thicken lashes; the result is volume that's even and clump-free
Step 2: Dark, intensifying topcoat that seals the look with a dark, smooth finish; the proprietary micro-thin lacquer offers maximum impact and lasting power in just one coat
I went with the black/brown combination to keep my eyes softer. I thought it would also pair well with my eyeliner in chocolate kiss and copper fling shadow.
My CoverGirl BOMSHELL LOOK
To create my look took under 5 mins. At the start of my video I'm only wearing a bit of mineral makeup and I finish off the look with some clear lip gloss. Everything else is simply three products from the  CoverGirl BOMBSHELL line.
COVERGIRL Bombshell Shine Shadow by LashBlast in Copper Fling ($6.94)
COVERGIRL Bombshell Intensity Liner in Chocolate Kiss ($6.94)
COVERGIRL Bombshell Volume by LashBlast™ Mascara in Black/Brown ($8.94)
I softened the top of my shine shadow above the crease and below the brow with a brush. I also used my finger to soften the lines of my liner. See my fun 30 second Flipagram video showing my step and final look!
All of these products were easy to use and really lasted all day. The shine shadow was very noticeable as that is the first thing to typically fade for me.
I really love the lilac shade as well!
When I put some effort into my appearance, I'm happier. When I'm showered and dressed with makeup on, I'm more productive in my day.  My husband certainly notices and is more likely to flirt with me. And even better, I feel good about myself.  So thanks CoverGirl for the reminder that spending a few minutes on my look on the outside can make me feel good on the inside.
BUY IT:
Look for CoverGirl BOMBSHELL products at retailers nationwide, including Walmart in stores and online so you can also try out this awesome collection.
WIN IT:
I have a $100 Walmart gift card to give away to one lucky reader so they can create their own CoverGirl BOMBSHELL look. (Check my girl Ellen's Orchid BOMBSHELL look and enter to win a $100 Walmart gift card there too!)
a Rafflecopter giveaway