I will admit it. I do not to make New Year's resolutions. Why? They are easy to make but often broken. I decided a while ago that instead of making resolutions at the start of a new year, I should make them when I have the initiative and willpower to follow through. But just because I don't make formal resolutions, doesn't mean I don't want to make smarter choices in the new year. This is especially true for my snacks. Too often I reach for something that sounds good, but doesn't necessarily fill me up or offer enough nutrients. Healthy snacking is an easy way to improve the quality any diet. I was recently invited to add prunes to a favorite snacking recipe to help  me stick with my healthy eating choices. And since I love granola, I decided to tweak my favorite granola recipe and came up with this Homemade Orange Plum Granola.
Normally my granola has dried fruits like cherries, raisins or cranberries. But I received Sunsweet® Amaz!n™ Diced Prunes in the mail and knew they'd be a perfect addition to granola. They are the Feel Good Fruit after all.
I was very surprised when I read the back of the package. It is amazing how much more sugar raisins and cranberries have than these diced plums. I find these  Amaz!n™ Diced Prunes just as sweet and tasty!
These diced plums are a great way to enjoy a nutritious snack. You can also enjoy them in the morning on your cereal or oatmeal, or even try them in a salad for lunch. One serving of Amaz!n Diced Prunes is a good source of fiber for only 100 calories. Add to your favorite snacking recipe for extra fiber and a fruit flavor boost. Studies suggest positive effects from certain nutrients in prunes (a.k.a. dried plums) including bone health, potassium, fiber and regularity.
I love adding a splash of citrus flavor to my granola and decided an orange would pair well with the dried plums. I used the zest from a single orange and some orange juice to create my flavorful granola!
Orange Plum Granola
Recipe Type:
Snack, Breakfast
Ingredients
3 cups old-fashioned oats
⅔ cup sliced almonds
1 tablespoon orange zest
½ teaspoon cinnamon
¼ teaspoon kosher salt
¼ cup coconut oil, melted (canola oil can be substituted)
3 tablespoons real honey
1 tablespoon real maple syrup
¼ orange juice
1 teaspoon pure vanilla extract
⅔ cup Sunsweet® Amaz!n™ Diced Prunes
Instructions
Preheat oven to 325 degrees F, making sure your racks are in the center of your oven.
In a large bowl mix oats, almonds, orange zest, cinnamon and salt together. Set aside.
In medium bowl whisk coconut oil, honey, maple syrup, orange juice and vanilla until combined.
Place the granola on a sheet tray with sides lined with parchment paper, silicone baking mat or sprayed with cooking spray Spread out evenly.
Bake for 15-18 minutes, stopping halfway through to stir granola and flatten again for even cooking.
Once removed from oven, immediately place granola in a bowl.
Toss in diced prunes. Cool before serving.
Store in airtight container for up to 2 weeks.
If you have never made a homemade granola before, it is surprisingly easy! My toddler helped me make this granola. He loved all of the opportunities to stir the ingredients together.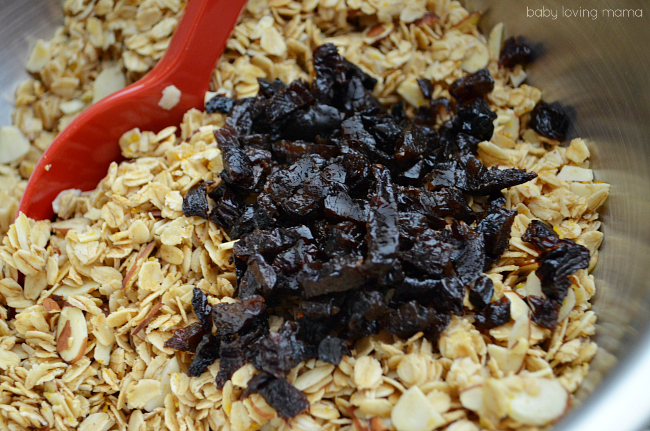 For a perfect afternoon snack, I paired my homemade granola with my favorite french vanilla yogurt. Not only was it a filling snack, but one I know was a smart choice.
This granola did not last more than two days in my house. My toddler wanted some in his yogurt too. (He loves this stuff!) I also liked snacking on it as is.  But my husband really polished it off, eating it in a bowl with milk for breakfast.

Have you been trying to make healthier snacking choices in the new year? What are your favorite healthy snacks?
I was selected for this opportunity as a member of Clever Girls and the content and opinions expressed here are all my own.