I've been feeling the passage of time a little quicker these days.  The music from my teen years is considered "classic" now.  Grown adults don't always know the cultural references from my childhood. My husband is turning 40 this year.  I used to think that was old. Now I just think it isn't that old at all.  And he isn't the only one that is turning 40 this year.
Pizza has always been a common food staple in my life. From birthday parties to pizza parties at school to Friday night at home with pizza and a movie. No matter how you eat it, pizza is a well loved classic meal that virtually everyone enjoys. When I think of pizza growing up, I think of fond memories with my family and friends, like my bestie Airin in the picture with me above. (We were 18 and waiting to rinse out our hair color. I chose red!) Life seemed so much simpler back then for so many reasons. Less responsibility for me of course, but also less technology.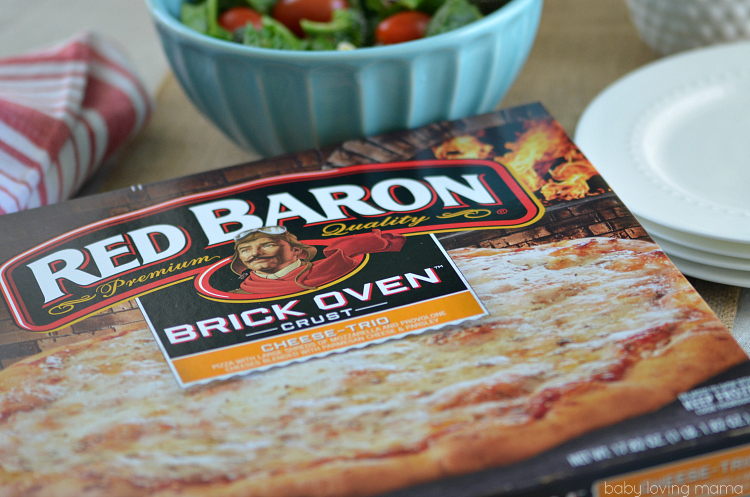 That is why it is so important for me even know to always have dinner with my family together. We use that time as a way to interact without any distractions. The television goes off and all phones and electronics are put away. It is just us and our conversations over food.
Pizza is a quick and loved choice in our house so I like to have a couple of frozen pizzas on hand for a quick dinner or lunch option. My husband chuckled when I said I was going to be partnering with Red Baron for this post. It is our regular frozen pizza choice and just a few weeks ago he was saying he thinks Red Baron makes the best frozen pizza. He thinks Red Baron must have heard us talking.
My husband and older two kids never get sick of pizza so they always get excited when they find out that is what we are having to eat.
I like these moments because it reminds me of my days growing up, eating dinner always as a family. It is togetherness. A time where we can talk about our day and enjoy each other's company. I know all too well already how fast this time goes by.
Red Baron pizzas start with the perfect crust that has a satisfying texture and bakes to a delicious golden brown. Topped with a robust sauce containing the right medley of herbs and spices, plus an abundance of delicious cheese. A pizza everyone can enjoy!
Celebrating 40 Years
Just like my husband, Red Baron is also turning 40 this year! Visit Red Baron to travel through time and enjoy the Timeless tradition of pizza night, as showcased with traditions, fads and trends from the four decades that Red Baron has been around.
Looking back through time, I saw so many familiar items from each decade. I really loved my viewfinder when I was a little kid!
And I swear if the two featured lights got together and made a baby, it would be that light in my picture below.  (No really. Take the general shape from the 70's and the glass/brass from 80's and you've got our chandelier from the 90's.)  Take a look here and see if you agree!
Help Red Baron celebrate 40 years by enjoying a family pizza night!
Giveaway
Enter to win a $20 Target (or Walmart) gift card to help you celebrate with your own family pizza night!

Edit