Unicorns and rainbows is killer combination, especially for a unicorn party! When I spotted a unicorn horn mold, I had to have it. I've had so much fun making mermaid party food that it was time to try out unicorns. These rainbow unicorn dessert cups feature blue mousse, marshmallows, whipped cream and sprinkles. But the star of this dessert are the chocolate rainbow unicorn horns! I'll show you how to make them for a showstopping unicorn party dessert.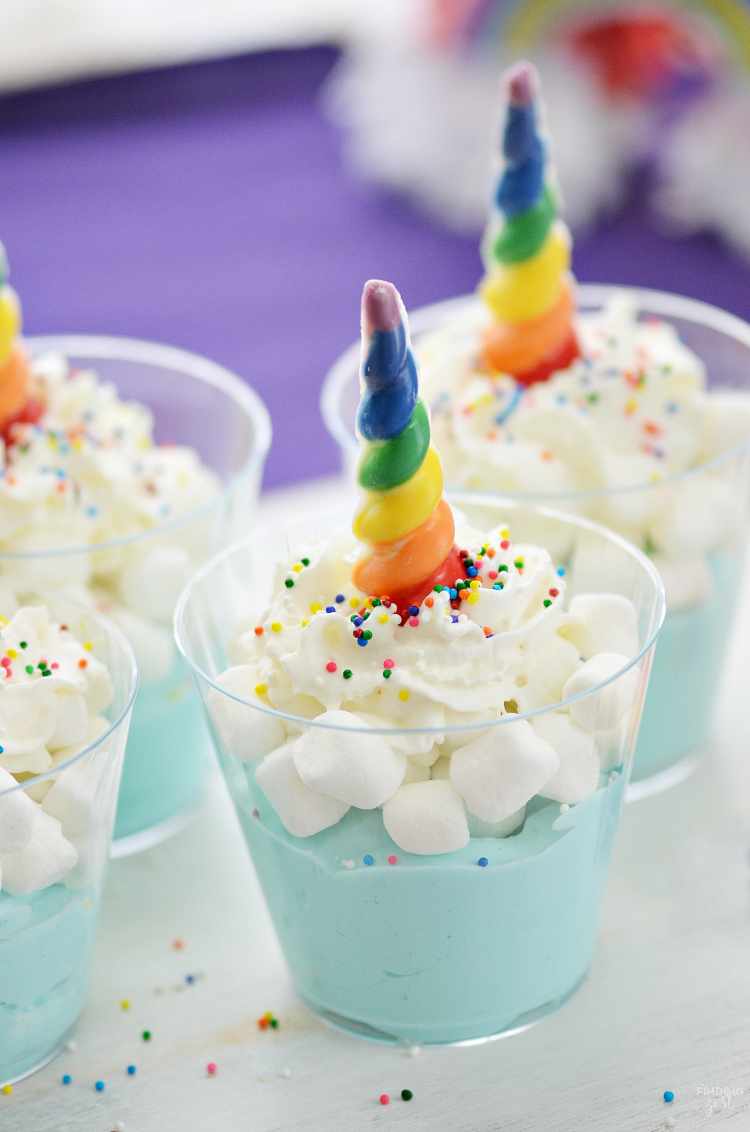 Rainbow Unicorn Supplies
To make these dessert cups, a unicorn horn mold and food safe brushes are a must. You'll also need candy melts in bright white, red, orange, yellow, green, royal blue and lavender. Candy melts can be purchased at local crafts stores but the unicorn chocolate mold I used is purchased from Amazon.
Grandmama's Goodies A152 Unicorn Horn Chocolate Candy Soap Mold with Exclusive Molding Instructions
Wilton 5-Piece Decorating Brush Set,1907-1352
Wilton 1911-1300 Candy Melts, Bright White
Wilton 1911-1512 Candy Melts, 12-Ounce, Lavender
You won't need very many of the colored candy melts so you'll have plenty for future projects left over.
How to Make Rainbow Unicorn Horns
The first step to making these unicorn dessert cups is making the chocolate rainbow unicorn horns. These chocolate horns can be made well in advance. I recommend melting one color at a time. You'll need just a few candy melts with a tiny bit of oil or shortening for a smooth finish. To create indigo I used equal parts royal blue and lavender candy melts.
Using a food safe brush, you'll want to paint on your colored chocolate for each ring of the horn. I started at the top and worked my way down. This is not hard but it does require some patience. Treat it like you would  if you were painting a picture.
Unicorn Horn Tip:
For this project, the colors of the unicorn horn are just in front. It only matters what it looks like on the outside. To make sure I was hitting the entire portion of each lined section, I kept holding the mold up to the light. If I went too far I used another of the food safe brushes to wipe it away.
You do not want any of the front portion to not be filled in with your colored melts or you will see white coming through when you fill the horns in. It is better to slightly overlap the colors than to have any gaps.
This project did take a bit of time but I got faster as I went. It reminded me of painting my nails. As I went around the mold with each color, the first ones I did were dried and were ready for the next layer.
Once your layers are dried (and they do dry very quickly at room temperature) you'll want to fill them in with white candy melts.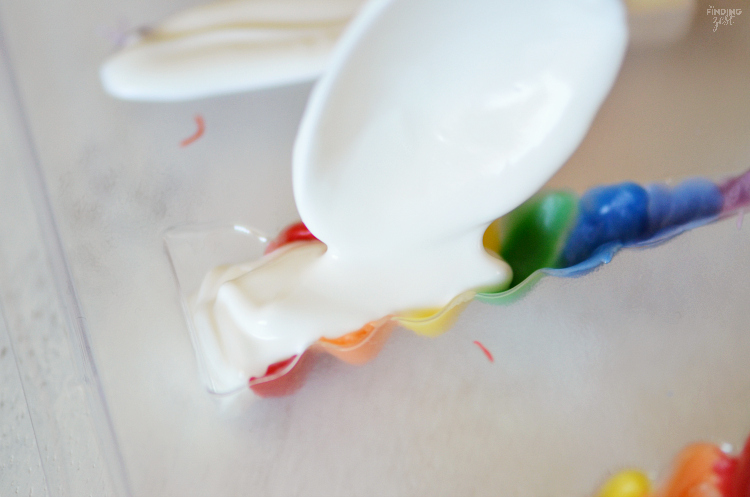 Fill your mold just to the top with bright white candy melts and tap to even out and remove air bubbles. For a completely smooth back, scrape excess chocolate with a straight edge.
The results are ridiculously colorful and fun, aren't they? I fell in love with these horns and couldn't wait to come up with a way to use them.
These are very sturdy rainbow chocolates. The horns will even stand up on their own. You'll still want to be careful when removing them from the mold so you don't break them.
When coming up with a dessert for these unicorn horns, I thought it would be fun to create a sky with clouds. To do that, I made a blue JELL-O mousse.
How to Make JELL-O Mousse 
This JELL-O mousse is a simple recipe with just a few ingredients. You'll need blue gelatin, cream cheese and COOL WHIP (or other whipped topping).  It sets up pretty fast so you can enjoy this no-bake dessert after an hour of refrigeration.
Assembling Rainbow Unicorn Dessert Cups
You can use glass parfait dishes or go with clear disposable cups like I did for easy cleanup. I decided to add some mini marshmallows to better support the unicorn horns so they could stand up straight. They would have sunk if I just added whipped cream.
You'll want to assemble these shortly before serving, especially if you use real whipped cream like I did. But if you plan on letting them sit for any length of time, I would use whipped topping instead. It is much more stable and won't melt as fast.
For even more color, you can top these rainbow unicorn party cups with your favorite sprinkles. I went with these rainbow nonpareils.
Rainbow Unicorn Dessert Cups
Author:
Emilie from FindingZest.com
Ingredients
½ cup bright white candy melts
4 to 10 candy melts in red, orange, yellow, green, royal blue and lavender
canola oil or shortening
1 cup boiling water
1 pkg. (0.6 oz.) JELL-O berry blue gelatin
1 pkg. (8 oz.) cream cheese, softened
1 tsp. vanilla
2 cups thawed COOL WHIP whipped topping
2⅔ cups mini marshmallows
whipped cream or whipped topping
sprinkles
Instructions
Melt candy melts and ½ teaspoon oil one at a time to create a rainbow ROYGBIV. (Indigo can be created with equal parts royal blue and lavender.) Heat just until melted and stir well.
Start with lavender at the tip of the horn and work your way down.
Paint each color one at a time using food safe brushes and chocolate unicorn mold.
Once dry, fill in unicorn horn mold with bright white candy melts.
Gently tap mold to even out chocolate and remove any air bubbles.
Scrap off excess chocolate with icing spatula or other straight edge.
Refrigerate 15 minutes or until fully set.
Turn over mold onto cutting board and gently pop out chocolate horns. Store in airtight container until needed
To make dessert cups, stir boiling water into gelatin in small bowl until completely dissolved. (Approximately two minutes.)
In large bowl, beat softened cream cheese and vanilla with electric mixer until fully combined.
Slowly add gelatin, beating until fully blended.
Fold in whipped topping. .
Spoon evenly into 8 clear 9 oz disposable cups or parfait dishes.
Refrigerate 1 hour or until firm.
Immediately before serving, top each cup with ⅓ cup mini marshmallows, whipped cream or cool whip and insert unicorn horn.
Add sprinkles.
I chose to make these dessert cups because they are super quick and easy. Since the unicorn horns take more time to make, this simple dessert helps balance that out. But these rainbow horns would look so cute on unicorn cupcakes!
Looking for more magical desserts?
Try my mermaid cake in a mug, mermaid ice cream dream shakes or this unicorn poop parfait!