This rainy day breakfast food art, inspired by Bruce's Big Storm by Ryan T. Higgins, is in partnership with Disney Book Group. All thoughts and ideas are my own.
Give this rainy day breakfast idea a try during your next storm! Learn how to make your own food art for kids featuring puffy cloud pancakes, blueberry rain, and an apple umbrella. Start the morning off right with this recipe inspired by the children's book, Bruce's Big Storm by Ryan T. Higgins. 
Have you read the Mother Bruce series yet? We love this collection of children's books and have shared some fun content for previous installments including a fun bear ornament and tasty bear claw pastry. The first book, Mother Bruce, has been a family favorite for years so I was happy to hear about the release of the newest title by Ryan T. Higgins, Bruce's Big Storm.
Bruce's Big Storm
In Bruce's Big Storm, #1 New York Times best-selling creator Ryan T. Higgins is back with a new Bruce book as the animals of Soggy Hollow contend with a wild storm!
When Bruce's Big Storm arrived all three of my kids wasted no time asking to read it. Even though my oldest boys are now 11 and 13, well outside the target age group, they still look forward to reading another Mother Bruce book as much as my 7 year old. That is a testament to just how much fun the series is to read because of its fun humor and beautiful illustrations. The Mother Bruce series is one my kids go to again and again!
Wesley loves this new book and enjoyed the usual grumpy demeanor of Bruce and silly antics of his woodland friends. Bruce's Big Storm is not only a great opportunity to talk about storms, which can be scary for some kids, but is a story of friendship, bravery and helping others. While Bruce might grumble about having a full house, it is these friends who help him rebuild when his house is damaged in the storm. This is a great opportunity to teach kids about the importance of community and assisting others in their time of need.
We received a red umbrella with our copy of Bruce's Big Storm. Wesley wanted to play with it in the house (why is that always the case?) but I shooed him outside instead. He had fun pretending he was going to blow away, just like in the book.
What do you like that do for fun on gloomy days with your kids? Chase away those blue with this rainy day food art.
Rainy Day Breakfast Ingredients
To make this breakfast you'll need just a few ingredients:
mini pancakes (we used frozen)
whipped cream or whipped topping
a small red apple
fresh blueberries
bendable straw (or other fruit)
You can easily swap out the fruit with your child's favorites and even replace the pancakes with bananas if desired.
How to Make Rainy Day Food Art
Place five mini pancakes at the top of a medium-sized plate. Overlap them to mimic clouds.
Using the back of a spoon, spread whipped cream over the top of the pancakes to create a fluffy look.
Cut a small apple in half before cutting the sides down to create a dome shape. Cut out triangular notches in the bottom to closely resemble an umbrella.
Trim both ends of a plastic bendable straw to create a handle for your umbrella.
Add fresh blueberries going down from your clouds for the "rain".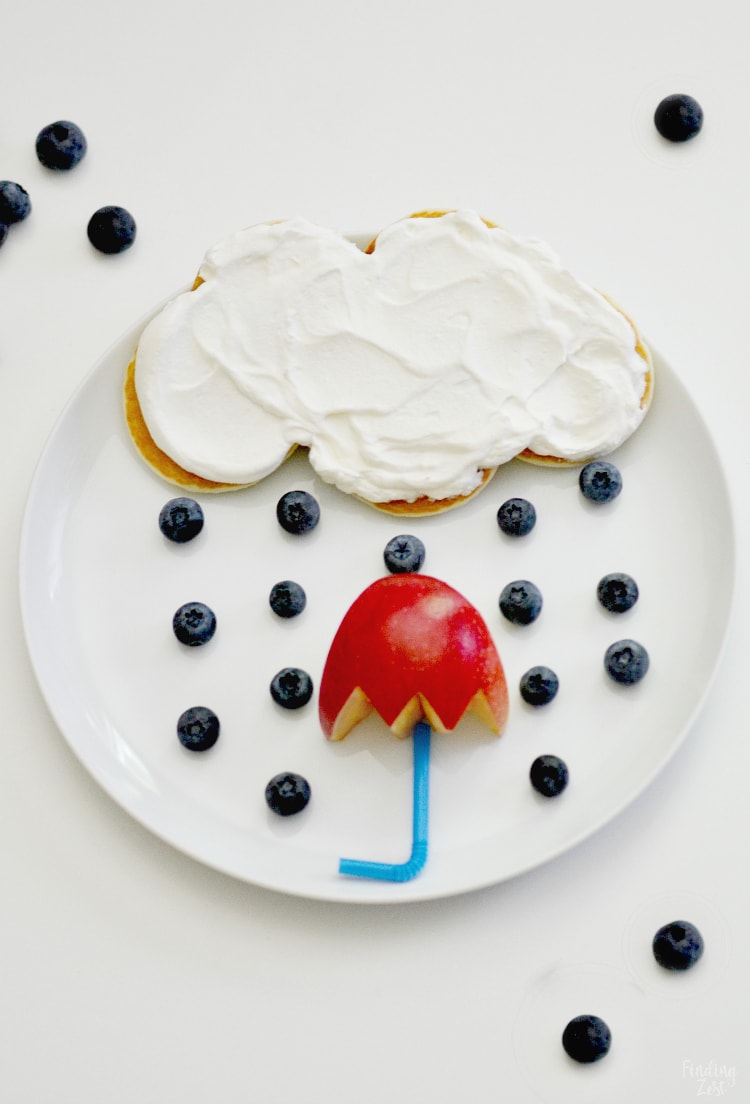 Surprise your child in the morning with this stormy breakfast or make it a rainy day activity for your kid to make instead.  Either way, it is sure to be a hit!
Rainy Day Breakfast Food Art
Chase away the rainy day blues with this kids food art! Kids will love this rainy day breakfast featuring mini pancake clouds, blueberry rain, and red apple umbrella! 
Ingredients
5

mini pancakes

1/4

cup

whipped cream

1/4

cup

blueberries

1/2

small red apple

plastic bendable straw
Instructions
On a medium plate, place 5 mini pancakes overlapping each other to resemble a cloud.

Spread whipped cream over the top of your pancakes using the back of a spoon to create a fluffy appearance.

Using a sharp knife, cut a small red apple in half.

Cut out a few small notches in the bottom and slice off the sides to create a dome shape.

Cut a bendable straw on both ends to create a handle for your umbrella and place it below the apple.

Add rows of blueberries coming down from the pancakes to mimic the rain.

Serve immediately.
Don't forget to pick up your copy of Bruce's Big Storm, now available at retailers nationwide so your child too can fall in love with the characters of Soggy Hollow.