Last month Wesley asked if we could make some smoothies and I wasn't about to say no. I have featured a Cherry Banana Smoothie before during the Mini Chef Monday series. Smoothies in general are such an easy way to introduce kids to the kitchen. And because they are a healthy option for breakfast or a snack they are a guilt-free choice.  I always like adding protein to our smoothies so this refreshing blueberry fruit smoothie has greek yogurt!
I love making smoothies with my kids because it is so fun to play around with different flavors. I almost always have ingredients on hand, too!
I always let Wes put all in the ingredients in the blender himself and press the button to blend. He loves watching the ingredients transform into a tasty drink.

Refreshing Blueberry Fruit Smoothie
Ingredients
1 cup frozen blueberries
⅔ cup vanilla or honey Greek yogurt
⅔ cup orange juice
2 cups ice
Instructions
Add all ingredient to blender.
Blend until combined.
Serve immediately.
This smoothie made three servings in our small juice glasses, perfect for all three of my kids. We garnished with a few frozen blueberries.
Because we added ice instead of our usual frozen banana, we found this smoothie to be extra frothy and refreshing!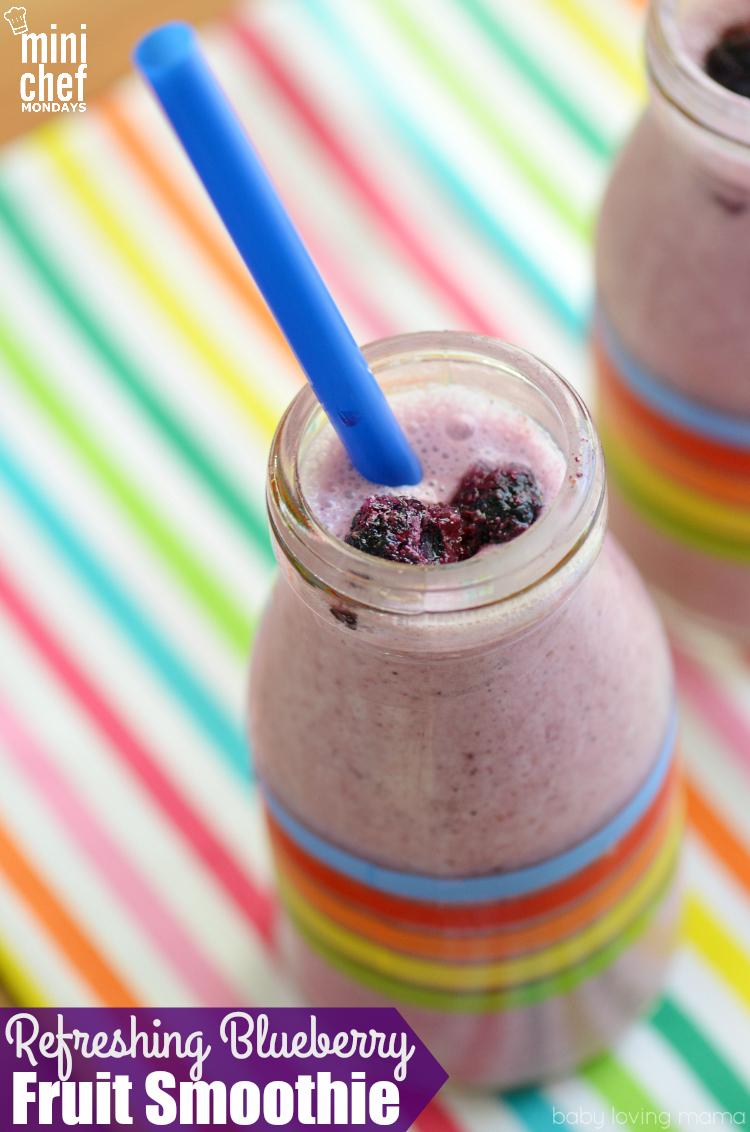 What have you been making in the kitchen with your mini chef?
I am hosting Mini Chef Mondays along with 11 fabulous bloggers! Read how Mini Chef Mondays started and how to link up!
Be sure to check out each of their Mini Chef posts as well. We would love it if you would share your Mini Chef posts with us each week, too! Follow along socially and join in on the fun by using our hashtag #MiniChefMondays to share creations your mini chef created in the kitchen. Additionally, if you have a kid-friendly recipe that kids can easily recreate, link up! Don't have a blog? Share the URL of your instagram photo in our linky below.