When it comes to Thanksgiving crafts, you might think of turkeys or pumpkins.  But if are looking for a fun craft for fall or Thanksgiving, this Scarecrow Paper Plate Craft is a great alternative!  Created by Christine Leeper, it features a sweet paper plate face with raffia hair and a construction paper hat. This scarecrow craft is sure to be a hit with your preschool or elementary aged kids!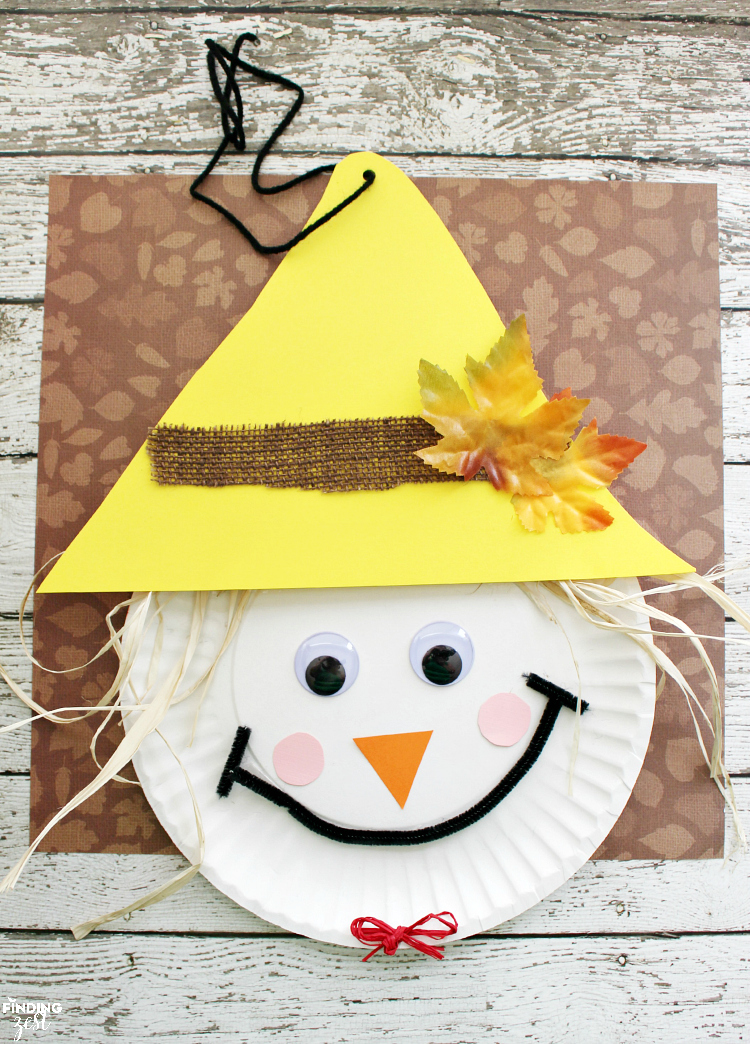 To start, you'll need a few basic supplies that you might already have on hand. While the burlap adds a nice texture, you can easily replace it with a fall colored ribbon or even wasabi tape.
Don't want to have to hunt for supplies? Amazon will ship most of your necessary supplies to you!
Scarecrow Paper Plate Craft Supplies
Pacon – Rainbow Super Value Construction Paper Ream, 45 lb, 9 x 12,
Creativity Street Chenille Stems/Pipe Cleaners 12 Inch x 6mm 100-Piece, Black
Offray Wired Edge Burlap Craft Ribbon, 1 1/2-Inch x 9-Feet, Natural
Natural Burlap Ribbon, 1-1/2″ X 10Yd
Bernat Handicrafter Cotton Yarn, Solids, Country Red, Single Ball
Joseph M. Stern Natural Raffia, 8-Ounce
Bassion 210 Pcs Assorted Mixed Fall Colored Artificial Maple Leaves for Weddings, Events
Glue on Round Moving Wiggly Wobbly Googly Eyes for Bear & Doll &
If anything seems to high prices, be sure to look around for a better deal. Prices can change often!
Scarecrow Paper Plate Craft Supplies:
Paper plate
2 leaves (artificial or real)
Small piece pink construction paper
Small piece orange construction paper
Light brown
raffia
(6-8 strands)
10 inch piece of black yarn or string
2 googly eyes (can be found at any craft store)
Glue stick
Scissors
Hole puncher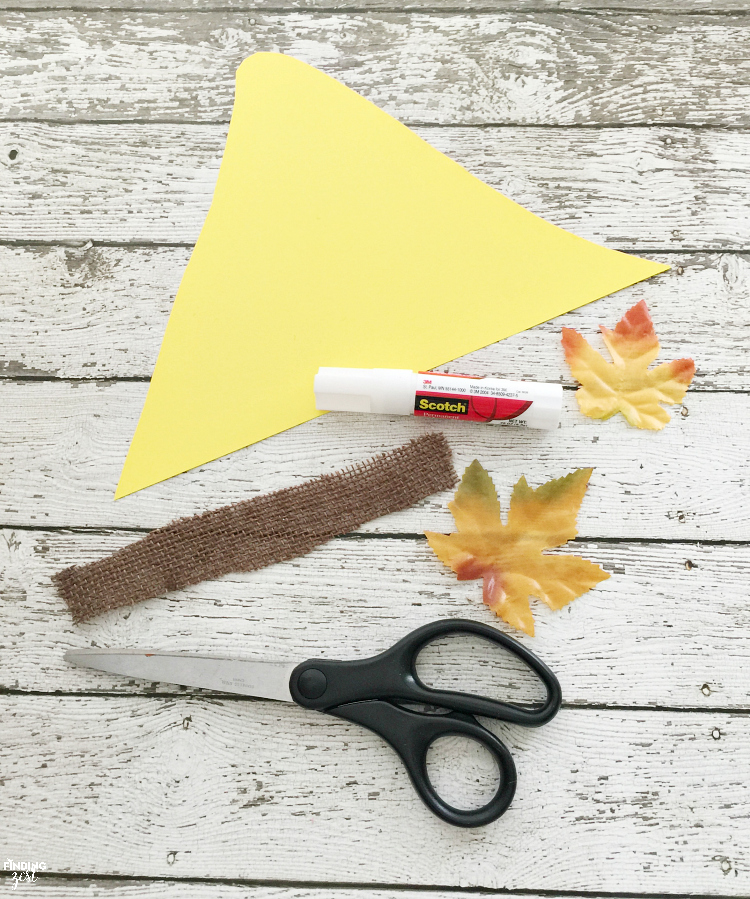 Assembly Directions:
1.   Using a scissors, cut out a large triangle shape from the yellow construction paper.
2.   Cut a strip of burlap that equals the length of the base of the triangle/hat.
3.   Using a glue stick, glue the burlap strip across the base of the triangle/hat.
4.   With the glue stick, glue the two leaves onto the piece of burlap. Press down firmly for 15 seconds. Set aside.
5.   Glue the 2 eyes onto the paper plate.
6.   Cut a small triangle from the orange construction paper. This will be the scarecrow nose. With the glue stick, glue it onto the paper plate.
7.   Cut two small circles from the pink construction paper, about the size of a quarter each.
8.   Glue the two circles onto the paper plate on each side of the triangle nose to resemble rosy cheeks.
9.   Cut two 1 inch pieces from the black pipe cleaner.
10.  With the glue stick, glue the long piece of pipe cleaner onto the paper plate for the scarecrow smile.
11.   Glue both 1 inch pieces of the black pipe cleaner to each end of the smile.
12.   On both upper corners of the paper plate apply glue from the glue stick and attach 3 to 4 strands of raffia on each side. This will be the hair for the scarecrow.
13.   Apply glue on the upper part of the paper plate and firmly press the hat down on it. Hold for 20 seconds.
14.   Optional: tie a small red bow out of string or yarn and glue it to the bottom center of the plate.
15.   Using a hole puncher, punch a hole at the very top of the scarecrow hat.
16.   Insert the piece of black yarn through the hole and tie it. Hang on your favorite door and enjoy!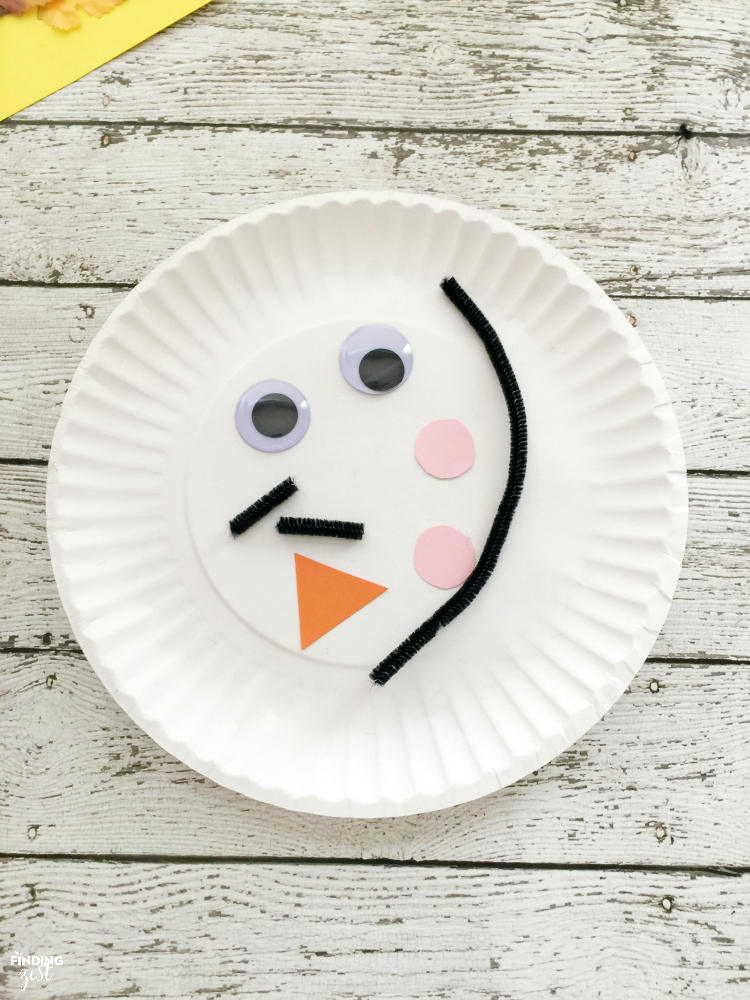 This scarecrow paper plate craft is a perfect way to celebrate fall and is a fun activity for kids!
While this craft may have a lot of steps, the scarecrow is quite easy to make and is good for fine motor skills in young children.
Happy Thanksgiving!