Make your own St. Patrick's Day decorations with this easy DIY shamrock wreath! This yarn wreath features fluffy white yarn along with glitter shamrock and gold coin embellishments that can be purchased from the dollar store. You'll love this quick and inexpensive shamrock wreath craft for St. Patrick's Day!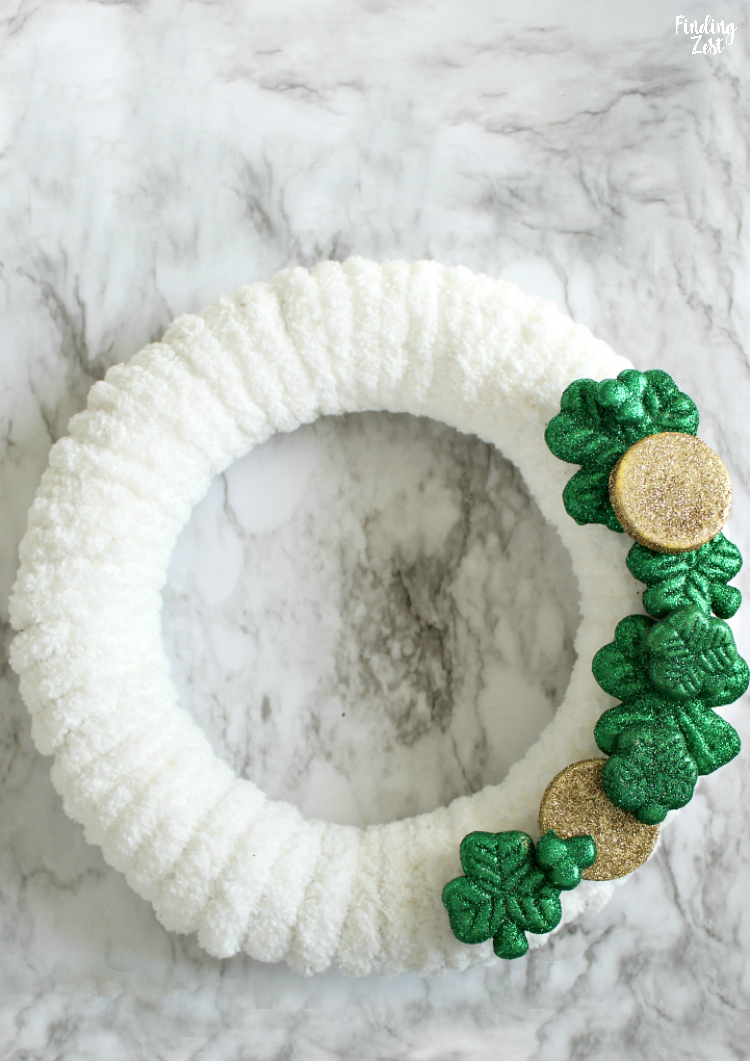 Since I don't decorate my whole house for this holiday, I appreciate a few good DIY St. Patrick's day decorations like this yarn wreath. It only takes a few minutes to put together and can be used year after year.
Supplies for Shamrock Yarn Wreath
For this St. Patrick's Day craft, you can find many of the supplies at your local dollar store. The green foam wreath form and shamrock foam scatter can be found at Dollar Tree. For the white yarn you'll want to look for super chunky, something that would be easy to hand knit if you want to achieve this same look.
How to Make a Shamrock Wreath
To make this shamrock wreath you'll want to start by heating up your glue gun. Then add a generous dab of glue to the end of your white chunky yarn. Press it firmly to the inside of the wreath form. Allow to dry thoroughly. You can now start wrapping the yarn around the wreath form. Wrap tightly. Once the entire wreath is fully covered, trim off any extra yarn and secure the end with additional hot glue. Glue the last end to the inside of the wreath. You can follow these simple instructions as the base for a yarn wreath for any occasion.
Arrange your St. Patrick's Day clovers and coins so you can decide how you want them to look.
Once you are satisfied, add your embellishments one by on to corner of the wreath, securing them with your hot glue as you go. Be generous as they will need a decent amount to adhere well.
Once everything is dry you can add ribbon for hanging or display as is.
That is all there is to making this beautiful shamrock yarn wreath. This St. Patrick's Day wreath is the perfect way to show a little Irish spirit without being over-the-top. I love dollar store crafts, don't you?
St. Patrick's Day Crafts
Looking for more St. Patrick's Day Crafts? Check these out: