This is a sponsored post for SheSpeaks/Rubbermaid. All thoughts are my own!
With spring comes so much more affordable fresh produce. I love stocking up at my local bulk warehouse store for the best prices! It allows my family a wider variety of fruits and we don't run out of them right away. Perfect for making fruit recipes like this Strawberry Pineapple Smoothie!
If you caught my Very Berry Salsa recipe last year, you might remember me talking about my Rubbermaid FreshWorks. My mom surprised me with the medium container after I complained how fast my strawberries go bad.  Buying in bulk is certainly convenient and more affordable but unfortunately certain fruits and veggies don't last long. I've had a full set for over a year and use them all the time!
Rubbermaid FreshWorks come in three different sizes to hold all types of produce including:
Small (2.5 Cups): Ideal for small berries.
Medium (6.3 Cups): Perfect for strawberries.
Large (17.3 Cups): Optimal for leafy greens.
They can be purchased individually or as a set.
How does it work?
FreshWorks is a food storage container that uses patented FreshVentTM technology to keep produce fresher up to 80%* longer than traditional produce packaging. FreshVent regulates the flow of oxygen and carbon dioxide to create the optimal environment so produce stays nearly as fresh as the day it was picked, while the CrispTrayTM helps reduce moisture and spoilage.
These containers really do extend the life of my produce. Strawberries last several days longer in their peak condition for us! I also like that the containers can nest and have a deeper top so I can really load the containers up!
 Note: For best results, do not cut or rinse produce before storing in FreshWorks and make sure to remove existing produce packaging.
Since I loaded up on strawberries last week, I decided to make a refreshing Strawberry Pineapple Smoothie to enjoy with my youngest son for breakfast.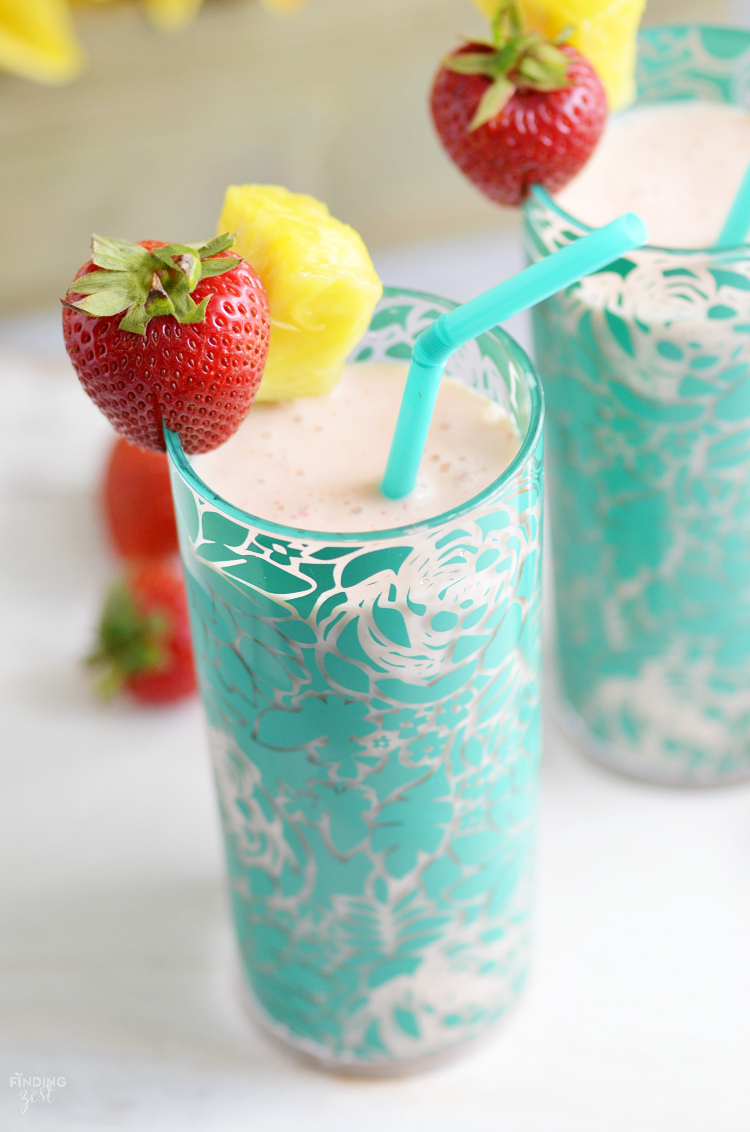 This is such a quick and easy recipe for busy mornings, loaded with nutrients and protein! My little guy loved it.
Strawberry Pineapple Smoothie
Recipe Type:
Drink/Breakfast
Ingredients
1 cup greek yogurt
¼ cup milk
1 medium banana, frozen
1 cup pineapple, fresh or frozen
1 cup strawberries, fresh or frozen
Instructions
Blend all ingredients together until smooth.
Pour into glasses and garnish with additional fruit if desired.
I don't enjoy going to the store often, but I do enjoy having fresh produce longer. Thanks to Rubbermaid FreshWorks my family can have a wider variety of fruits and vegetables available!
Giveaway:
I have one 3-piece set of Rubbermaid FreshWorks to give away to one of my lucky readers. This is a $27 value!
*Based on strawberries in FreshWorks™ containers vs. store packaging. Results may vary depending upon produce and use.