Love bowtie pasta salad? Me too! I think farfelle pasta also known as butterfly or bowtie pasta makes for a very pretty pasta salad when paired with lots of colorful vegetables. This bowtie pasta salad will blow your mind when you taste the flavor in this creamy pasta salad dressing without mayo. It was the perfect side dish to bring to the teachers at school for a potluck during conferences recently.
Creamy Pasta Salad Dressing
Many pasta salads use Italian dressing for their zesty flavor like this tri color pasta salad or this Italian pasta salad. But did you know you can mix it with another dressing to make it both creamy and loaded with flavor? Simply use equal parts Italian dressing and Caesar dressing and you have an amazing pasta salad dressing! Add in some grated Parmesean cheese to take the flavor over the top.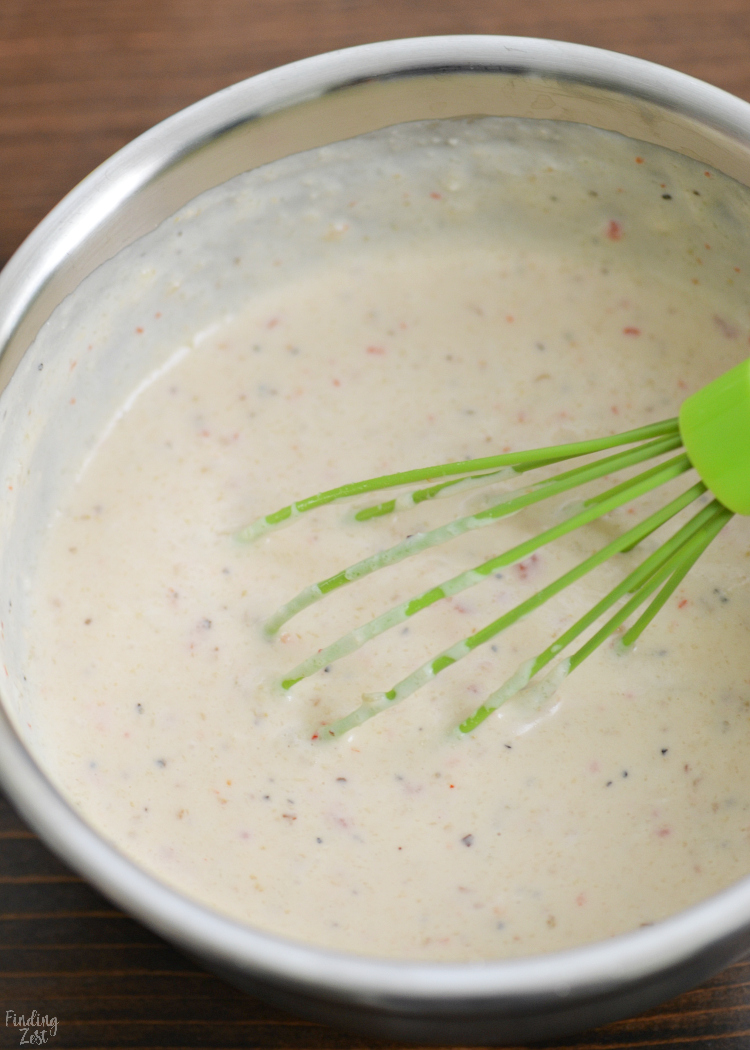 Bowtie Pasta Salad Ingredients
This bowtie pasta salad can be changed up to fit your personal preferences. I used peppers, green onion, cucumbers and tomatoes for mine but you can substitute other vegetables like broccoli and add other favorite cold pasta salad ingredients like cheese, green olives or pepperoni.
Mini Bow Tie Pasta Salad
To make it a bit easier to eat I like to use mini farfelle in my bowtie pasta salad recipes. Have you ever tried it in a pasta salad before? It works great for kids and to get more of the pasta salad flavors in a single bite.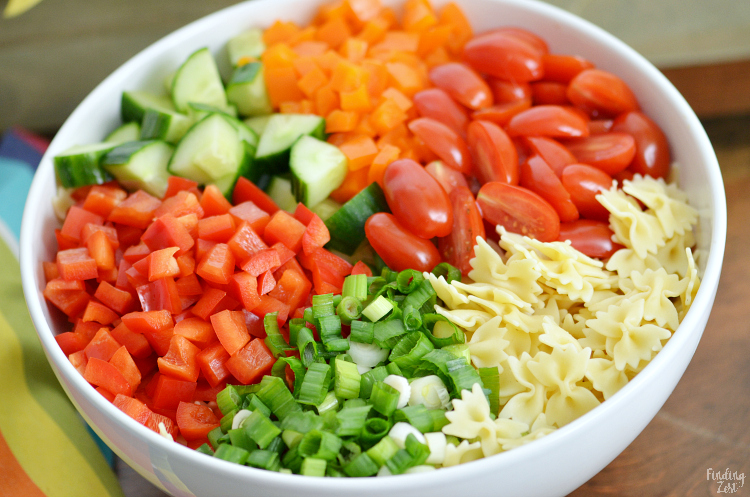 Pasta Salad Tip:
Want to prepare your pasta in advance to save time later? You can! Simply cook, rinse thoroughly with cold water, let air dry and then store in a ziploc bag or airtight container in your fridge up to a few days ahead of time.  If you start with all cold ingredients, including your dressing and pasta, you don't need to let your prepared salad sit as long in the refrigerator before serving. You can also cut up the other vegetables a day in advance, although I recommend waiting on the tomatoes until the day you serve it.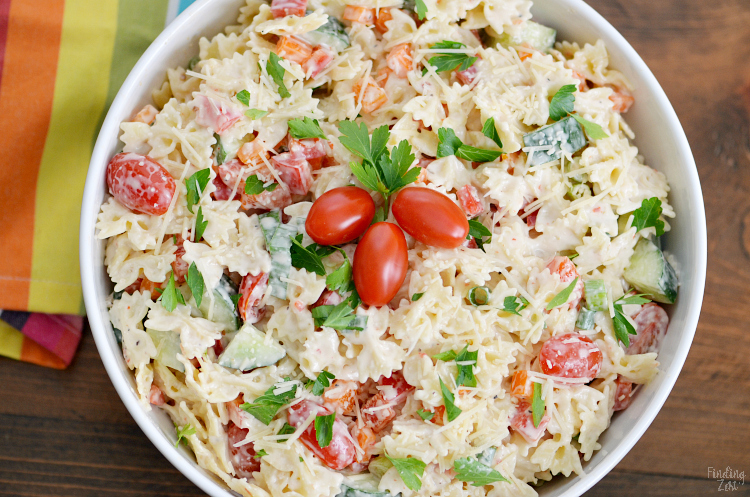 Creamy Bowtie Pasta Salad
Author:
Emilie at FindingZest.com
Ingredients
1 pound bowtie or mini bowtie (farfelle) pasta
1 medium orange or yellow pepper, chopped
1 medium red pepper, chopped
2 cups sliced and quartered english cucumber
½ cup sliced green onion
1 cup cherry tomatoes, cut in half
1 cup Italian dressing
1 cup Caesar dressing
½ cup grated Parmesan cheese
extra cherry tomatoes, fresh parsley (chopped), shredded Parmesan for garnish (optional)
Instructions
Cook pasta according to package directions for al dente. Immediately rinse in cold water.
In medium bowl whisk dressings and grated Parmesan cheese until well combined.
In extra large bowl mix together pasta, vegetables and dressing.
Pour into serving bowl and top with fresh parsley, shredded Parmesan and cherry tomatoes (if desired.)
Refrigerate at least four hours before serving.
This easy pasta salad recipe feeds a crowd and will be a hit at your next cookout or celebration. Serve it with these
grilled pork chops
and a refreshing glass of
limeade
for some great tastes of summer.
Trust me, guests will love this zesty pasta salad. It was hard to keep my hands off it.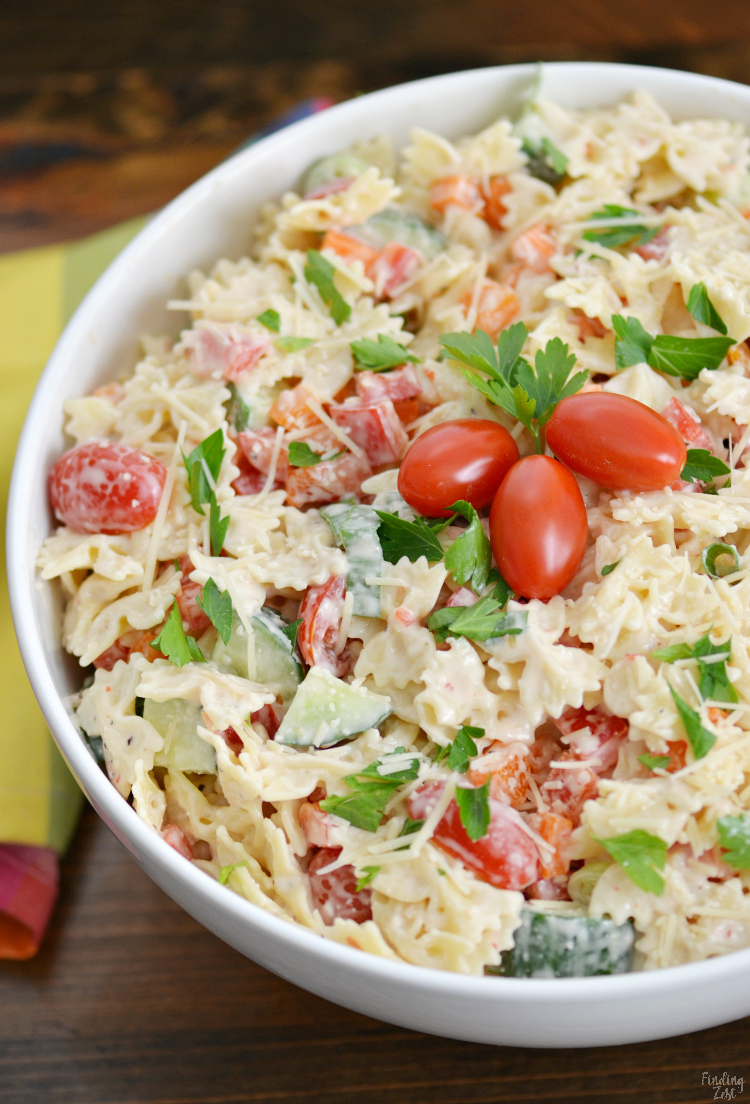 What is your favorite creamy pasta salad recipe?