When I think of baking for the holidays, I usually think of sugar cookies for the Christmas season and pumpkin pies for Thanksgiving. But who says you can't decorate some fun cookies for Thanksgiving too? When it comes to baking cookies, I say the more the merrier! I love these Turkey Sugar Cookies created by Jill Schultz and inspired by these turkey peanut butter cookies from Bake at 350.  They are colorful and just plain fun.  Imagine showing up to a Thanksgiving get together with these adorable turkeys in tow?  As an added bonus, they would work great as fun activity for kids. Jill gave each of her young kids a cookie to decorate and they loved it!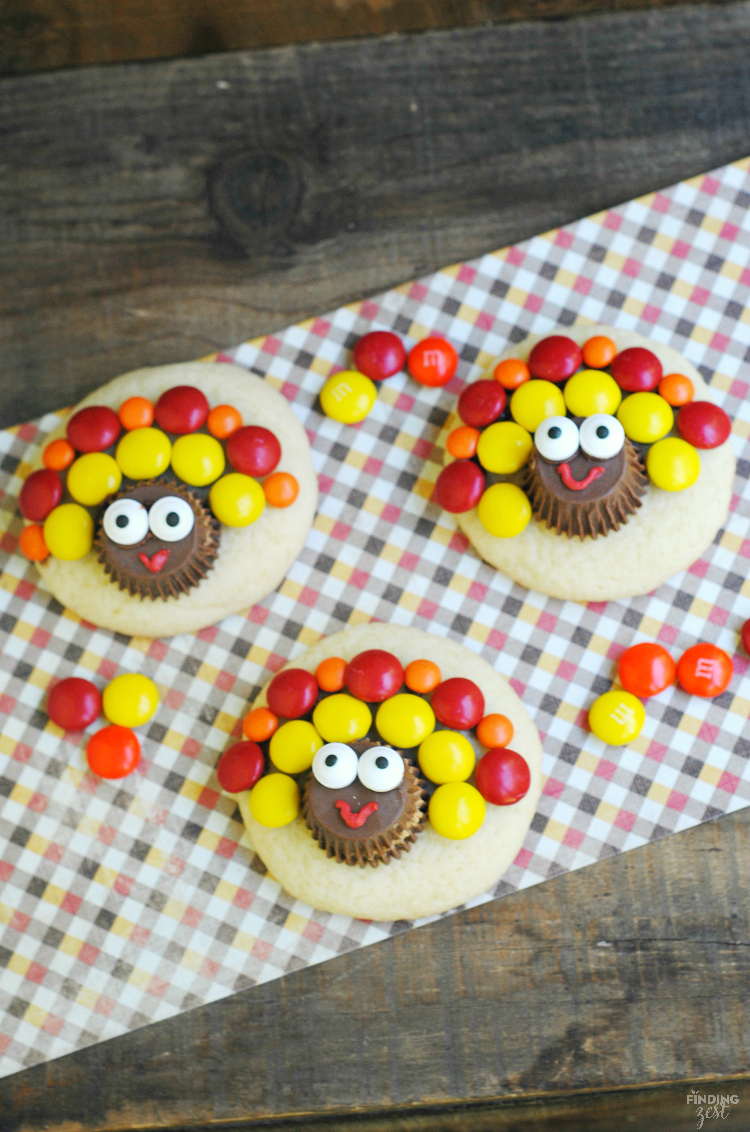 Because this recipe uses a lot of mixes and all ready made products, it is an easy way to focus on the decorating and less on the actual baking. Feel free to change things up to suite your family and your schedule. You can swap out your favorite cookie recipe or even consider purchasing plain sugar cookies from your grocery store bakery to make it even more convenient.

Turkey Sugar Cookies
Author:
Jill Schultz, Inspired by Bake at 350 Degrees
Ingredients
1 package of Betty Crocker sugar cookie mix
1 package of Reese's Mini Peanut Butter Cups
Chocolate frosting
1 large package of M&M's
1 package of Reese's Pieces Baking Bits (the only store I could find these was Walmart) – optional
toothpick
small sandwich baggie
¼ C. Wilton red candy melts
Wilton small candy eyes
Instructions
Preheat the oven to 350 degrees and line your baking sheets with parchment paper.
Mix the Betty Crocker sugar cookie dough according to package directions (1 stick of butter softened and 1 egg) and place the dough in the fridge for about 20 minutes to set up.
Remove the dough from the fridge and use a small cookie scoop to scoop the dough and then roll into even balls. You might need some flour on your hands for this as the dough might be sticky.
Bake according the the package directions and let cool.
Assembling your Turkeys -
Spread a small dollop of chocolate frosting onto the top of each mini peanut butter cup and place on the cookie. This is will be the turkey body.
Next, spread a small amount of chocolate frosting onto the back of each candy eye and place on the turkey body. The frosting will act like your glue.
Next comes the feathers. Take one color at a time and put a little bit of frosting on the back of the M&M's using the toothpick and line the turkey's body. I used yellow, red and mini orange Reese's Pieces. It doesn't have to be perfect and you could even use brown if you wish. Have fun with it.
Finally, melt your red candy melts in a microwavable safe dish in 20 second increments stirring every 20 seconds until melted. My microwave took about 1 minute for this.
Let the chocolate cool 2-3 minutes and scoop into the sandwich baggie. Snip the corner with a pair of scissors and give each turkey a mouth.
These turkey sugar cookies are a great way to use up that leftover Halloween candy.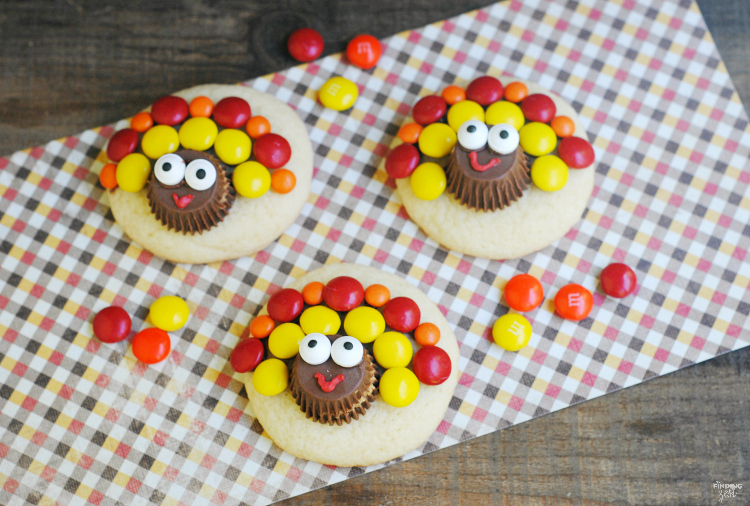 Wilton products can be found in the Wilton baking or seasonal aisle at craft stores and major retailers including Michael's, JoAnnFabrics, Walmart and Target. Likewise, you can purchase Wilton items online, including these candy eyes at Amazon! (Just be careful for items that may have had the prices significantly marked up.) If you can't find the Reese's Pieces Baking Bits, you could substitute M&M Minis.
Happy Thanksgiving! Hope you have fun decorating turkey sugar cookies!