I'm not even going to try to hide it. If you follow our Mini Chef Mondays series, you may have noticed that we absolutely love Greek Pita Flatbread. I buy it in bulk at Sam's Club and we use it for everything from mini personal pizzas to peanut butter and nutella sandwiches to tacos. I even branched out a bit and created this tasty Yogurt Fruit Breakfast Pizza a few weeks ago. So good! This past week Wesley and I changed it up again and came up with this no-bake Veggie Flatbread Appetizer pizza.
I used a chive and onion cream cheese for a base, but if your child doesn't like that, plain cream cheese, guacamole or hummus would all be great alternatives!
I provided Wes with different toppings and he had fun placeing them on the pizza any way he wanted.
He made this pizza special for me since it had all my favorite toppings. His favorite pizza would have plenty of cucumbers and carrots, but unfortunately I was out!
Letting your child make their own veggie pizza is a great way to get them to try new veggies or simply eat more of them.
If making this with a child, try to provide plenty of colorful veggies. I had assorted cherry tomatoes but bell peppers would also be awesome.
Veggie Flatbread Appetizer
Author:
Emilie (findingzest.com)
Ingredients
1 Greek pita flatbread
2 to 3 tablespoons chive and onion cream cheese (or plain)
1 green onion, sliced
¼ cup cherry tomatoes, sliced in half
¼ cup sliced fresh mushrooms
¼ cup broccoli (broken up into small sections)
parsley (garnish, optional)
Instructions
Spread cream cheese over flatbread.
Top with vegetables (approximately one cup of your favorite varieties).
Sprinkle parsley over the top if desired.
Cut and serve immediately or refrigerate until serving.
This veggie pizza makes for a perfect snack, lunch or appetizer!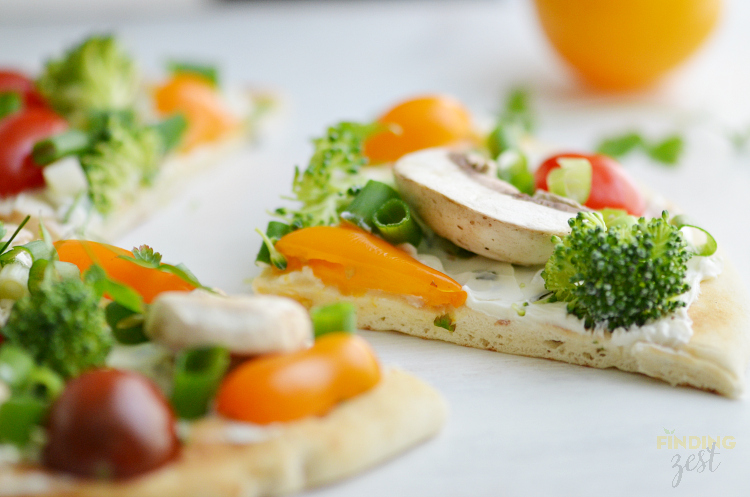 What have you been up to this week with  your mini chefs?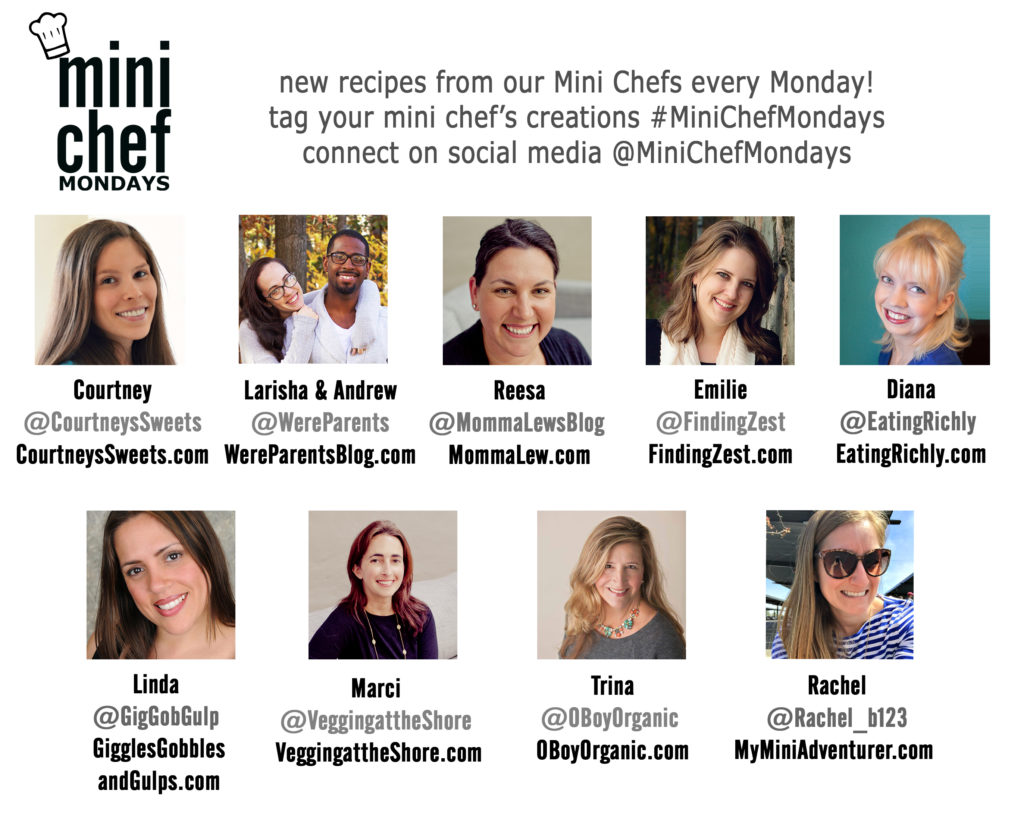 I am hosting Mini Chef Mondays along with 8 fabulous bloggers! Read how Mini Chef Mondays started, plus how to link up!
Join our facebook group to find even more recipes and share recipes too!
Join the Mini Chef Mondays newsletter to get the latest recipes delivered to your email each week! Don't worry, we will only use your email for Mini Chef Mondays recipes, pinky promise!
Get featured and follow us too!
Be sure to check out each of their Mini Chef posts as well!