I've finally discovered the best broiled tilapia! All you need is 15 minutes and five ingredients to make this simple weeknight meal. It is Whole30, paleo and low carb diet approved, but you'd never know it was healthy by the taste! You'll love this flavorful low carb dinner idea.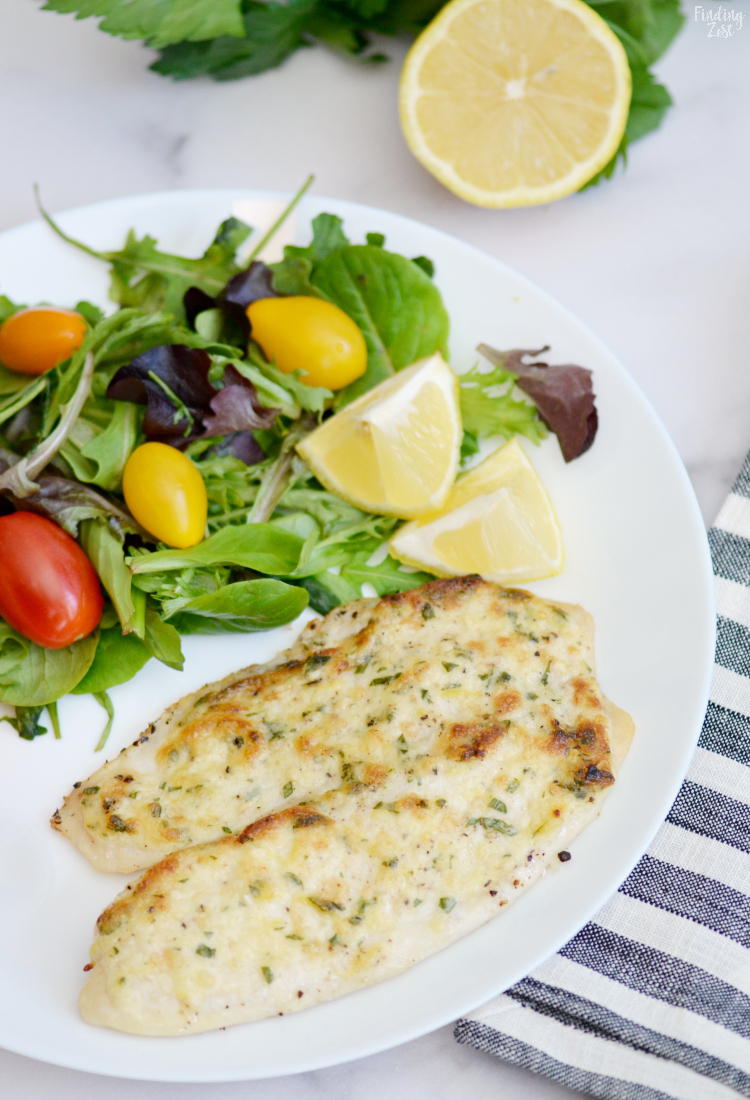 You do not need to be on any sort of a diet to enjoy this meal. It is loaded with flavor and simply has ingredients that are diet friendly. But if you are following a specific diet or lifestyle that is more restrictive, chances are you can eat this delicious broiled tilapia!
Why I Started Whole30
Earlier this week I started the Whole30 diet. I didn't do it to lose weight, although I need to do that too. For months I've been dealing with eczema on my face which kept getting worse, even though I had never had it before in my life. And more recently I've been waking up with headaches more often than not and it was getting in my way of living my life. I also wanted to change my unhealthy food habits. While Whole30 is similar to the paleo diet, it is even more restrictive. You can essentially eat meat, vegetables, fruit, nuts, healthy fats and not much else. But it is designed to be done for 30 days only, not long term and slowly all the food groups you can't eat on the diet get added back in one by one so you can see the effects different foods have on your body.
Broiled Tilapia Ingredients
For this recipe I used ingredients to complement the mild flavor of tilapia. Only four ingredients are necessary to create this heavenly topping for fish:
mayonnaise
garlic
lemon zest
fresh parsley
You'll also need fresh tilapia fillets, sea salt and fresh ground pepper.
How to Make Broiled Tilapia
While this recipe for lemon pepper tilapia is delicious, I wanted something that felt closer to the richness found in this parmesan steelhead trout recipe. That is really hard to do when you can't have any dairy. However, mayo really adds so much flavor for these chicken tenders, so I figured it wouldn't hurt to try tilapia with mayo.
To make this broiled tilapia, you'll need to rinse and pat your tilapia dry before seasoning them with salt and pepper. Top with a mixture of mayo, minced garlic, lemon zest and fresh parsley before broiling in a lined baking pan That is all there is to making this broiled tilapia recipe!
How Long to Broil Tilapia
How long to broil tilapia will really depend on a number of factors including the size of your tilapia filets and how close your rack is to the heating element of your oven. It will take approximately 5 to 8 minutes to broil tilapia so that your fish flakes easily with a fork and is no longer opaque.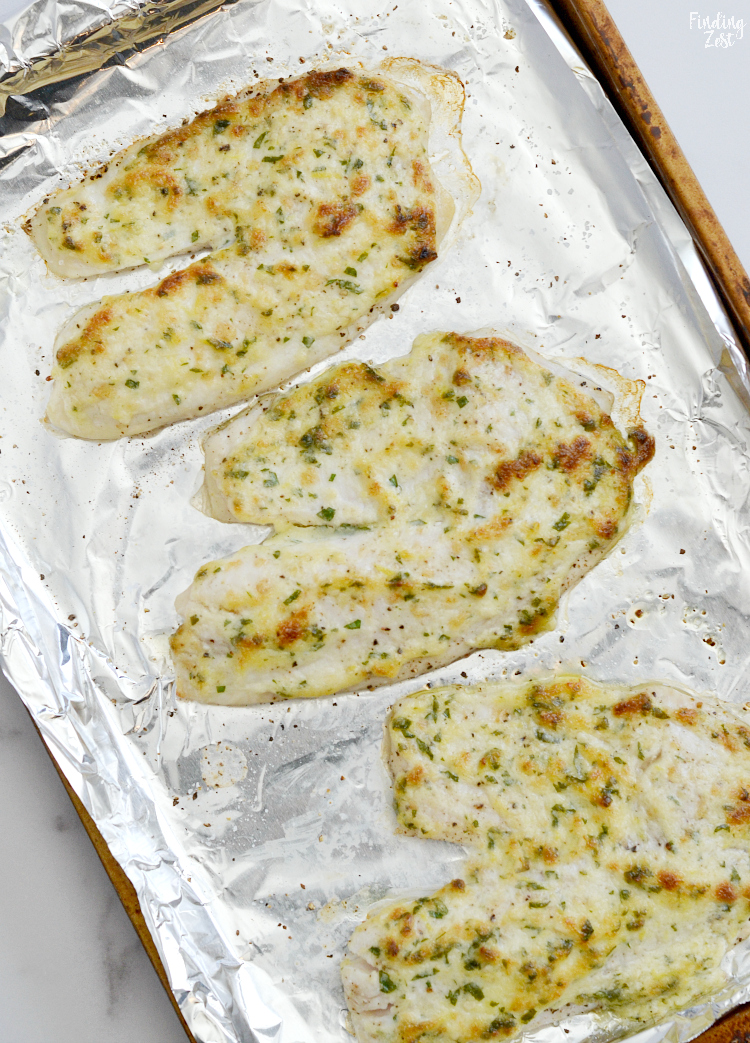 Mayo with Tilapia
If you aren't on any restrictions when it comes to mayo, you can use your standard mayonnaise. However, if you are on Whole30 or living a paleo lifestyle, you will need to use a compliant mayo for this recipe. You can make your own mayo using healthy oils like avocado oil or you can go the easy route and order a paleo friendly mayo like I did.
I served my broiled tilapia with a fresh salad but roasted vegetables or baby red potatoes would taste amazing! I couldn't believe just how flavorful this baked tilapia was and I didn't even miss my usual flour coating.With so much flavor, I didn't even serve any tartar sauce with it.
Best Broiled Tilapia
This is the best broiled tilapia recipe and all you need is 15 minutes to make it! While this simple weeknight meal happens to be Whole30, Paleo and Low Carb diet approved, you'd never suspect it was healthy by the taste. Trust me, you'll love this flavorful low carb dinner idea
Ingredients
3

fresh tilapia fillets

approximately 6 oz each

1/4

cup

mayo

2

tablespoons

fresh parsley

2

cloves

garlic

minced

1

teaspoon

lemon zest

salt

pepper
Instructions
Preheat oven to broil.

Line baking sheet with aluminum foil.Set aide.

Zest half a small lemon, approximately one teaspoon. Cut remaining lemon into wedges for garnish.

In small bowl whisk together mayo, parsley, garlic and lemon zest.

Pat tilapia fillets dry with a paper towel and place them on lined baking sheet.

Salt and pepper both sides of tilapia to taste.

Spread mayo mixture over top of the fish.

Broil until fish easily flakes with a fork and the top golden brown. Approximately 6 to 8 minutes.
Recipe Notes
Be sure to use a compliant mayo if following the Whole30 or Paleo diets.
Dietary Information: I get my information based on the recipe import on VeryWellFit. Always double check your own counts based on brand and exact ingredients used.

This tilapia recipe still tastes great when heated up for leftovers so make extra to enjoy later in the week. My husband enjoyed some for lunch and said heated up again it tasted like "butta" and was still so good. This will go on our regular dinner rotation for sure.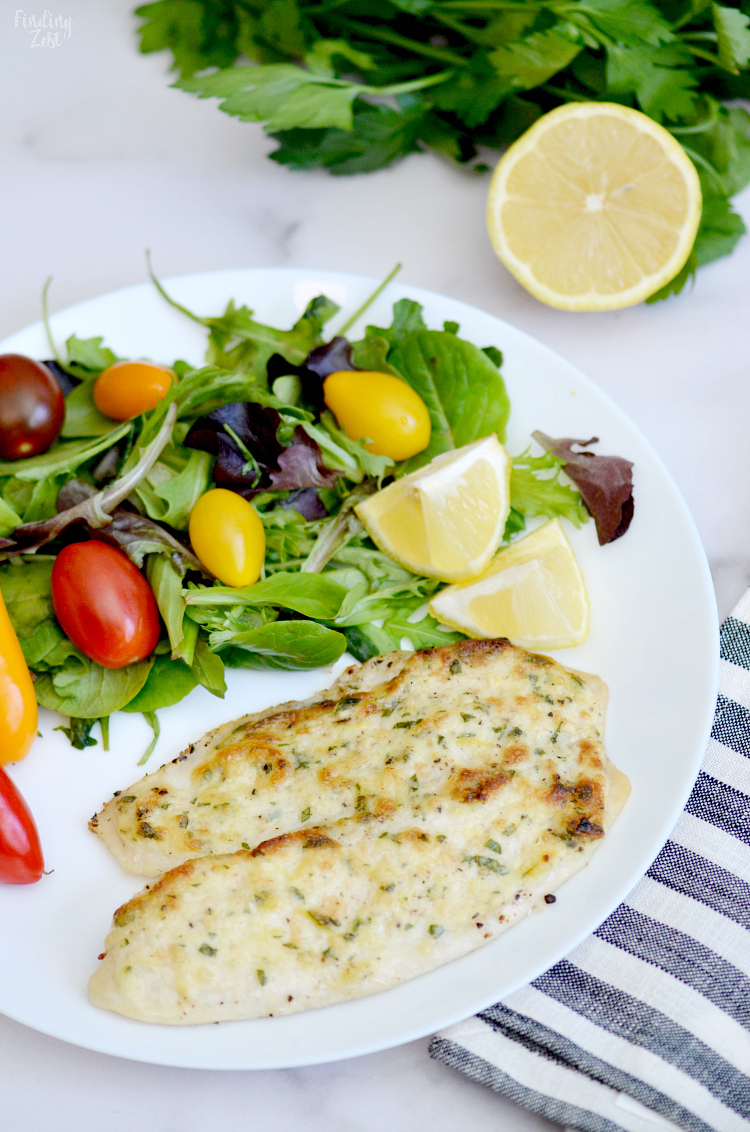 I hope you love this low carb dinner idea. If you try it, please leave a comment below on how it turned out for you!
What are your favorite Whole30 or low carb dinner ideas?