Spring is officially here! It is hard to tell since Mother Nature has decided to play a cruel April Fools joke on us in Minnesota.  I feel after such a long and harsh winter I should have some sort of celebration or parade to welcome spring back.  Do you think if I did, spring might actually come around again? This bacon wrapped pork tenderloin certainly helped brighten my day!
With spring comes Easter and now is a great time to figure out exactly what will be on the menu this year.  I decided to browse some recipes at Kraft.com for some new ideas as part of the Kraft Tastemaker program. We traditionally go with ham but if you are looking to branch out a bit or simply want something that is going to be less fuss, this pork tenderloin is a fabulous choice! While it contains only a few ingredients, it is a show stopper. You can easily double the recipe and make two at the same time to feed a larger group or for leftovers.
It turned out amazing.  No, really, amazing. It was so tender and flavorful that I thought it was a little bit of heaven. Which is totally fitting for Easter, right?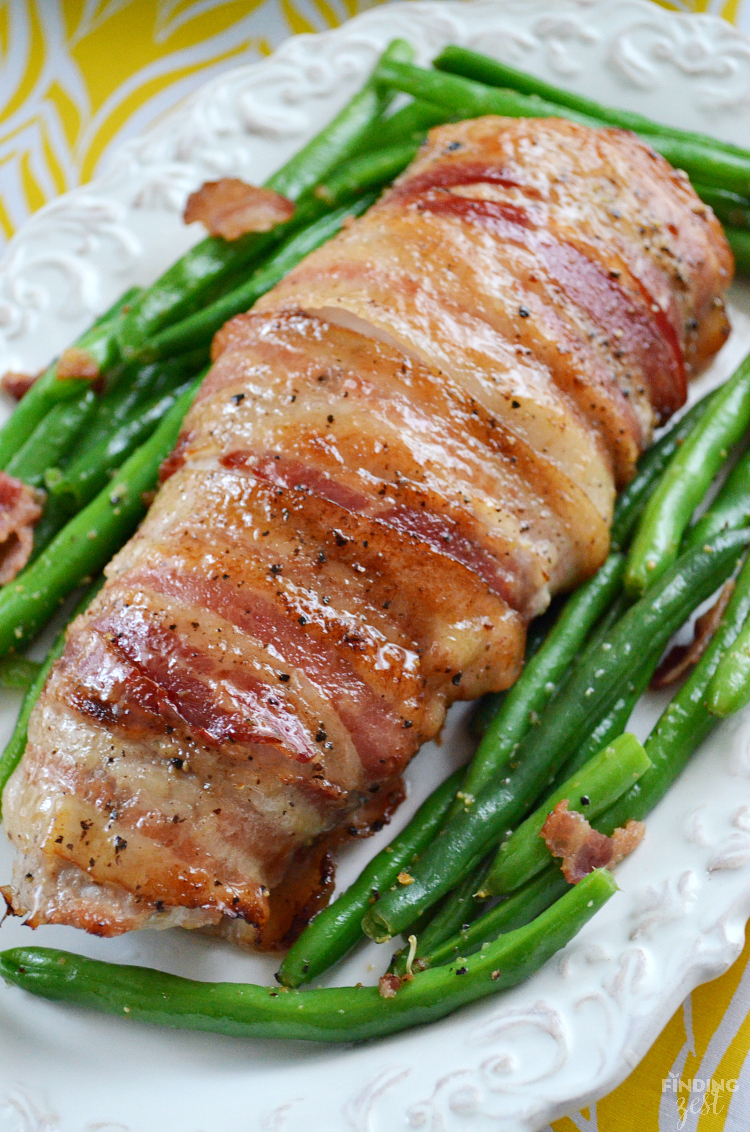 Bacon Wrapped Pork Tenderloin
I used Oscar Mayer Naturally Hardwood Smoked bacon rather than uncured bacon because I happen to have some on hand. It worked great so feel free to use which kind you prefer.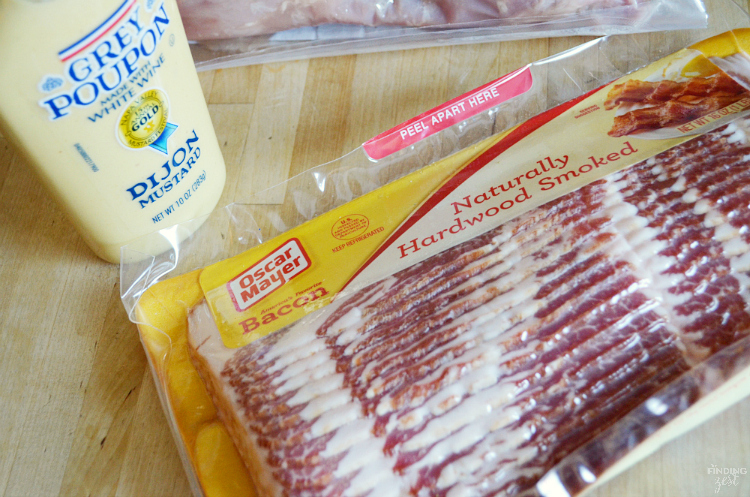 No need to use toothpicks. I simply made sure the ends were underneath the tenderloin.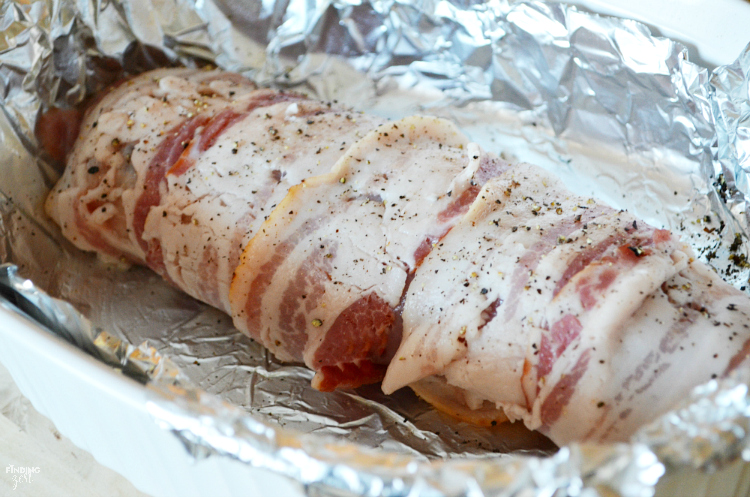 While Kraft recommends cooking until  135ºF, I went to 145ºF  before adding the glaze, because I prefer my pork cooked to 160ºF or just under that temperature.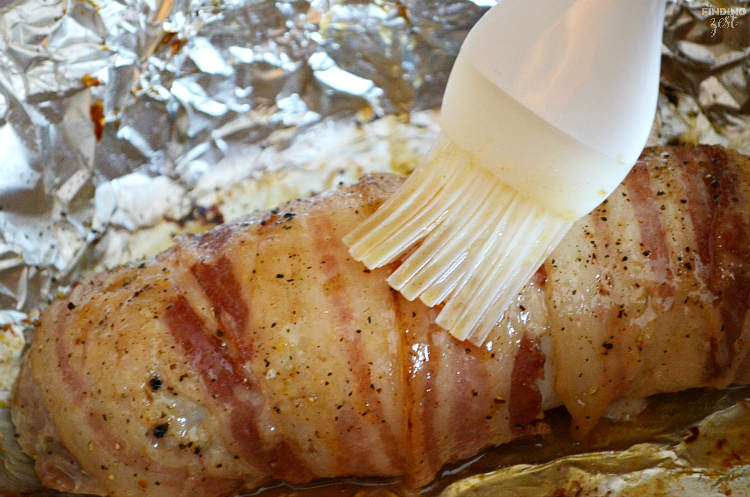 I used a silicone pastry brush to generously apply the glaze, but I still had some left over. I popped it back into the oven for another 10 minutes or so until the desired temperature was reached.
Kitchen Tip:
If you don't have a silicone pastry brush, I highly recommend them! They work a lot better than the old bristle style and are so much easier to clean. Amazon has a several inexpensive options!
Pastry Brush Silicone, X-Chef BBQ Brushes Basting Brush Set Heat Resistant for Kitchen
OXO Good Grips Silicone Basting & Pastry Brush – Small
Basting Brushes Set, GEEKHOM Baking and Cooking Stainless Steel Pastry Brush with 2
KitchenAid Wide Basting Brush, Black
The results were really so beautiful! You can easily skip the broiler step that I added into the recipe. However I do like the nice golden brown color and little bit of crispiness a broiler adds. Just be sure to watch it very closely, so you don't burn your bacon.
I cooked up the rest of the bacon while my pork tenderloin cooked. This is great for adding some crumbled bacon to your side dishes. I served this bacon wrapped pork tenderloin with steamed green beans and seasoned baby red potatoes.  A fruit or JELLO salad along with a dinner would also be a great accompaniment!
My husband couldn't stop raving about this bacon wrapped pork tenderloin recipe, and I really can't blame him. It was so good and prepared in under an hour! I've actually made it twice now and convinced my mom she needs to try it as well.

Bacon-Wrapped Pork Tenderloin for Easter Dinner
Author:
Kraft (slightly altered)
Ingredients
5 slices OSCAR MAYER Selects Smoked Uncured Bacon
1 pork tenderloin (1 lb.)
¼ tsp. cracked black pepper
¼ cup packed brown sugar
2 Tbsp. apple juice
1 tsp. GREY POUPON Dijon Mustard
Dash ground nutmeg
Instructions
HEAT oven to 400ºF.
WRAP bacon around meat. Place in foil-lined pan sprayed with cooking spray; sprinkle with pepper.
BAKE 20 min. or until cooked to 135ºF. (I went to 145ºF.) Meanwhile, bring remaining ingredients to boil in saucepan on medium heat, stirring occasionally.
BRUSH meat with glaze using pastry brush. Bake 10 min. or until done ( at least 145ºF but I went to 165ºF.).
To achieve a crispier bacon top, broil meat for 1 to 2 minutes or until desired crispiness. Cover loosely with foil. Let stand 5 min. before slicing.
Pork tenderloin is a great option for Easter and something different than traditional ham or
lamb chop recipes
. If you are looking for more great
Easter recipes
 like this bacon wrapped pork tenderloin, check out Kraftrecipes.com
Need a great recipe for Easter brunch? Try my hash brown egg bake. Trust me, it is loaded with flavor and so good.
___________________________________________________________________
Disclosure: This post was created for the Kraft Tastemaker Blogger Program. All thoughts remain my own and are not influenced by the monetary compensation received.  This program is not administered or sponsored by Kraft Foods or its affiliates, but solely by Finding Zest (formerly Baby Loving Mama).