Want to create a killer spread for Halloween on the fly? You don't have to spend a lot of time creating food for any celebration if you follow these three simple tips.
1. Switch up your favorite recipes to fit your theme using different names, colors, etc.
2. Use a few fun party supplies that draw in guests
3. Get creative with your party table, adding small touches that continue your theme.
This Black Spider Party Punch is a great example. The stars of the show are in the spider touches we added along the way to make our drink stand out. From the fuzzy spiders crawling along our glass pitcher to the disposable 3D spider cups, this simple punch is sure to be a hit at your buffet table with minimal effort.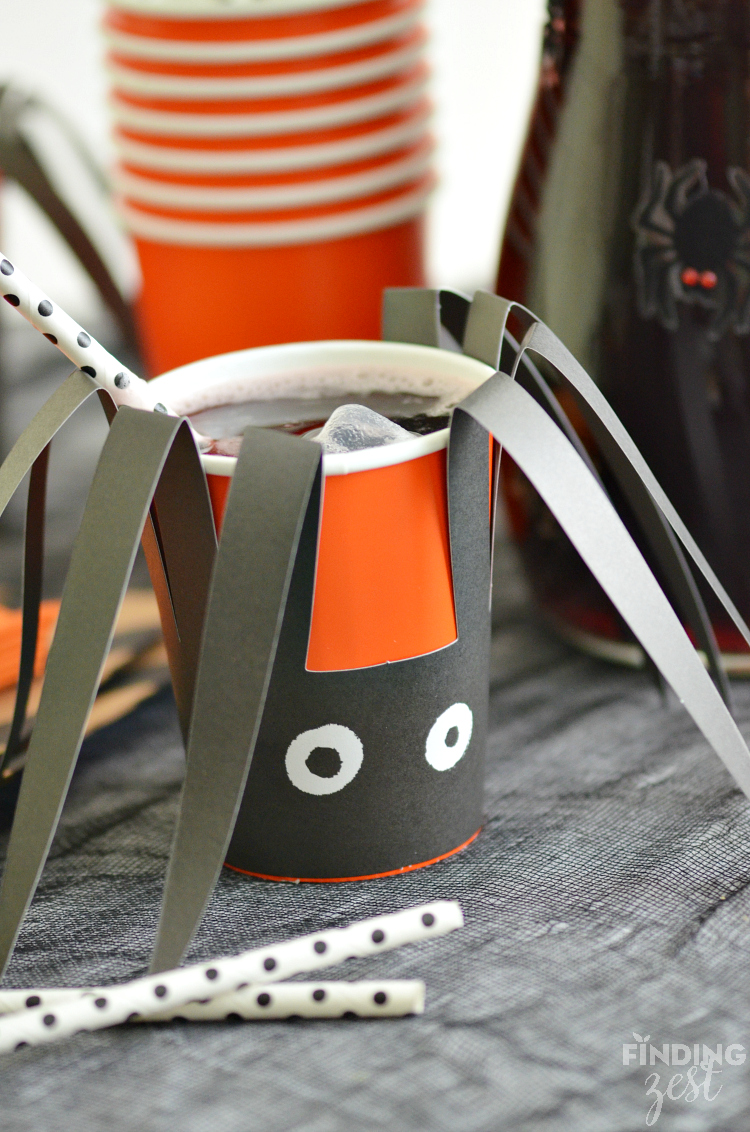 I like to create punches for my kids made from 100% real fruit juice.
I went with two dark fruit juices to create an almost "black" punch without being forced to use anything artificial.
To add a little fizz, I like to use unsweetened sparkling water. I prefer flavored, so I used a blueberry sparkling water from Target.
I let Wes decorate our pitcher with some fun black spider stickers with red rhinestones and fuzzy bodies. It really made our punch look spooky and would work just as well for a punch bowl. I got these from the dollar spot last year from Target. (I love shopping in that section!)
For garnish, we added a handful of frozen blueberries to float along the top with some ice cubes.
Black Spider Party Punch for Halloween
Ingredients
3 cups fruit punch
3 cups grape juice
1 12oz. can unsweetened sparkling water (flavored or unflavored)
¼ cup frozen blueberries
Instructions
Stir together fruit punch and grape juice.
Gently stir in sparkling water. Top with blueberries.
Serve cold.
These
Black Spider Disposable Cups
from Meri-Meri really make this punch special. I found them at my local T.J. Maxx at a great price! They are available at Amazon, but not at that price unfortunately. (I searched and couldn't find them anywhere online for less than Amazon.) I suggest checking your local T.J. Maxx! Otherwise, these
bat cups
are also a great option!
What have you been up to with your mini chefs?
I am hosting Mini Chef Mondays along with 5 fabulous bloggers, find out more about the Mini Chef Mondays Team!
Join our facebook group to find even more recipes and share recipes too!
Get featured and follow us too!
Be sure to check out each of their Mini Chef posts as well!