Earlier this month I celebrated a fun Halloween themed play date with friends. Our kids were able to dress up in their costumes, play games and enjoy a tasty lunch with friends.
To follow the Halloween theme I decided to make jack-o-lantern pizzas. Normally I would make a pizza crust or at least buy a premade crust and assemble it myself but I surprised myself by going a bit more simple. I often spend too much time in the kitchen both preparing before the party and during so I needed to cut some corners. Instead I purchased some quality frozen cheese pizzas and decided to dress them up with Hormel pizza toppings.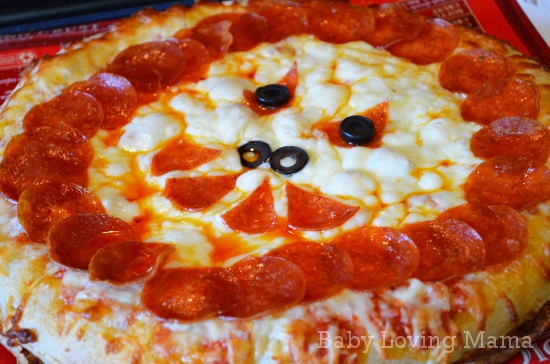 My friend Janelle (and contributing writer) got a little creative with the toppings and made a pig to go along with our jack-o-lantern, using Hormel Canadian Style Bacon for the snout, eyes and ears! Both pizzas were a hit!
I was really surprised just how much better the pizza turned out with the  Hormel toppings versus the usual frozen variety. I plan to do this again when I want a higher quality frozen pizza without all the work of a homemade pizza.
Did you know that October is National Pizza Month? What better way to celebrate both Halloween and National Pizza Month than to get the kids involved building their own jack-o-lantern or other spooky pizzas?
Here are some tips from Hormel:
Start off the experience by shopping for ingredients together. Let your kids write out their own lists with their favorite toppings and allow everyone to make an individual pie!
Make the food preparation process fun. Let kids cut their dough and toppings into fun shapes; encourage creativity while cooking
Put up decorations and set the table to round out the experience.
Cooking can be an educational experience, as well. Use cooking to educate your children on family history and recipes. Cooking also teaches kids about kitchen safety and proper handling of measuring and cooking tools.
Everyone has their favorite pizza toppings and dishes, but to get you started, Hormel.com features an interactive video that includes tips and several unique recipes that help you to create a delicious pizza. Check out the "Pizza Party" Video for some inspiration.
Did you also know that Hormel has a line of pizza toppings, including pepperoni, Italian sausage crumbles and beef crumbles?
Do you have anything special that you make for Halloween? What's your favorite topping combo for your pizzas? 
Disclosure: I am currently a member of the Hormel Foods Extended Blogger Program and this post is part of my involvement in the Group. While Hormel Foods provides me material and necessary resources to complete various activities, all statements and sentiments are my own