One of my favorite family moments on the weekend is preparing a fun breakfast or brunch. I love surprising my kids with something different and it is one meal where I know everyone will love what I make. It doesn't seem to matter what breakfast related food it is, my kids like it! This is a big deal for me  because my kids are notoriously picky. It isn't much fun to cook for kids who won't eat what you prepare.
I had a can of cinnamon rolls from Pillsbury and thought it would be fun to do something a little different with them. Making these cinnamon roll bites make the can stretch further and was the perfect size for my younger kids. I even felt like I was getting more!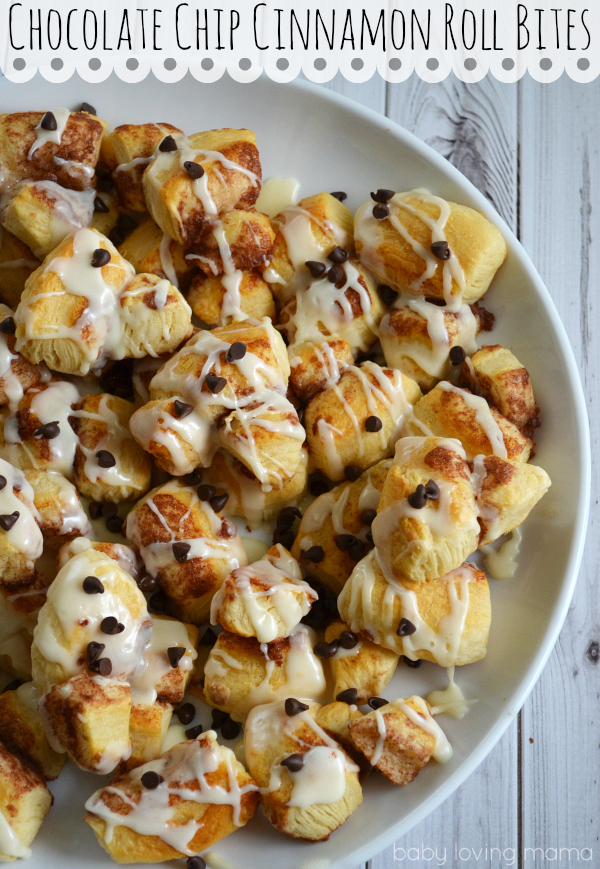 Chocolate Chip Cinnamon Roll Bites
Author:
Pillsbury (Slightly Altered)
Recipe Type:
Breakfast/Brunch
Ingredients
1 can (12.4 oz) Pillsbury® refrigerated cinnamon rolls with icing
⅛ cup miniature chocolate chips
Instructions
Heat oven to 375°F. Grease or line large cookie sheet with parchment paper or a silicone baking sheet for easy clean up. Cut each roll into 4 equal pieces with a knife. Place each on cookie sheet.
Bake at 375°F for 9 to 11 minutes or until golden brown.
Microwave icing cup (lid removed) for 10 seconds.
Place half of the pieces in wide serving bowl and drizzle with half the icing. Repeat with remaining pieces and icing. Sprinkle chocolate chips over rolls. Serve warm..
Rather than greasing my pans, I used a silicone baking sheet. This worked so well to avoid any sticking and made clean up a breeze.
After about 10 minutes of baking time, you'll have some adorable little cinnamon roll bites with almost no work at all. I used a nice, wide serving bowl as opposed to a deep one.
To make sure your icing is evening distributed, you can do half at a time but this serving dish made it really easy to simply move a few pieces around instead.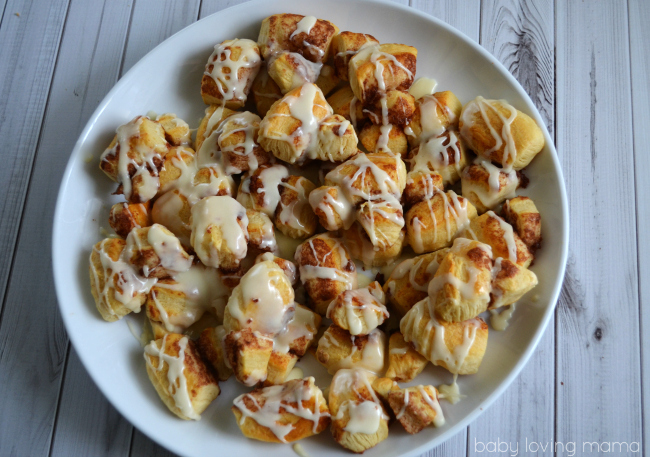 For a little something special, I added some miniature chocolate chips. They stuck on the icing and melted only slightly.
This were so easy but so fun. My kids loved the bite-sized pieces and it was easy to serve them less without them even realizing it!
Now I want to try bite sized caramel rolls!