Chocolate Gingerbread Truffles are the perfect no-bake holiday dessert! Round out your holiday cookie tray with these delectable treats. Only five ingredients are required to make this simple but amazing chocolate truffle! Be sure to scroll down for a full instructional video to show you just how easy it is to make this homemade candy.
Some of my favorite holiday treats are no-bake desserts and I love candies that are dipped in chocolate. While this recipe doesn't need a lot of ingredients, it doesn't mean it is short on flavor. These truffles really pack a punch, much like these gingerbread cake pops.
Chocolate Gingerbread Truffle Ingredients
Only a few ingredients are required to make these absolutely scrumptious no-bake cookie truffles. You'll need:
ginger snaps cookies
cream cheese
white chocolate chip
semi-sweet chocolate chips
pumpkin pie spice
canola or vegetable oil (or shortening)
How to Make Gingerbread Truffles with Cream Cheese
You'll want to start off by crushing your ginger snap cookies. A food processor works best for this project because you want very fine cookie crumbs. Storage has always been an issue in my kitchen so I appreciate my 3.5 cup Kitchen Aid food processor. It took a few batches but gets the job done without taking up a lot of space. A rolling pin and large ziploc bag would work as well but it will take a while to get your crumbs this fine. Reserve 3 tablespoons of cookie crumbs to garnish.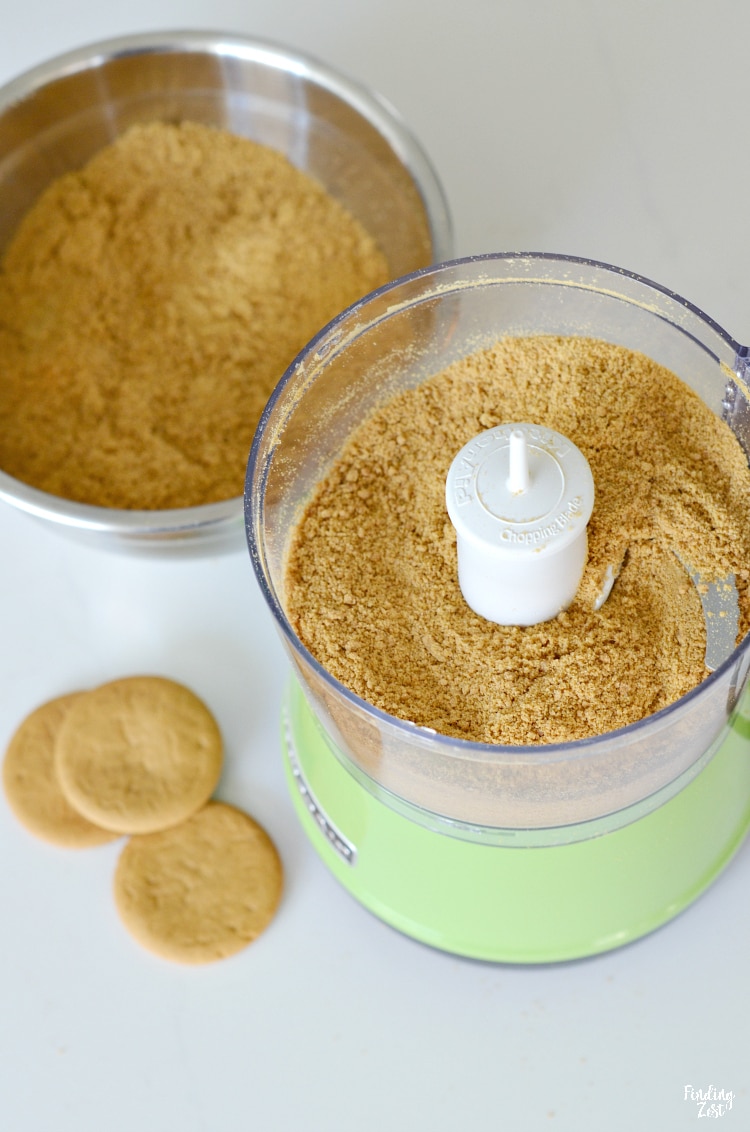 Next whip your cream cheese and pumpkin pie spice in your mixer until fully combined. Be sure your cream cheese is softened to room temperature but not melted.
Time to make your cookie truffle balls! Line a large baking tray with a silicone liner, parchment paper or wax paper. I like to scoop the dough out with a cookie scoop for evenly sized balls but you can also eyeball it. Since these are no-bake truffles, slight variations in size aren't a problem. Roll the balls in the palm of your hand to make them round and smooth.

Place your baking sheet in the freezer for 15 to 30 minutes so your cookie truffles won't break down when they are dipped in melted chocolate. Alternatively, you can roll your truffles in additional ginger snap cookie crumbs and skip the freezing step.
Chocolate Dipped Cookie Truffles
Melt your chocolate chips in the microwave, stirring often. Stir in a bit of vegetable or canola oil (or shortening) to make the chocolate smooth before dipping.  I decided on using both semi-sweet chocolate chips and white chocolate baking chips. Both are absolutely delicious but milk chocolate or dark chocolate would also taste great.
Kitchen Tip: Take only half out at a time to keep them balls cold before dipping them in chocolate.
Once you've dipped them in chocolate, place them on your lined baking sheet and sprinkle some of the cookie crumbs you set aside over the top. You could also substitute finely chopped nuts or sprinkles.
Once dry, transfer your gingerbread truffles into an airtight container and store them in the fridge where they'll last for up to two weeks.
To make your truffles more festive and easier to serve, place the truffles on mini baking cups. I used gold and silver foil baking cups but more colorful holiday baking cups would also be fun.
Step by Step Video Instructions
If you want a video for how to make gingerbread truffles, watch this simple tutorial.
These gingerbread truffles are loaded with flavor and taste amazing! I love them cold out of the fridge but they still taste delicious at room temperature. You could make them any time of year but they make a special holiday treat.
Don't like chocolate, out of chocolate or just short on time? No problem! You can roll these cookie truffles in addition cookie crumbs, finely chopped nuts or even powdered sugar instead of dipping them in chocolate.  I personally think they taste better with the chocolate coating (as did most of my family) but my oldest son liked this version better.
Chocolate Gingerbread Truffles
Chocolate Gingerbread Truffles just what you needed this holiday season!!  Round out your cookie tray with these delectable candies. Only five ingredients are required to make these simple but amazing chocolate truffles!  
Ingredients
1

box

16 oz Ginger Snap Cookies

1

brick

8 oz cream cheese, softened

1/4

teaspoon

pumpkin pie spice

1

cup

white chocolate baking chips

1

cup

semi-sweet chocolate chips1 teaspoon vegetable or canola oil or shortening

optional
Instructions
Crush ginger snap cookies in food processor until very fine.

Remove 3 tablespoons for garnish and set aside.

Beat cream cheese and pumpkin pie spice with mixer until smooth.

Add in cookie crumbs (except 3 tablespoons) and mix on low until fully combined.

Line a large cookie sheet with a silicone baking mat, parchment paper or wax paper.

Roll dough into evenly sized balls, about one tablespoon each. (Can make smaller if preferred).

Place in freezer for 15 to 30 minutes to harden.

In small bowl, melt white chocolate in a microwave in intervals, stirring often.

Stir in a half teaspoon of oil for smoother chocolate.

Take out half the cookie balls from the freezer and dip each into white chocolate with a fork, gently shaking off excess.

Place on a lined baking sheet. Sprinkle top with remaining cookie crumbs.

Repeat process with semi-sweet chocolate.

Let truffles harden completely before placing each in a mini baking cup (if desired)

Store in an airtight container in the refrigerator for up to two weeks.
Recipe Notes
Freezing your cookie balls is important so they don't melt at all when you place them in the chocolate. 
You can skip dipping them in chocolate and roll the cookie balls in additional cookie crumbs, finely chopped nuts or powdered sugar.
Top with sprinkles, chopped nuts or drizzled chocolate instead of cookie crumbs.
I hope you add these to your holiday baking list. Let me know how you like them!
For more great holiday desserts check these out: