*This is a sponsored post written by me on behalf of The Home Depot.*
Our DIY gazebo makeover project is finally finished! If you haven't already, be sure to see my shopping trip at The Home Depot and the tutorial for installing Envirotiles, an environmentally friendly option from The Home Depot.
My husband Joe and I have been busy putting this project together. I absolutely love our new space but was a bit disappointed that we've had rain and dense fog all weekend. I wanted to showcase this project with some sunlight and green grass but mother nature has had other plans. I hope that despite dark surroundings, our gazebo makeover project is still inviting when you see it!
So without further adieu:
Ta-da!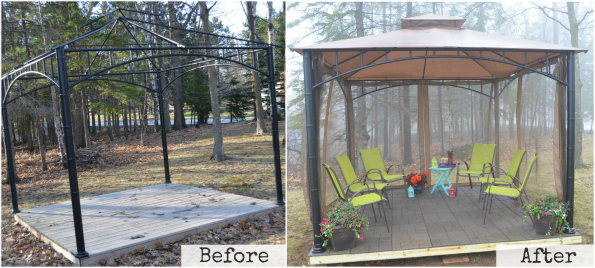 What do you think? 
We are very happy with the overall look of the installed Envirotiles and it feels like a very fresh and new space for us! I wish we could place furniture with big cushions to lounge on but unfortunately it just isn't practical. These chairs are a great option from The Home Depot for only $19.98 each. They are available in three colors and this green adds so much color to the space. I know they will be much easier to maintain and store since they easily stack. We also have plenty of room in the gazebo for a table for those times we will be dining.
I added some of my own finishing touches because I couldn't resist some more pops of color and to make it more enjoyable for our family and guests to relax.
I also appreciate that in the end, extending the gazebo has given us some extra space that is very valuable and solved two problems. (We avoided cutting our Envirotiles and it got rid of the slight overhang of our gazebo poles. You can read more here. )
If you follow me on Instagram, you may have caught my recent trip to The Home Depot. I purchased the chairs and some potted plants, including two fuchsia hanging baskets which I had re-potted into these affordable decorative pots, right in the store. If you weren't aware, this is a free service offered by The Home Depot!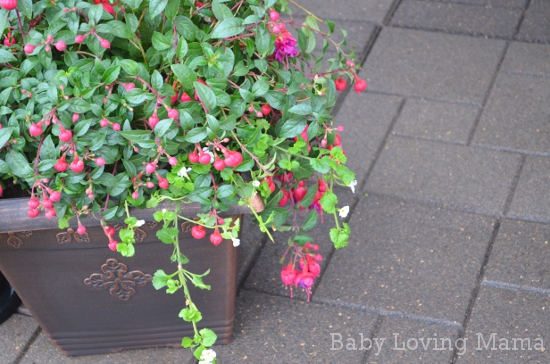 I created this short video to give you a closer look at the space. (Please keep in mind that this is unscripted and I only did one take as it was raining. I'm sure my neighbors must have thought I was nuts setting up my gazebo furniture in the rain, with iced tea no less! ) 
I have to mention that my in-store experiences have been nothing but fabulous. I'm amazed at how many different people offered to help me along the way with this project. They only knew me as an average customer and I received many welcomed offers for assistance. It is that kind of customer service that will have me going back to The Home Depot again and again. I'm excited to take on more outdoor projects!
I hope you've enjoyed reading about this project as much as we loved achieving a makeover for our gazebo!
Are You Ready to Dig In?
Be sure to follow The Home Depot on  Facebook, Twitter and Pinterest to find more inspiration! Other great resources include the The Apron Blog and The Home Depot Garden Club.

It's home improvement time, and The Home Depot has everything you need to #DigIn for Spring. No matter what projects you want to tackle, they have great values on all you need. They're ready to help you with renovation ideas and expert advice, too.
Get over $300 in email exclusive savings each year, sneak peeks on new products, monthly lawn & garden ideas for your region and access to The Home Depot's gardening experts. Click here to join the world's largest garden community today! Or go to http://gardenclub.homedepot.com/ to see some of the many benefits of membership. 
__________________________________________________________________________________
Disclosure: I am thrilled to have this opportunity to work with The Home Depot and receive product to enhance our backyard. All thoughts and opinions are my own.