The sun is shining and it's finally feeling like summer here in Northern Minnesota. That means Father's Day is near and the kids are home from school. Use my Father's Day coloring page free printable and keep the kids entertained on a lazy summer day. The special dad in your life is sure to love this happy, patterned fish.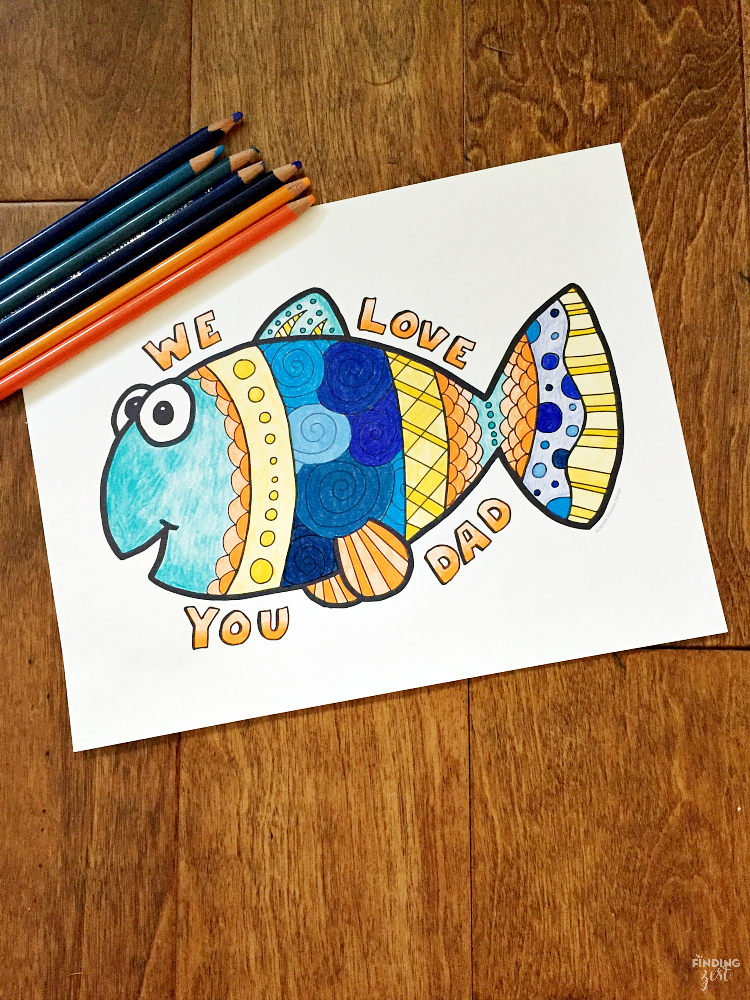 We were excited to use our patio table for coloring outside on a beautiful summer day. We have the perfect shaded spot to relax and create. Do you have an outdoor art space to enjoy with your kids?
We used quality paper like this Epson Premium Presentation Double Sided paper for our coloring page printable. Adding a simple frame would make this a sweet art piece for Dad.
Epson Ultra Premium Presentation Paper MATTE (8.5×11 Inches, 50 Sheets) (S041341)
MCS 21178 8×10 Multipurpose Picture Frame ,Black
Prismacolor Premier Soft Core Colored Pencil, Set of 72 Assorted Colors (3599TN) +
Prang Large Triangular Colored Pencil Set, 5.5mm Cores with Sharpener, Set of 12,
Although my girls love our Crayola and Prang coloring pencils, I always reach for my Prismacolor professional quality soft lead pencils. The richness of color is unbeatable. In my coloring example I used only one orange and yellow pencil but was able to get a wide variety of color depth by simply applying more or less pressure to the pencil! I love how this looks on the overlapping scales.
I also used this technique within the the letters by applying more pressure to the bottom half of the orange text and less pressure at the top (barely "kiss" the page with your pencil for the lightest color). I love the gradient effect it creates. Prismacolor pencils also allow for color blending which I used in the blue areas.
Remember you can use this Father's Day coloring page free printable as a Father's Day card or, by adding a simple frame, dad has a sweet gift to hang on his wall at home or the office. Be sure to share this post with your friends!
Please respect my design copyright (©Janelle Wourms Design) for this coloring page, as well as the original link to Finding Zest where I'm sharing this printable.  I am offering it for free but do not take the file and upload it anywhere for sale or distribution. If you share this design please give me credit and link to the original post. Thank you!
Be sure to subscribe so you don't miss out on any free printables!