Spring is here! As I watched the beautiful green shoots coming through the ground, I was inspired to create this year's Mother's Day Coloring Page as a flower. "A mother is like a flower, each beautiful and unique." What a lovely thought to share with the mother in your life. Whether you, or your children, color this flower coloring page, or you give it as a gift for her to color herself, she's sure to enjoy this beautiful sentiment from the heart. There are a lot of Mother's Day coloring pages available for download, but this printable is definitely unique!
I used Prismacolor coloring pencils for this Mother's Day coloring page. I love that I can adjust the saturation of color and blend with these pencils.
All of my adult coloring pages begin with fine line markers in a sketchbook and then I transfer the design to the computer for the finishing touches.
This is one of my favorite free coloring pages. I created each flower petal with a unique design which feels a bit like a quilt when it's colored. Can you find all the little details I included?
If you're looking for gifts for mother's day, this design would look beautiful framed. If you're feeling extra crafty you could make a kids artwork display wire frame to showcase it from my holiday card frame tutorial.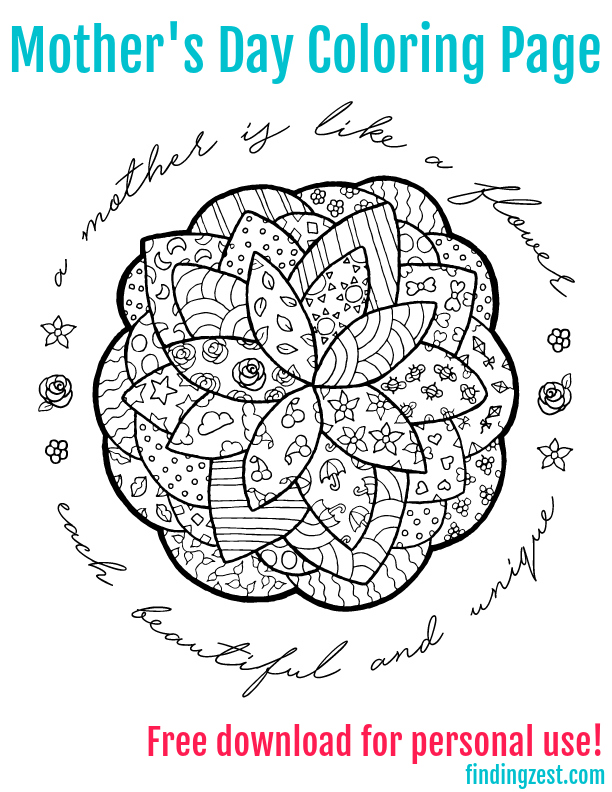 Mother's Day Coloring Page Download
Download Mother's Day Coloring Page >>> Mother's Day Coloring Page Free Printable (pdf)
You can also download this Happy Mom's Day Coloring Page Free Printable I created last year.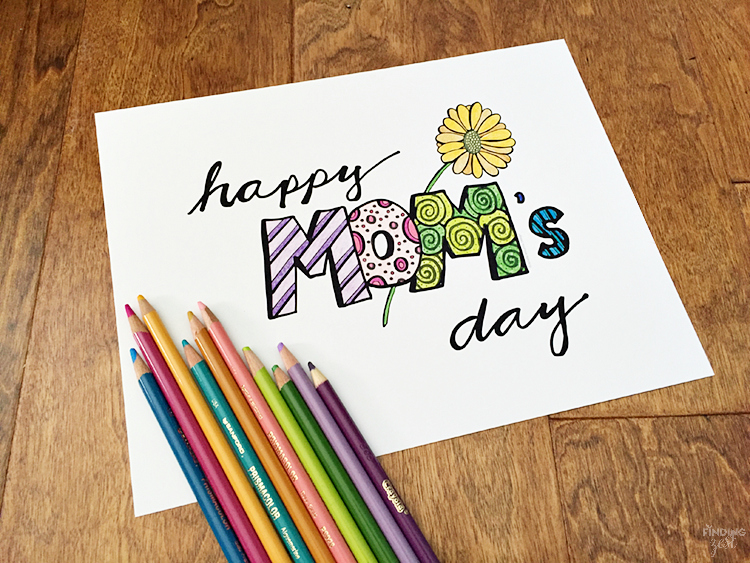 Need More Mother's Day Free Printables?
Please respect my design copyright (©Janelle Wourms Design) for this free printable, as well as the original link to Finding Zest where I'm sharing this printable.  I am offering it for free but do not take the file and upload it anywhere for sale or distribution. If you share this design please give me credit and link to the original post. Thank you!