My kids love desserts with fruit and wanted to learn how to make sorbet. For this Mango Pineapple Sorbet recipe we used already frozen fruit, even though I had fresh mango and pineapples on hand. This recipe is super quick, but you need to work with frozen fruit and we were too impatient to wait. That means though that you can easily enjoy this three ingredient recipe year round!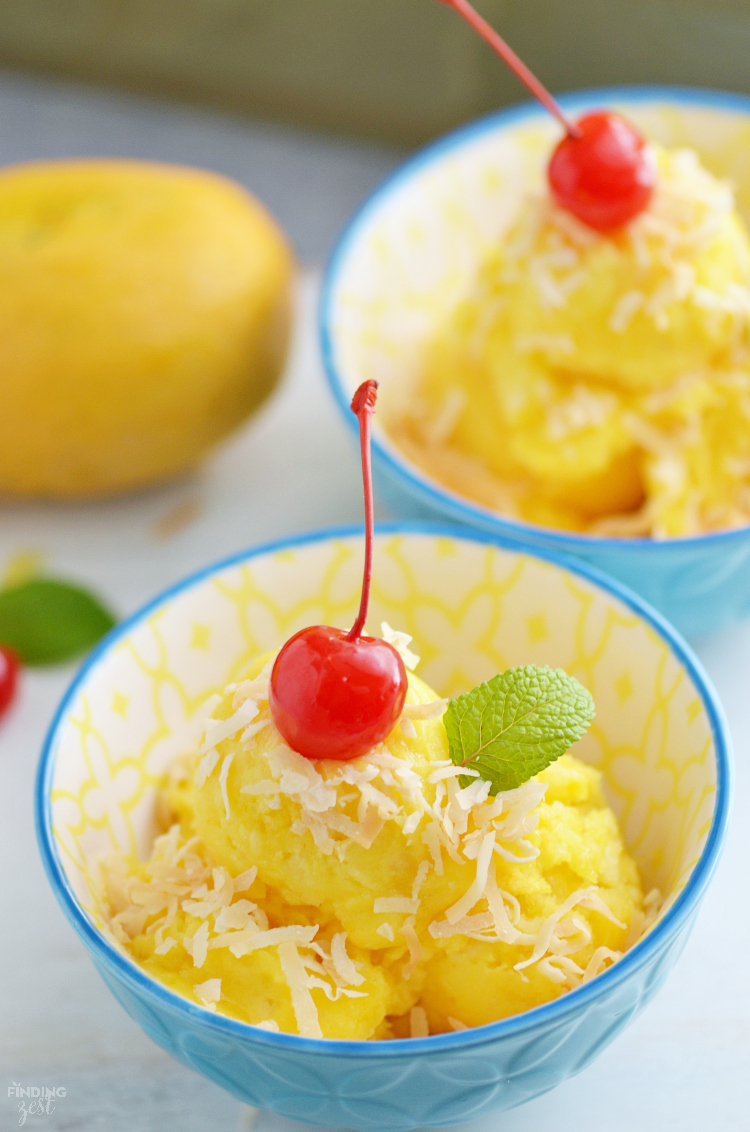 How to Make Homemade Sorbet
All you need is frozen fruit, some sort of sweet liquid and a really good blender. I highly recommend a Ninja if you don't already have one! We love ours.


We used 1 1/2 tablespoons of pure maple syrup to sweeten our sorbet but you can really use whatever sweetener you want or even fruit juice for no added sugar.
Wesley loves working the blender!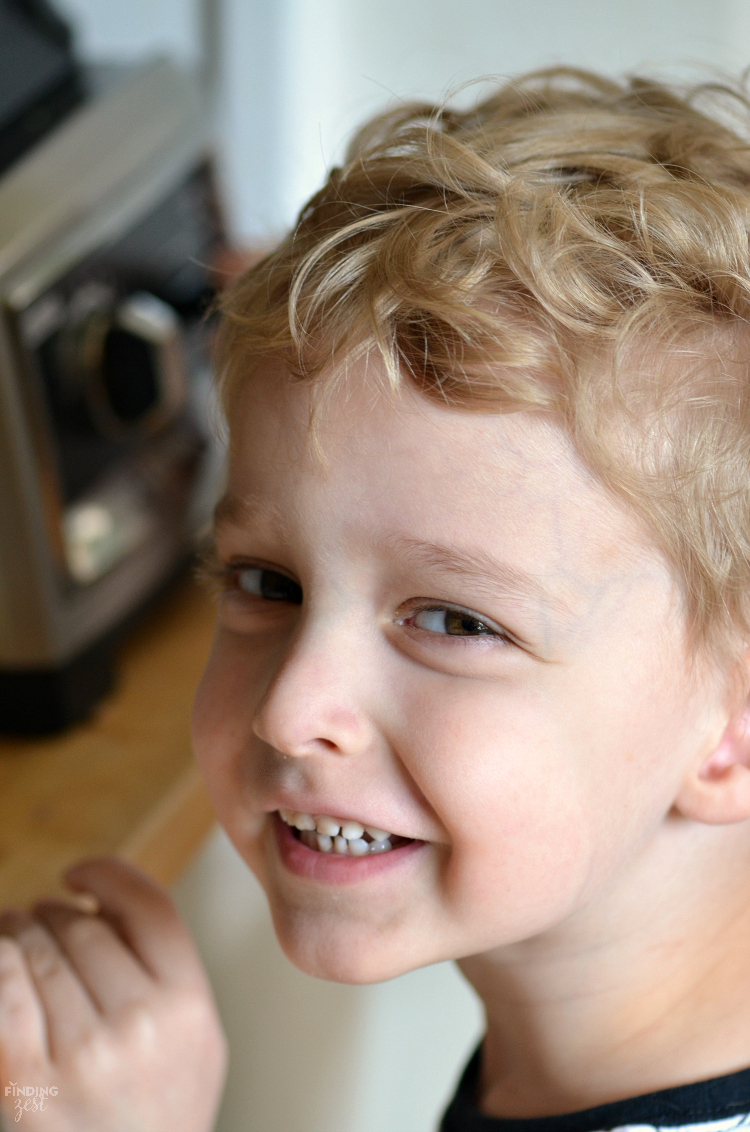 The frozen fruit will just look like really tiny chunks when it is finished.
You'll want to give it a stir and mash it down a bit to get the consistency of sorbet, much like this mock Cherry Banana Ice Cream we made last year.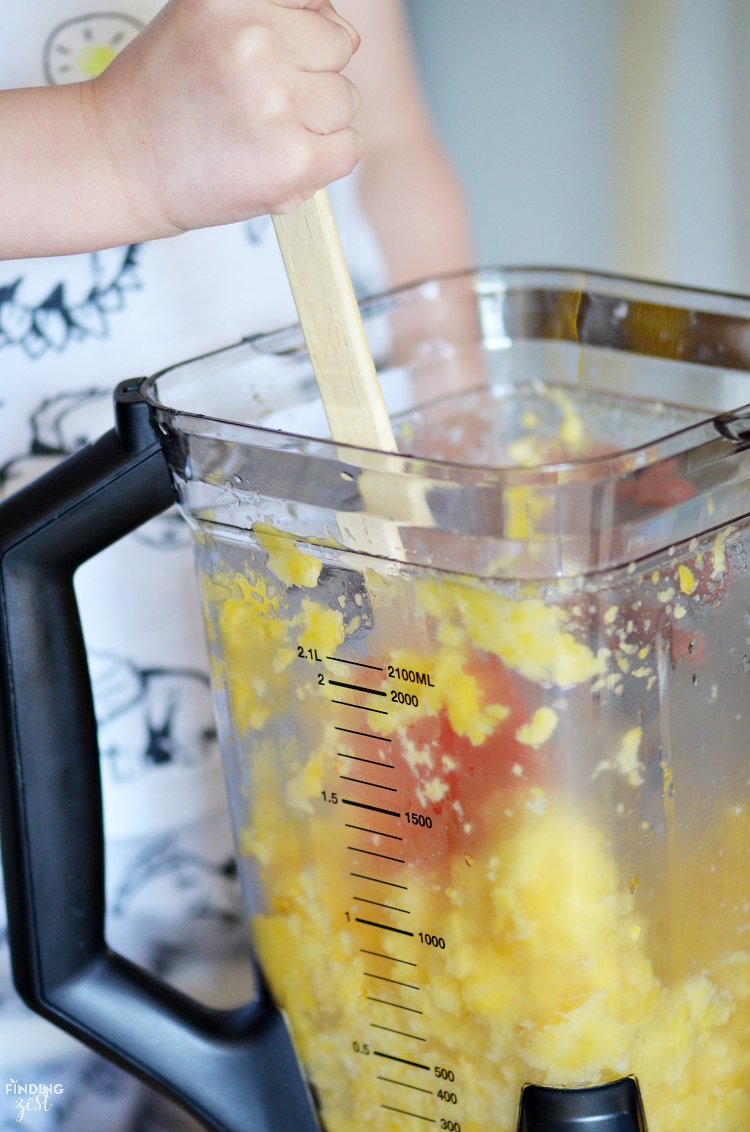 Doesn't it look delicious? It is ready to eat in only 5 mins!
You can play around with different fruit options but this mango pineapple sorbet is really a killer flavor combination.
If you want to take this frozen dessert to the next level, make it a tropical sorbet by adding some toasted coconut and a cherry on top.
My kids went nuts for this tropical sorbet and loved the added crunch and flavor of the toasted coconut.
Learn how to toast coconut in my yogurt dipped banana recipe! 
Mango Pineapple Sorbet
Recipe Type:
Dessert/Snack
Ingredients
2 cups frozen mango
2 cups frozen pineapple
1 to 2 tablespoons pure maple syrup (or honey, agave nectar, orange juice)
toasted coconut, maraschino cherries, mint for garnish (optional)
Instructions
Using a quality blender, puree mango, pineapple and syrup.
Stir to make smooth consistency.
Top with toasted coconut, cherry and mint if desired.
Serve immediately or keep frozen until ready to serve.
Regardless of how you serve it, this easy mango pineapple sorbet is a great alternative to ice cream!
What have you been up to with your mini chefs this week?
I am hosting Mini Chef Mondays along with 4 fabulous bloggers, find out more about the Mini Chef Mondays Team!
Join our facebook group to find even more recipes and share your own recipes!
Get featured and follow us too!
Be sure to check out each of their Mini Chef posts as well!