What veggie is better than fresh green beans? If they are prepared right, nothing in my book. Green beans are one of my favorite vegetables and I love them prepared all sorts of ways. Roasting has been my go-to method for a while but last week I branched out and decided to make sauteed green beans instead. When sauteing vegetables I typically opt for using a bit of extra virgin olive oil or butter but not this time. I fried up some bacon and used some leftover bacon grease instead to make these sauteed green beans with bacon. Was it good? So good!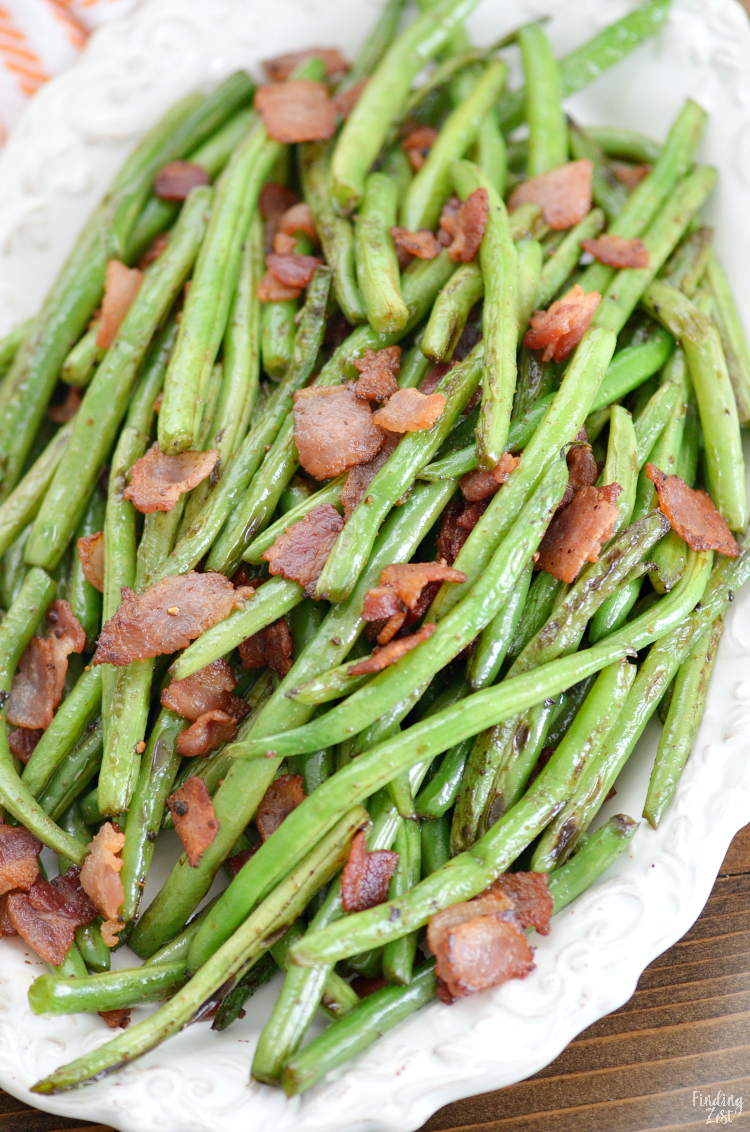 How to Cook Fresh Green Beans
If you've never made fresh green beans before, don't worry. Green beans are a pretty forgiving vegetable but you do want to make sure that you wash and trim them. Green bean ends are tough, stringy and are really difficult to eat. Don't ruin your side of green beans by skipping this step. If you get your green beans from the garden or you buy them in the store unprocessed, you'll need to trim the ends.
I like to take my kitchen shears and simply snip off the ends. If you don't have a good set of kitchen shears I highly recommend getting a pair for your kitchen. It is one of my most used kitchen items!
How to Make Sauteed Green Beans
Vegetables with bacon like these oven roasted brussel sprouts are loaded with flavor and green beans are no exception. I like to chop my bacon before cooking it for easier and quicker cooking.
For sauteed green beans you can cook them part way first, but I find that cooking them from start to finish on the stove top works fine as long as you stir them often. I like to put a lid on them to let the steam help cook them.
How long it takes to saute green beans will really depend upon both the thickness of your green beans and your desired tenderness. Around 15 minutes was just right for my green beans.
I tossed my bacon back into the pan to mix but do not to leave your bacon in there too long or it will continue to cook and may get crispier than you like.
And that is all there is to making sauteed green beans with bacon! While the bacon grease does had in extra flavor, you can also prepare this with olive oil and purchase precooked bacon that you add into the pan towards the end of your cooking.
Sauteed Green Beans with Bacon
Author:
Emilie at FindingZest.com
Ingredients
1½ pounds fresh green beans, cleaned and trimmed
½ pound bacon (7 to 8 slices), chopped
1 teaspoon garlic powder
sea salt and pepper to taste
Instructions
In large skillet cook chopped bacon over medium heat until desired doneness.
Transfer to plate lined with paper towels to drain.
Remove two tablespoons bacon drippings. Drain any remaining grease from skillet and wipe with paper towel.
Add bacon grease back into skillet. Pour in green beans. Add garlic powder, salt and pepper. Toss to coat green beans. Cover and cook over medium heat, stirring often, around 12 to 15 minutes or until desired tenderness. (Cooking time will vary depending on thickness of green beans.)
Add bacon back into skillet and stir green beans. Transfer into serving dish and serve immediately.
More Bacon Side Dishes
Want more vegetables with bacon recipes? Here are some great bacon side dishes to add to your menu!