Growing up my mom always made potato salad several times throughout the summer. Whether we were having a picnic at the beach, grilling in the backyard or headed to a potluck, potato salad was always on the menu. And while my mother was always a purist with a classic potato salad recipe, over the years I've learned there are so many wonderful ways to enjoy potato salad. This loaded red potato salad recipe is a great example!
How to Make Red Potato Salad
For a classic potato salad where the skins are peeled, Yukon Gold are my favorite. However, it it is really hard to resit the color and flavor of red potato skins, including in potato salad.  The skins have more nutrition than the interior of the potato so I like to leave them on in dishes when possible.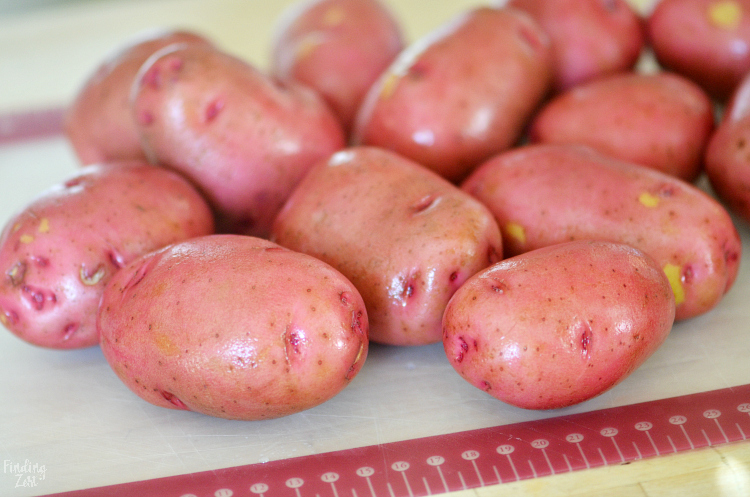 What Size to Cut Your Potatoes
Normally I like to use small 'b' size red potatoes so I can simply wash and quarter them quickly. The red potatoes I had on hand though were a bit larger so I cut each in half and cut that down to four to six pieces, depending upon the size of the potato. I like my potatoes to still be bite size, but not so small they can't hold their shape and become mushy.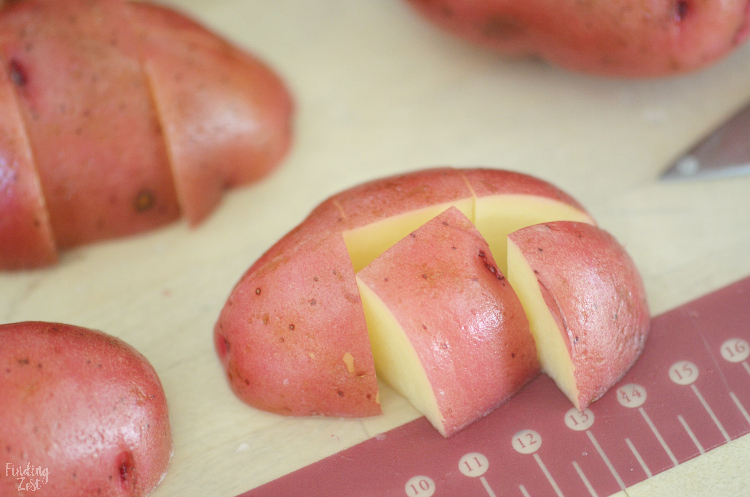 How to Boil Your Potatoes
When it comes to boiling potatoes, you always want to make sure you are using a larger pot and completely cover your potatoes with cold water. The cold water is important for even cooking throughout. Just like I do with pasta, I like to to add salt to the water as well for a more flavorful and creamy potato. Because my potatoes were bite sized it only took a few minutes to cook once the water started to boil. You'll want to keep a close eye on your potatoes so they don't overcook and become too soft.
Potato Salad with Bacon
While bacon isn't a requirement in potato salad, bacon and potatoes in general are a killer combination. Bacon added to any dish like these sauteed green beans always adds a ton of flavor. Potato salad with bacon is no exception. I like to chop my bacon up first but crumbled bacon or even precooked bacon that is warmed up a bit works too.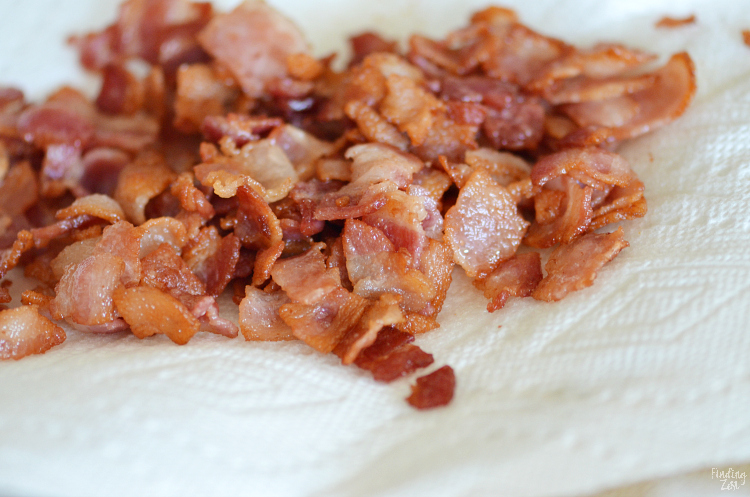 Loaded Red Potato Salad
I wanted my potato salad to resemble the topping on a loaded baked potato so I added shredded cheese and green onion in addition to the bacon. However potato salad with egg is a must in my book so I couldn't leave hard boiled eggs out like most other loaded potato salad recipes.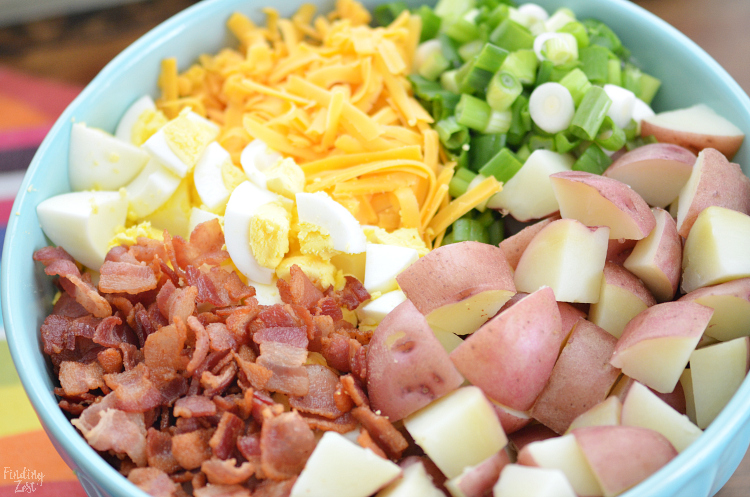 I'm so glad I included eggs because it wouldn't have been the same without them and all the ingredients tasted so good together!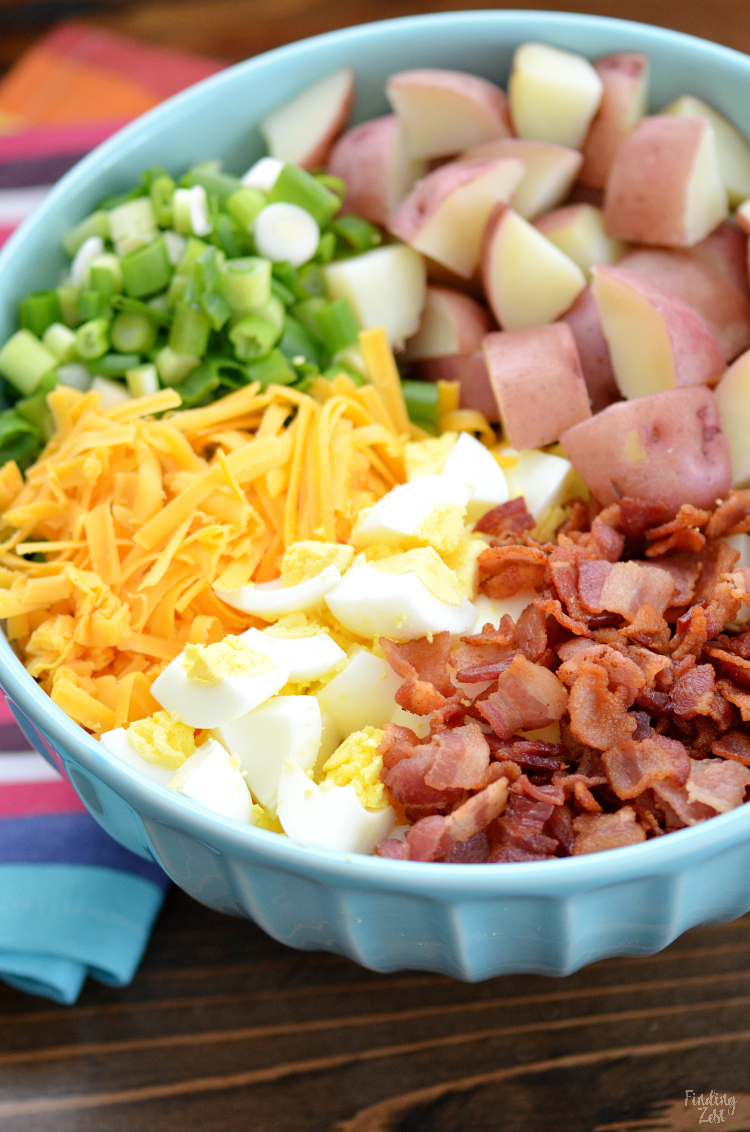 Loaded Potato Salad Dressing
Standard dressing for a loaded potato salad include mayo and sour cream. But I discovered how much I love Cesar dressing in this bowtie pasta salad and I added some in for extra flavor. It isn't over powering, just enough to give the dressing a little kick.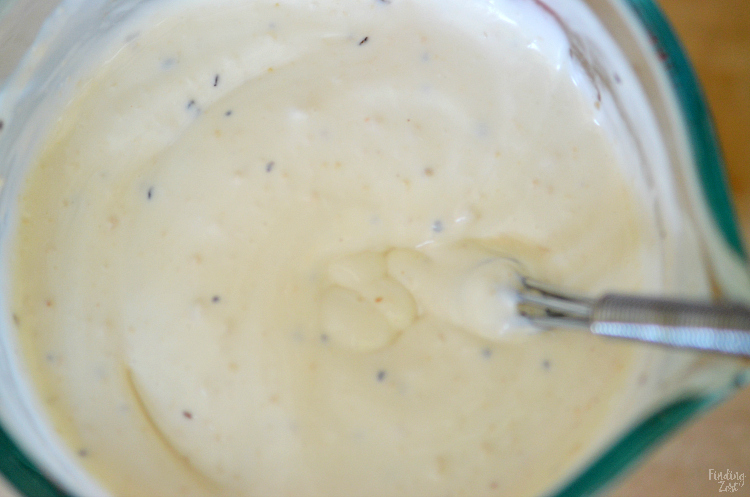 For most potato salad recipes you'll want to give your ingredients a chance to cool completely in the fridge. I recommend at least a couple of hours but this side dish still tastes delicious if you don't have that kind of time.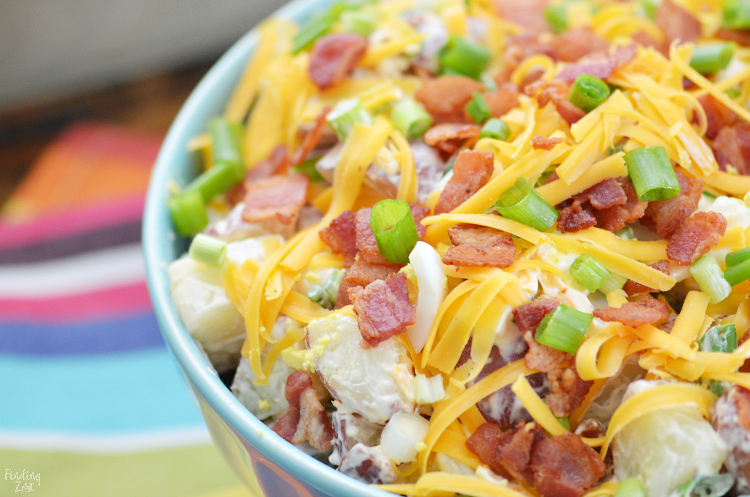 That is all there is to making this loaded potato salad! Bring this summer salad to your next potluck or cookout, or simply serve it as a side dish with your favorite grilled recipes!
Loaded Red Potato Salad
Author:
Emilie at FindingZest.com
Ingredients
3 pounds red potatoes, washed and cut into bite sided chunks
5 stalks green onion, diced
4 hard boiled eggs, peeled and chopped
½ pound bacon (approx. 7 to 8 slices), chopped and cooked
1 and ½ cups shredded cheddar cheese
½ cup mayonnaise
⅓ cup sour cream
⅔ cup Cesar dressing
salt and pepper to taste
Instructions
Add potatoes to large pot and fill with cold water until all potatoes are covered. Add salt if desired to flavor potatoes.
Heat to boiling. Simmer.until potatoes are tender when pierced with a fork. (Approximately 5 to 8 minutes, depending upon size.)
Drain and cool potatoes.
Add potatoes, onion, eggs, bacon, and cheddar cheese to large bowl. Reserve some green onion, cheese and bacon for garnish.
Mix together mayo, sour cream, Cesar dressing and salt and pepper taste.
Gently stir ingredients together. Transfer potato salad and garnish to fridge to cool at least 2 hours or until ready to serve.
Top with reserved green onion, cheddar cheese and bacon before serving.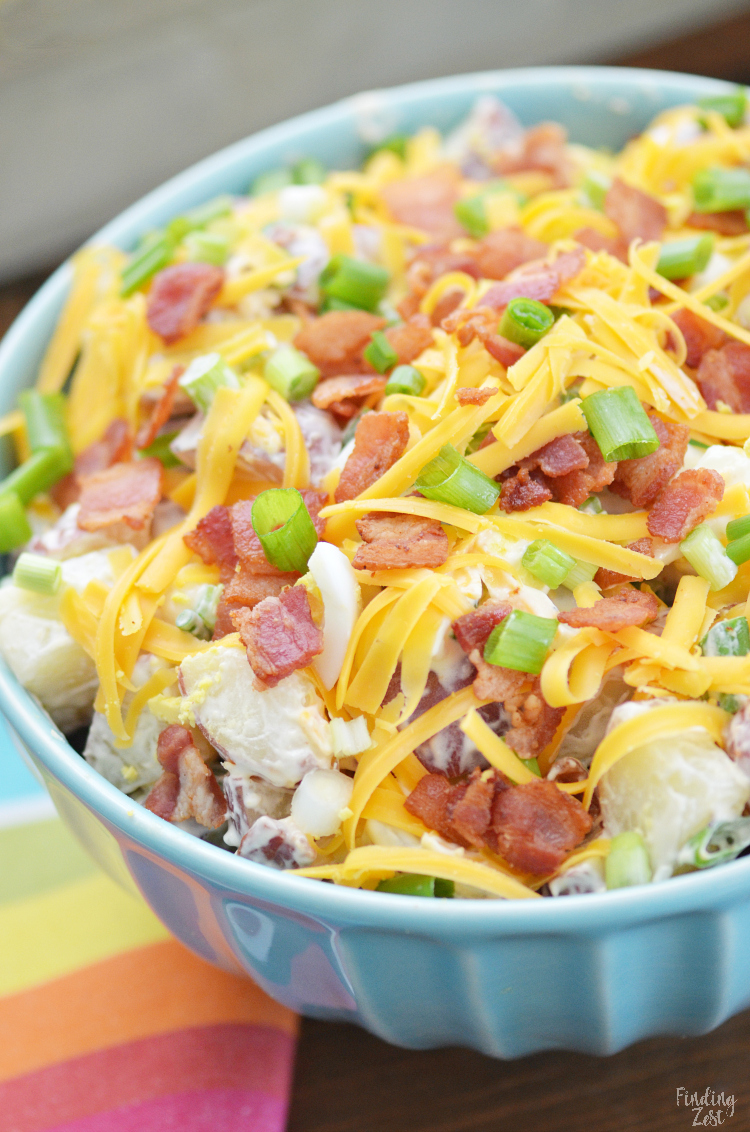 Summer Side Dishes:
Looking for more recipes to serve this summer? Any of these summer side dishes would be perfect to accompany your favorite grilled recipes or to bring to a summer picnic!