My whole family loves granola, especially my husband. But up until this year, I didn't realize just how easy it was to make. (If you are looking for a great recipe, check out my homemade Berry Granola recipe on my other blog.) So when General Mills sent me a summer roadtrip snack map and listed a recipe for Take Along Oatmeal Bars in my home state of Minnesota, I thought it would be fun to try them out.
Ironically the week I made them was the same week my brother-in-law and his family were vacationing in the Boundary Waters Canoe Area (BWCA). They spent 5 days there and I bet they would have loved a snack like this! (Although their guide, another family member, probably would have vetoed them as he packs very light.)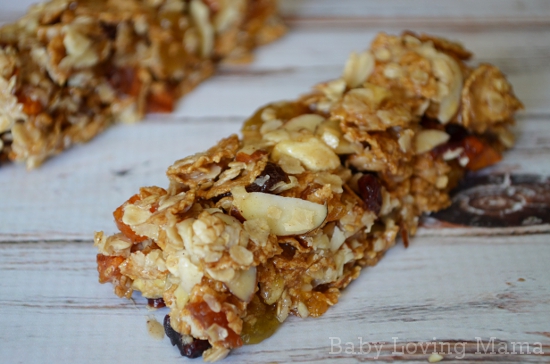 They turned out a bit sweeter than I was expecting but they were delicious! My middle son Warren couldn't resist stealing some any chance he got. And would you believe they are actually made with Wheaties cereal? I hadn't had them in ages but found them super tasty in the morning with some fresh berries or in the evening as a little snack. My one year old actually loved them as a welcome change from Cheerios and gobbled the flakes up for breakfast.

Take Along Fruit & Oatmeal Bars
Ingredients
¼ cup sugar
¼ cup butter or margarine
⅓ cup honey
½ teaspoon ground cinnamon
1 cup diced dried fruit and raisin mixture
2 cups Wheaties® cereal
1 cup old-fashioned or quick-cooking oats
½ cup sliced almonds
Instructions
Grease bottom and sides of 8 or 9 inch square pan with a little butter.
Using a 3-quart saucepan, melt sugar, butter, honey and cinnamon to boiling over medium heat, making sure to stir constantly. Boil 1 minute, stille stirring constantly. Remove from heat.
Carefully stir in dried fruit. Stir in cereal, oats and almonds
Press mixture in pan, using the back of a wooden spoon to press down evenly. Cool completely, at minimum 30 minutes. (Bars may fall apart otherwise.) For bars, cut into 4 rows by 4 rows or cut into smaller, squares if desired. Store loosely covered at room temperature.
The only thing I'll recommend with this recipe is to do small, bite sized squares instead of a full bar. Because these aren't baked, they aren't sturdy like traditional granola bars and can fall apart. And if you don't like very sweet things, consider reducing the amount of sugar.
You can check out the entire map with links to snack recipes on the Hello Cereal Lovers Tumblr page.
There you will find 39 fun snack ideas with cereal, all perfect for road tripping! Happy travels, cereal lovers!
_______________________________________________________________________
Disclosure: I do have a relationship with General Mills however this post is not sponsored in any way. I paid for the ingredients to make this recipe myself and I'm not being compensated for the post. I just thought the recipe looked tasty and wanted to share.