I'm sharing French's® in my life as part of a sponsored series for Socialstars™ #FrenchsCrowd #FrenchsMustard
While I love a good salad any time of year, they are definitely a staple during the summer. When the temperatures heat up the last thing I want to do is turn on the oven or eat a heavy meal. I look for ways to enjoy a delicious dinner without weighing me down. And with fresh produce so readily available, salads are a perfect summer meal. This Warm Chicken Bacon Salad featuring a homemade mustard dressing is loaded with vegetables and packed with protein to fill you up!
Although French's is known for its iconic Classic Yellow mustard, did you know that it also has a deliciously bold tasting Spicy Brown mustard AND a smooth & creamy Dijon? Made with real Chardonnay, French's® Dijon Mustard is loaded with extra flavor. Whether you like this gourmet mustard on your sandwiches or in your dishes, it adds something special to your meal.
I love to pair French's® Dijon Mustard with bacon. When I first used it in a marinade for my favorite bacon-wrapped pork tenderloin, I fell in love with robust flavor. I decided I needed to try this combination in a bacon mustard salad dressing.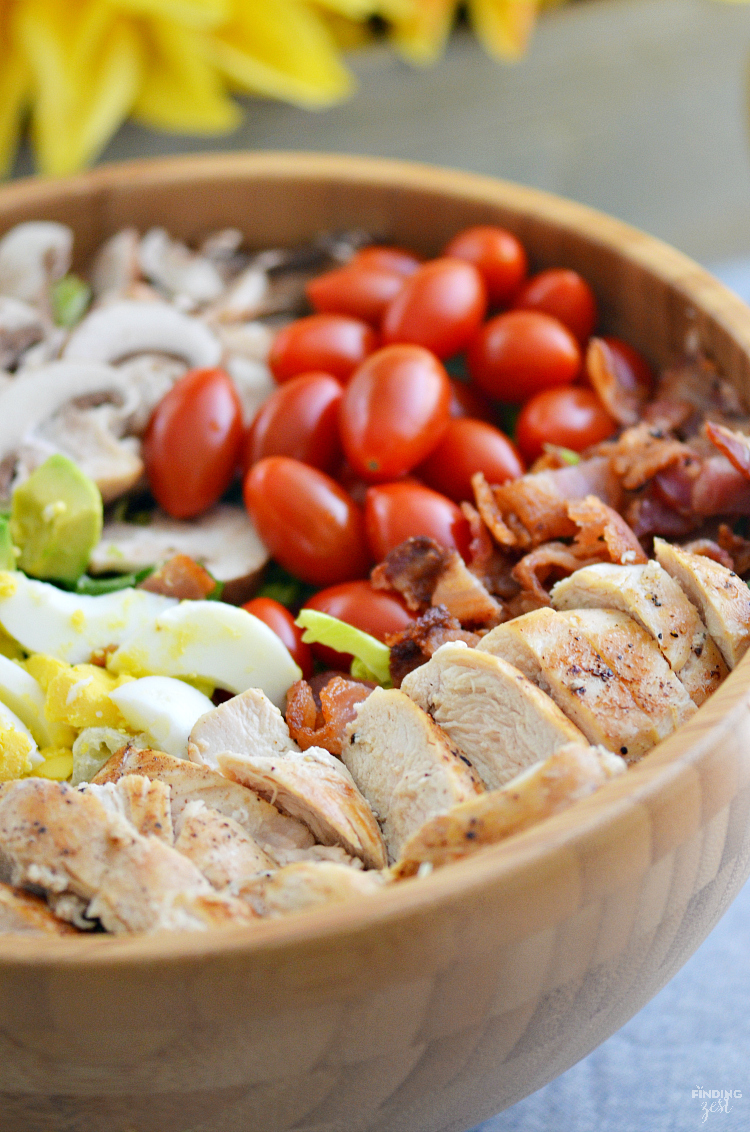 I did let my dressing sit a bit which caused it to thicken up. While it still tasted great, I recommended timing it so it is done around the same time as your chicken so you can enjoy both of them hot!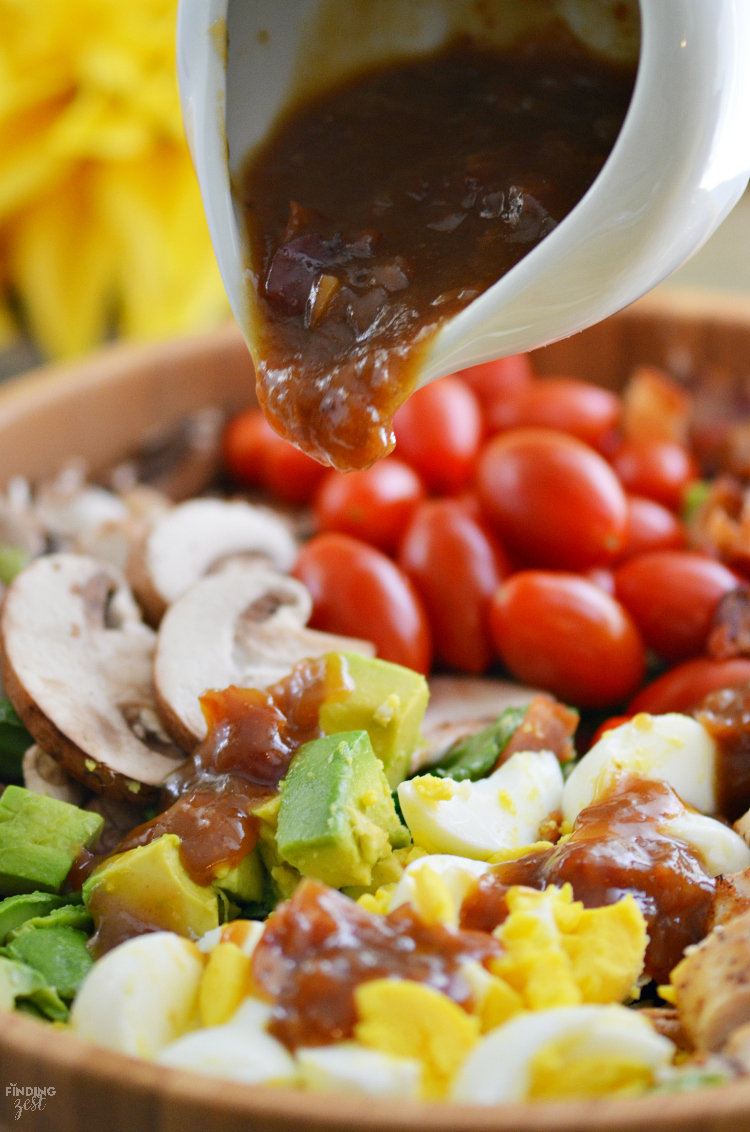 I wanted this Warm Bacon Chicken Salad to be loaded with protein to fill me up and my topping choices reflect that. However, this mustard salad dressing would taste great with a wide variety of vegetables so feel free to switch them out with your favorites.
Warm Chicken Bacon Salad with Mustard Dressing
Author:
Emilie at FindingZest.com
Ingredients
12 cups chopped romaine lettuce
3 hard-cooked eggs, peeled and cut up.
1 cup sliced mushrooms
1 cup cherry tomatoes
1 avocado, seeded and chopped
5 strips cooked bacon, crumbled
2 chicken breasts
3 tablespoons olive oil
⅓ cup finely diced onion
1 teaspoon garlic, minced
⅓ cup white wine vinegar
⅓ cup French's® Dijon Mustard
⅓ cup honey
salt and pepper
Instructions
In large serving bowl, add romaine lettuce and top with tomatoes, mushrooms, avocado, and 3 crumbled strips of bacon.
Pat chicken dry. Salt and pepper both sides of chicken breasts.
Heat 1 tablespoon olive oil in pan over medium high heat.
Add chicken breasts and cook on one side for 4-6 minutes.
Flip over and add ¼ cup water to pan. Cook additional 4 to 6 minutes or until cooked through. Cut chicken into slices.
While chicken is cooking, make the mustard dressing by heating 2 tablespoons olive oil in small skillet over medium heat. Stir in onion and garlic.
Cook until softened and translucent (approximately 2 minutes).
Whisk in the vinegar, mustard, honey, and 2 crumbled strips of bacon. Season to taste with salt and pepper. Cook until hot.
Pour hot dressing over salad with chicken.
Toss to coat and serve immediately.
My husband and I loved the lively bacon mustard dressing on this loaded salad!
Looking for more great meal ideas? Be sure to check out the French's Pinterest and Facebook page for more inspiration!
Do you have a favorite summertime salad?