Bacon Wrapped Shrimp in the air fryer is an awesome appetizer for bacon lovers! This seasoned shrimp is not spicy but loaded with flavor, making it a hit for the whole family. You won't be able to resist this shrimp and bacon recipe. Makes a great hot appetizer option for game day, special occasions, or even a fun dinner option!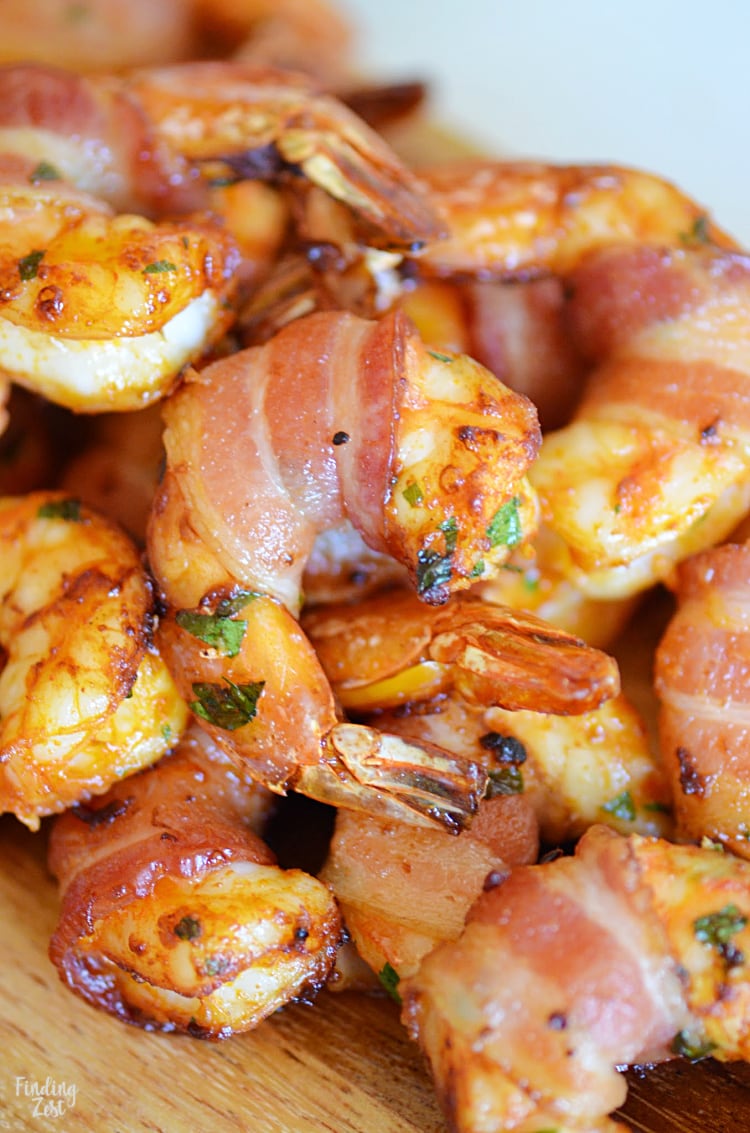 Shrimp in the air fryer has never tasted so good! Everything is better with bacon, right? Dunk this flavorful shrimp with bacon in your favorite sauces. Works great in the air fryer for a crispy texture but you can also broil it in your oven. (Scroll for full instructions below.)
Bacon Wrapped Shrimp Ingredients
To make this bacon wrapped shrimp deliciousness, you'll need the following ingredients:
jumbo shrimp (thawed, peeled, deveined with tail on)
bacon
olive oil
minced garlic
paprika
fresh parsley
Pretty simple, right? You could skip the fresh parsley if you didn't have any on hand, but I find it adds some nice flavor and color to the shrimp.
How to Make Air Fryer Bacon Wrapped Shrimp
You'll want to start peeling your thawed jumbo shrimp, if necessary. (Be sure to leave the tail on to hold on to for easier eating.) In a small bowl combine the oil, minced garlic, paprika and parsley. This marinade really adds amazing flavor!
Pour the seasoning blend over your shrimp and gently toss to fully coat. Cut your strips of bacon into thirds.
Wrap the bacon around the middle of the shrimp and place it seam side down on baking tray. Continue with remaining shrimp. Place in the fridge for 30 minutes or more to help the bacon stay secure to the shrimp.
To cook, preheat your air fryer to 400 degrees F. One heated, place your shrimp, bacon seam side down, in your basket. If your bacon shifts, be sure to adjust it so it is secure to the shrimp again. Try not to overlap the shrimp for even cooking. Cook for approximately 8 to 10 minutes or until the bacon is fully cooked.
Do you have to flip shrimp over halfway?
Short answer is no, you don't need to turn your shrimp over. I've cooked it both ways and found it more difficult when turning them over. The bacon was more likely to lift off the shrimp and get out of place as I flipped them. It turned out better and was certainly easier to skip flipping them altogether!
Bacon Wrapped Shrimp in the Oven
No air fryer? No problem! You can make this bacon shrimp using the broiler in your oven. Place your rack 3 to 4 inches from the heat source and broil your bacon wrapped shrimp for 5 to 6 minutes, turning over halfway. Cook until your bacon is fully done and your shrimp is pink. Serve immediately.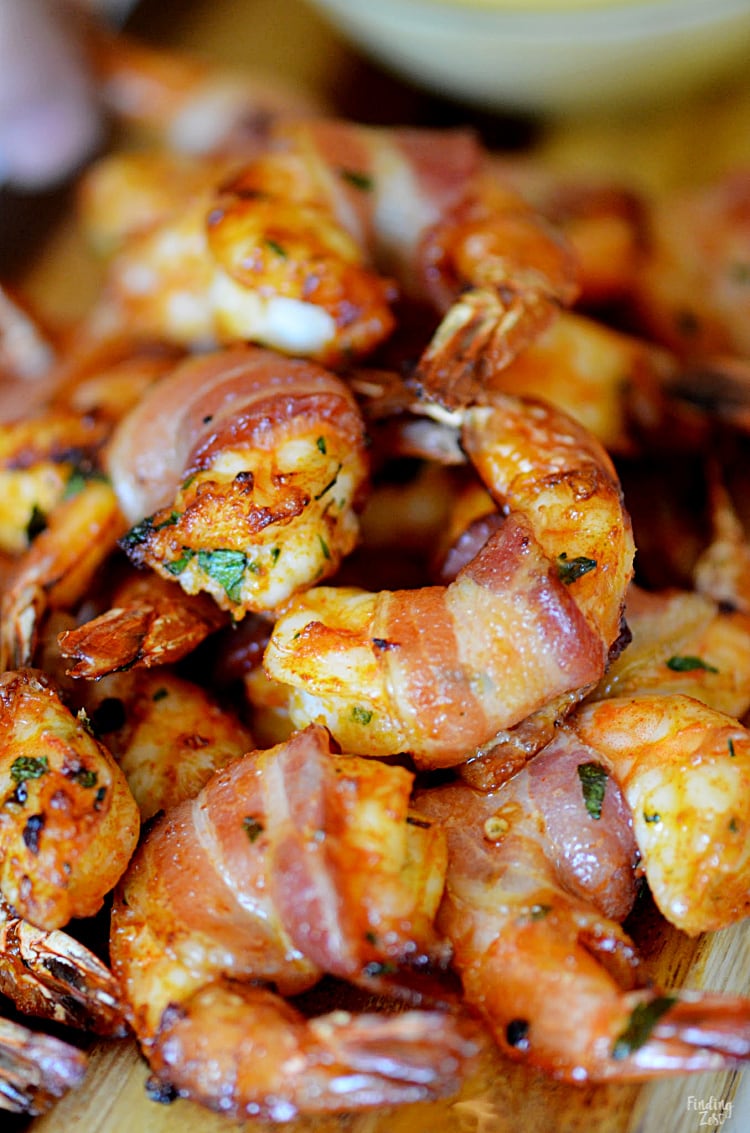 Because of the fairly mild flavor in this shrimp it pairs well with a wide variety of sauces. We enjoyed ours plain and with honey mustard. My whole family seriously can't keep their hands off when I make air fryer bacon wrapped shrimp. It is a new family favorite and will be added to our regular rotation, including on game day.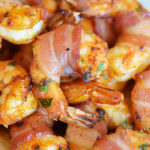 Bacon Wrapped Shrimp in the Air Fryer
Shrimp and bacon are a killer combination. Give this bacon wrapped shrimp appetizer a try in your air fryer for easy prep! No air fryer? No problem! Baking instructions are also included.
Ingredients
24

jumbo raw shrimp

deveined with tail on, fresh or thawed from frozen

8

slices

bacon

cut into thirds

1

tablespoon

olive oil

1

teaspoon

paprika

1 -2

cloves

minced garlic

1

tablespoon

finely chopped fresh parsley
Instructions
In small bowl, stir together olive oil, paprika, garlic and parsley

Peel raw shrimp if needed, leaving tails on and place in medium sized bowl.

Pour olive oil mixture over shrimp and gently stir to coat.

Wrap bacon piece around middle of each shrimp, seam side down and place on small baking tray.

Refrigerate 30 minutes. (This helps keep the bacon in place when cooking)

Preheat air fryer to 400 degrees.

Place shrimp seam side down, tightening bacon again if necessary, being careful to not overlap or have shrimp touching. (May require cooking in batches, depending upon the size of your air fryer).

Cook for 8 to 10 minutes or until bacon is fully cooked. Repeat with remaining shrimp if necessary. Serve immediately.
Recipe Notes
Can serve with your favorite dipping sauce.
Baking instructions: Broil in your oven with rack in 3 to 4 inches from the heat. Cook for 5 to 6 minutes, turning once halfway through cooking until bacon is fully cooked and shrimp is pink.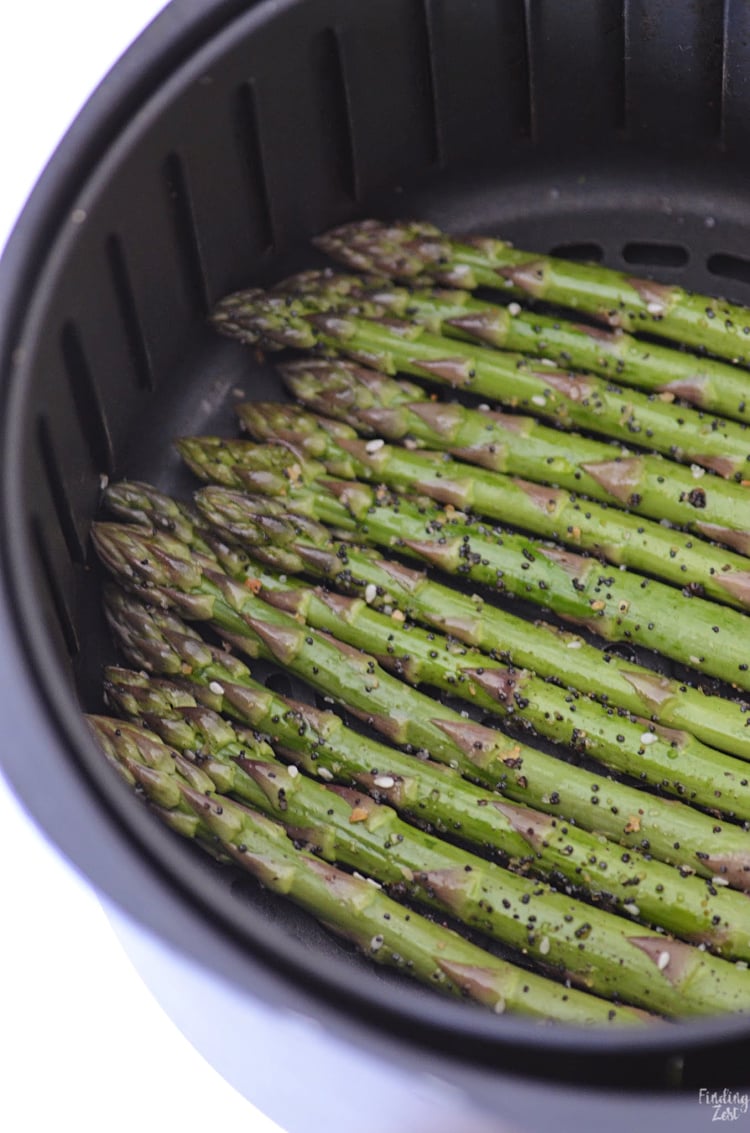 Need more air fryer recipes?
We love using our air fryer and have several recipes have shared several recipes here on Finding Zest already.
Here are a couple more of our favorites:
And a few air fryer recipes we can't wait to try: