Do you ever happen upon something in the grocery store and just feel inspired to make something? That happened to me with a bag of mini sweet peppers at Sam's Club last week. They were just begging me to make them into some tasty appetizer. I could tell. So naturally when I think of appetizer I think of cheese and bacon. (Doesn't everyone?) I created this mini Sweet Pepper Poppers appetizer. They are a little bit of heaven! Added bonus is that they are low carb, perfect for anyone who is trying to avoid extra carbs.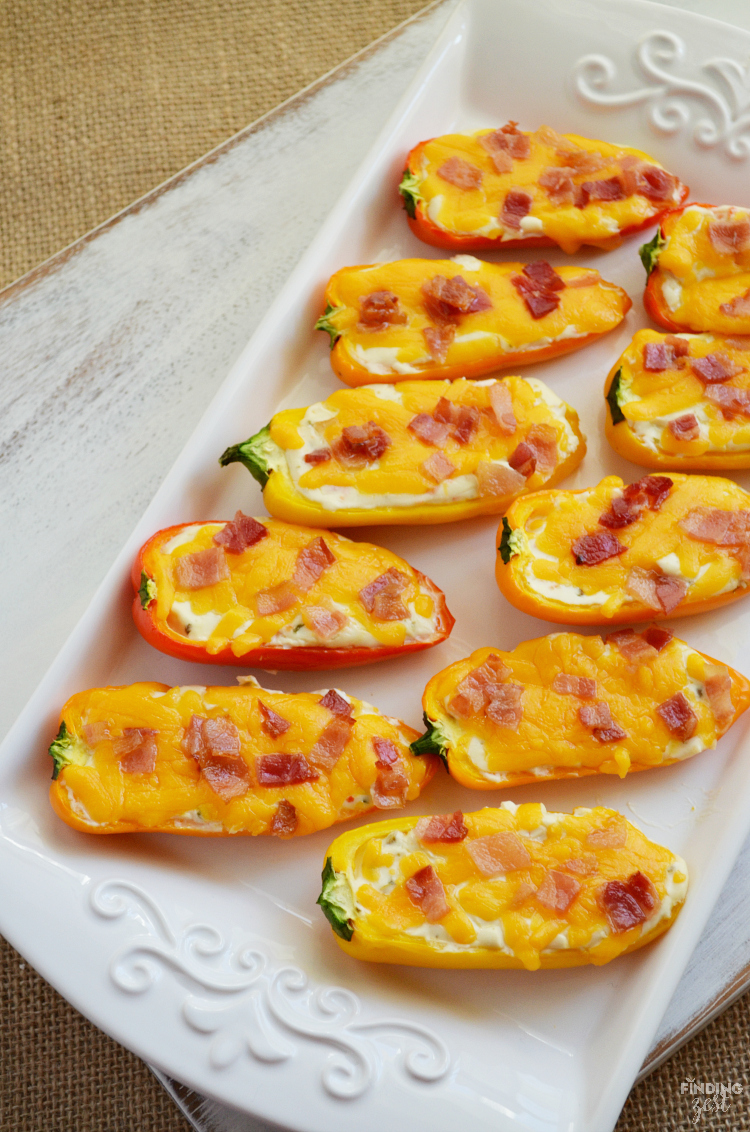 Originally I wasn't sure if I wanted to bake my peppers. I knew that the flavored cream cheese, cooked bacon and cheese would taste phenomenal on a crunchy sweet pepper.  But my husband was pretty adamant that they would taste so much better cooked so the peppers were nice and soft.
It doesn't take a lot of mini peppers so if you want to feed a large crowd, a single 2 lb bag from Sam's Club would go a very long way!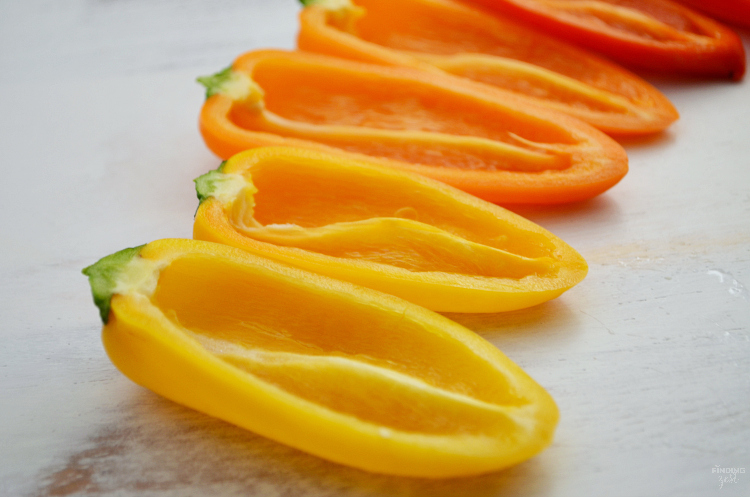 You'll Love Sweet Pepper Poppers
Bacon and cheese is always a winning combination with any crowd. Trust me. It is also a great way to sneak in some vegetables, especially with a picky crowd.
With this low carb appetizer recipe you also won't have to worry if they sit out a bit after serving.  While these peppers tasted amazing right out of the oven, I found I loved the cold leftovers just as much.  Serve them any way you like!
They I love how bright and colorful these peppers are. If you prefer something hot, feel free to add in some jalapeno poppers in with them. The toppings would work just as well. Just be sure to wear gloves when you remove the seeds.
Helpful Products for Pepper Poppers
I highly recommend using a quality baking sheet and silicone liner for this recipe to get great results and make clean up a breeze!
Nordic Ware Natural Aluminum Commercial Baker's Half Sheet
AmazonBasics Silicone Baking Mat – 2 Pack
Amazon will ship these directly to you in just a couple of days with Amazon prime.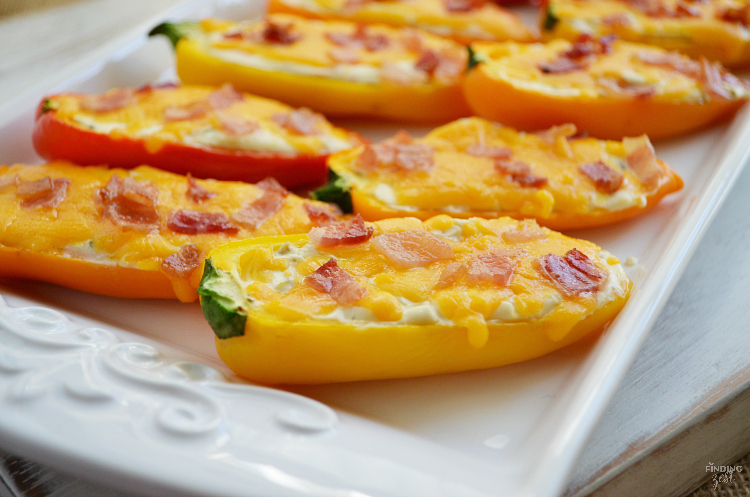 I love the versatility of this recipe.  Everyone who has tried this sweet pepper poppers recipe has loved it!
&
Sweet Pepper Poppers Appetizer
Recipe Type:
Appetizer/ Snack
Ingredients
6 large mini sweet peppers, cut in half lengthwise with seeds removed.
1 cup PHILADELPHIA Garden Vegetable Cream Cheese
3 slices pre-cooked bacon, crumbled
½ cup shredded cheddar cheese
Instructions
Preheat oven to 350 degrees.
Slightly oil large baking sheet or cover with a silicone baking sheet/parchment paper.
Fill each pepper with approximately one tablespoon cream cheese, or until filled. Place on baking sheet.
Sprinkle with shredded cheese and bacon.
Bake for 15 to 20 minutes or until cheese is fully melted.
Serve warm or refrigerate until serving.
Make these mini sweet pepper poppers for game day or as the perfect holiday appetizer for your next gathering. The colors work so well for Thanksgiving as they are or consider yellow and red peppers along with jalapeno peppers for a beautiful Christmas appetizer!
If you are serving pepper poppers on game day, here are some products from Amazon that will make your fan fuel stand out!
Football Frenzy Birthday Party Large Bowl Tableware, Plastic, 12″ x 10″
Touchdown Football Field Plastic Tablecloth 54″ x 108″
Football Stadium Chip And Dip Sports Serving Set
Beistle 60106 50-Pack Game Day Football Picks for Parties, 2-1/2-Inch
Looking for more low carb appetizers?
Hope you enjoy these low carb appetizer ideas!