This tomato cucumber salad is a refreshing side dish that is loaded with flavor and complements almost any main dish. The best fresh salads are easy with just a few key ingredients and this recipe is no exception.. The cucumbers, tomatoes and onion marinate in a balsamic vinegar and oil dressing with fresh herbs. The longer this salad has a chance to sit the more robust are the flavors. Continue reading to learn how easy it is to make this tomato and cucumber salad!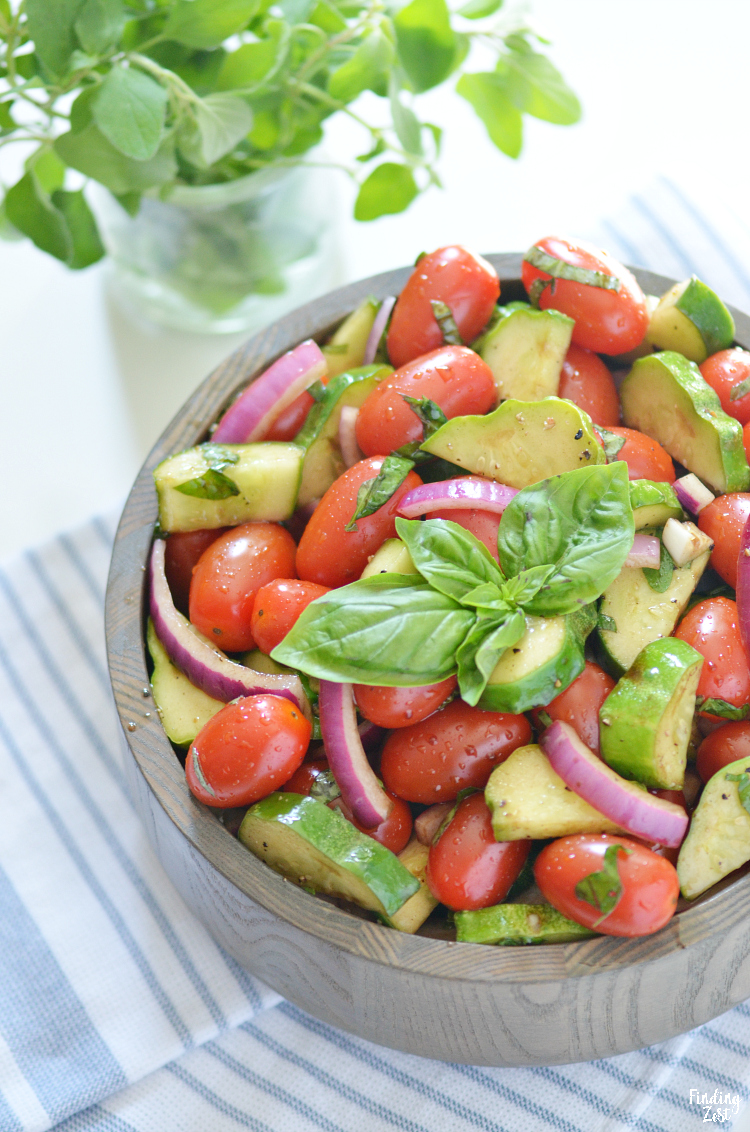 Tomato Cucumber Salad Ingredients
What do you do when you have excess super sweet tomatoes for a veggies skewers snack post?  (Thanks SUNSET!) You make a delicious tomato cucumber salad of course! I stopped off our local farmer's market and picked up fresh basil and oregano along with cucumbers to pair with my tomatoes.
For the best salad, you'll want extra fresh produce. Quality vegetables make for the best salad and fresh herbs definitely take it to a new level. I did include red onion to add extra zing and color but you can leave them out if you aren't an onion fan.
How to Make a Tomato and Cucumber Salad
The best part about this salad recipe is you can put it together in just 10 minutes. You can cut your tomatoes in half so they soak up even more of the dressing flavors. However, this will also cause your tomatoes to break down faster. I knew I wanted to be able to keep this salad for more than a day so I did not cut my tomatoes.
You can serve this salad right away but the flavor won't be as strong. I highly recommend refrigerating this salad for at least one or two hours.
On the second day I offered this salad to accompany grilled chicken skewers. My father-in-law fell in love with this salad and went back for seconds and thirds. He loved that vegetables had marinated so long with the oil, balsamic vinegar and fresh basil and oregano.
Tomato Cucumber Salad
This tomato cucumber salad is a refreshing and simple salad using fresh herbs! This salad is a great way to use vegetables and herbs from your garden.
Ingredients
1

large cucumber

sliced and cut in half

3

cups

cherry tomatoes

1/2

cup

sliced red onion

2

tablespoons

olive oil

2

tablespoons

balsamic vinegar

2

teaspoons

chopped fresh basil

1

teaspoon

chopped fresh oregano

salt and pepper to taste
Instructions
Place cucumber and cherry tomatoes in medium bowl.

Whisk olive oil, vinegar, basil and oregano, salt and pepper together in small bowl.

Pour over tomatoes and cucumbers and gently toss.

Refrigerate at least one hour before serving.
Nutrition Facts
Tomato Cucumber Salad
Amount per Serving
% Daily Value*
* Percent Daily Values are based on a 2000 calorie diet.
The ingredients are rather simplistic but that makes for the best tomato cucumber salad! Pair it with grilled chicken, baked pork chops or a juicy steak.  It is all good!
Love salads? Give my bowtie pasta salad a try. It is loaded with fresh vegetables and features a deliciously creamy dressing. If you enjoy tomato and basil salads, this caprese salad from Salty Side Dish might also be up your alley!