Air Fryer Carrots are the quick and easy way to make a delicious side dish for your family! Whip up these tasty roasted carrots in the air fryer in just a few minutes. Using staple pantry spices, these carrots are simple but delicious for every day or special occasions.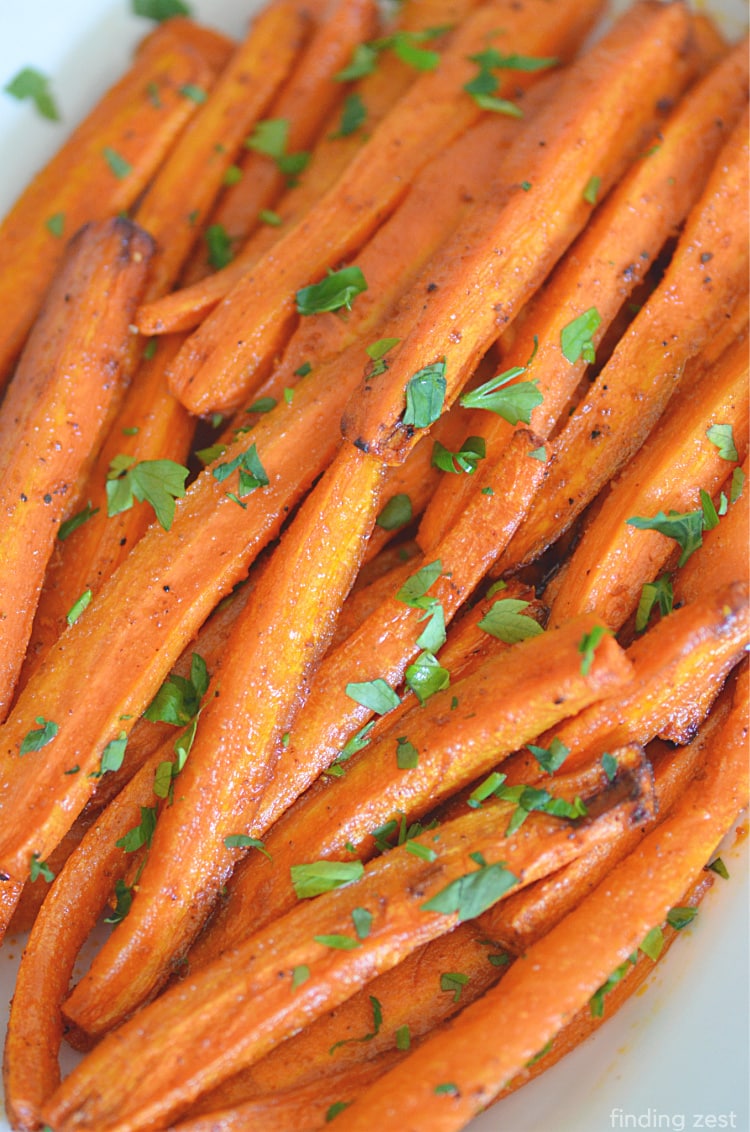 Side dishes are my new favorite thing to make in my air fryer. Simple roasted vegetables are done in a flash, and I can get that delicious taste without even using the oven. Who doesn't love meals that can be done in a fraction of the time? These carrots are simple but delicious!
Air Fryer Carrots Ingredients
To make these delicious roasted carrots you'll need the following simple ingredients:
fresh carrots
olive oil
sea salt
freshly ground pepper
paprika
garlic powder
onion powder
fresh parsley (for garnish, optional)
Wash and peel your fresh carrots. When cutting your carrots, it is really important to try and make them about the same thickness. That can be tricky when working with carrots with a much fatter top than bottom or various sizes. How thick you cut them will really affect the cooking time. For my larger carrots, I chopped them in half, then cut the tops into eights and the bottom half into quarters. Add your carrots to a medium sized bowl.
Next mix your spice ingredients into a small bowl. I used sea salt, garlic powder, onion powder, freshly ground pepper, and paprika. (You can also just pour them over the top of the of the carrots, but I find it easier to mix them ahead of time for more even distribution.)
Add your olive oil and spices to your carrots and toss to fully coat your carrots.
How to Cook Carrots in the Air Fryer
Preheat your air fryer to 375 degrees Fahrenheit. Place your carrots in a single layer in your air fryer and cook for approximately 10 minutes, flipping over halfway. Keep in mind that cooking time can really vary based on the thickness of your carrots so watch for when they are browned and tender.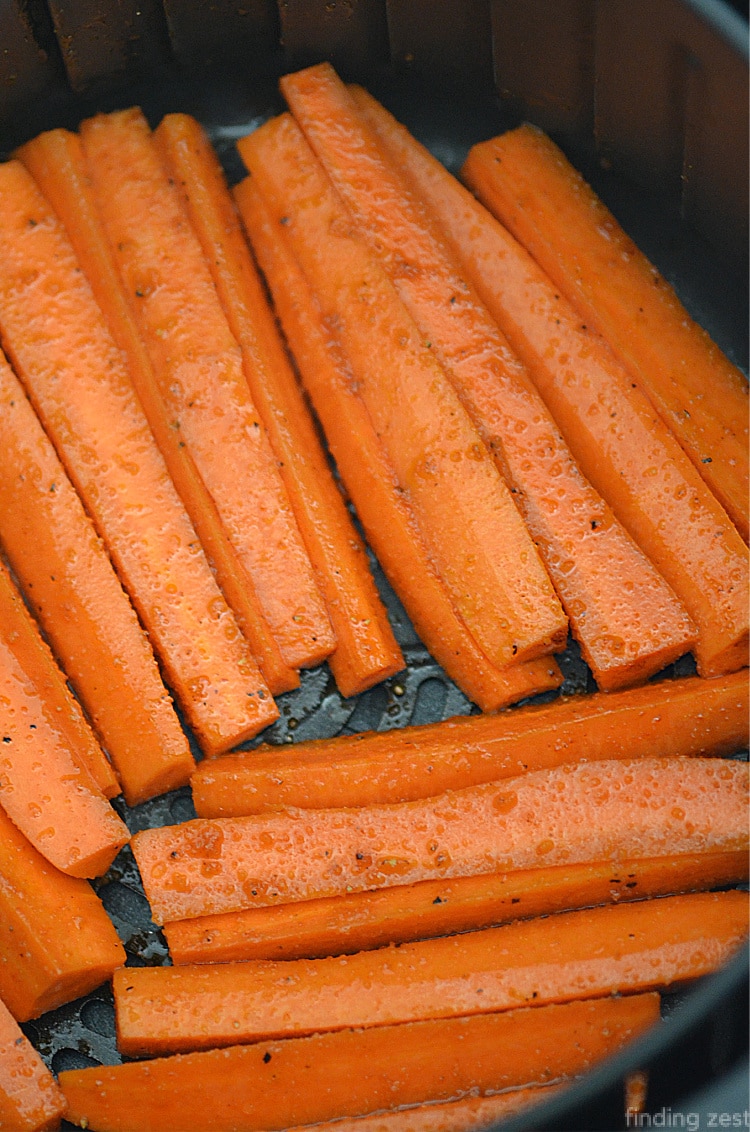 The key to cooking in the air fryer is to cook in an even layer, without overlapping whenever possible for full air circulation. If you are working with a smaller, basket like air fryer like I am here, you'll need to cook in batches. You can cook similar sizes together if your carrot spears are uneven in size. To keep your carrots warm, you can place them on a small baking sheet and keep them in a warm oven at 200 or 225 degrees Fahrenheit or simply cover them with aluminum foil. If you are cooking in batches, make sure your carrots aren't too thick to make the cooking time quicker.
I like to garnish my air fryer carrots with chopped fresh parsley. You could also garnish with shredded Parmesan cheese if you like!
Want to Roast Carrots in the Oven?
No air fryer or just want to use the oven for this roasted carrots recipe? No problem! Cook your carrots on baking sheet at 400 degrees Fahrenheit for approximately 20 minutes, or until tender and browned. (Size will affect cooking time.)
Air Fryer Carrots
Air Fryer Carrots are the simple side dish you didn't know you were missing. Just a few minutes is all you need to make these flavorful carrots in the air fryer. Free up that oven space or use it for roasted vegetables without having to turn the oven on during hot weather!
Ingredients
5

medium to large carrots

1 to 1 1/2 pounds

2

tablespoons

olive oil

1/2

teaspoon

garlic powder

1/2

teaspoon

sea salt

1/2

teaspoon

paprika

1/4

teaspoon

onion powder

1/4

teaspoon

freshly ground pepper

fresh parsley for garnish

chopped (optional)
Instructions
Preheat air fryer to 375 degrees Fahrenheit.

Wash and peel carrots. Cut carrots in half and into evenly sized spears. (For my larger carrot tops I cut into eight pieces and the skinnier bottom half into four pieces.)

Add to medium bowl and toss with olive oil and spices.

Place carrots in even layer in air fryer. Cook for 10 minutes or until browned and tender, turning over half way.

Sprinkle chopped parsley, if desired.

Serve immediately.
Recipe Notes
Other serving idea: Sprinkle shredded Parmesan cheese over hot carrots.
Carrots in the air fryer are the quick and easy way to make a delicious side dish for your family. Whether you serve these air fryer carrots up for a holiday dinner or for every day, they are sure to be a hit!
More Carrot Recipes
Can't get enough carrots? Here are some more great recipes to try!