I love rhubarb cake and this recipe has a special place in my heart. Growing up my grandparents would always bring a paper bag of goodies with them every time they visited. While it wan't anything expensive, I would get excited to see what they brought in their bag.  My favorite things included packs of gum, my grandpa's homemade maple syrup and fresh rhubarb. Just thinking about that makes me a little sad.
Isn't it always simple memories you miss most?
Because we always seemed to have an endless supply of rhubarb when it was in season, my mom had several rhubarb cake recipes in which to use this tart but wonderful fruit like vegetable. I actually looked it up and while it is technically a vegetable it is regulated in the US as though it were a fruit. You learn something new every day. If you'd like to know more about rhubarb, be sure to check out this What is Rhubarb post.
Rhubarb Cake Recipe
This rhubarb cake was a popular one for our family. The top of the cake has just the right mix of sweet and tart with an extremely moist cake below.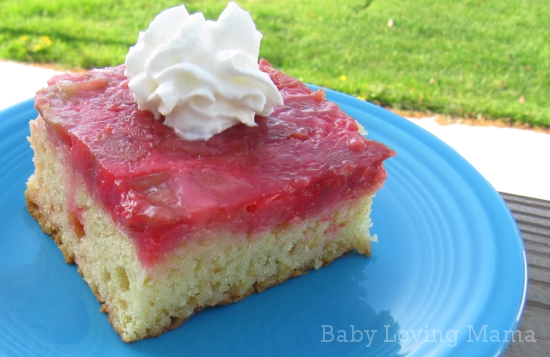 Sweet and Easy Rhubarb Cake
Author:
Unknown (altered to suit my family's tastes)
Ingredients
5 cups rhubarb cut into small bite sized pieces.
1 cup sugar
1 small box strawberry JELLO
3 cups miniature marshmallows.
Betty Crocker Super Moist Yellow Cake Mix (or your favorite cake mix)
½ cup oil
3 eggs
1 cup water
Instructions
Grease 9 X 13 inch pan. Preheat oven to 350 degrees.
Spread rhubarb on bottom of pan.
Pour sugar over rhubarb
Sprinkle gelatin over sugar
Top with mini marshmallows
Mix cake according to package directions using oil, eggs and water.
Pour over rhubarb mixture.
Bake one hour and serve with whipped cream.
This upside down rhubarb cake is very easy and is sure to be a hit with anyone who enjoys rhubarb. Thankfully my mom has a thriving rhubarb plant so in the late spring and early summer when she is harvesting rhubarb, I always get a bag full of the tart red stalks. These
rhubarb muffins
have become another family favorite!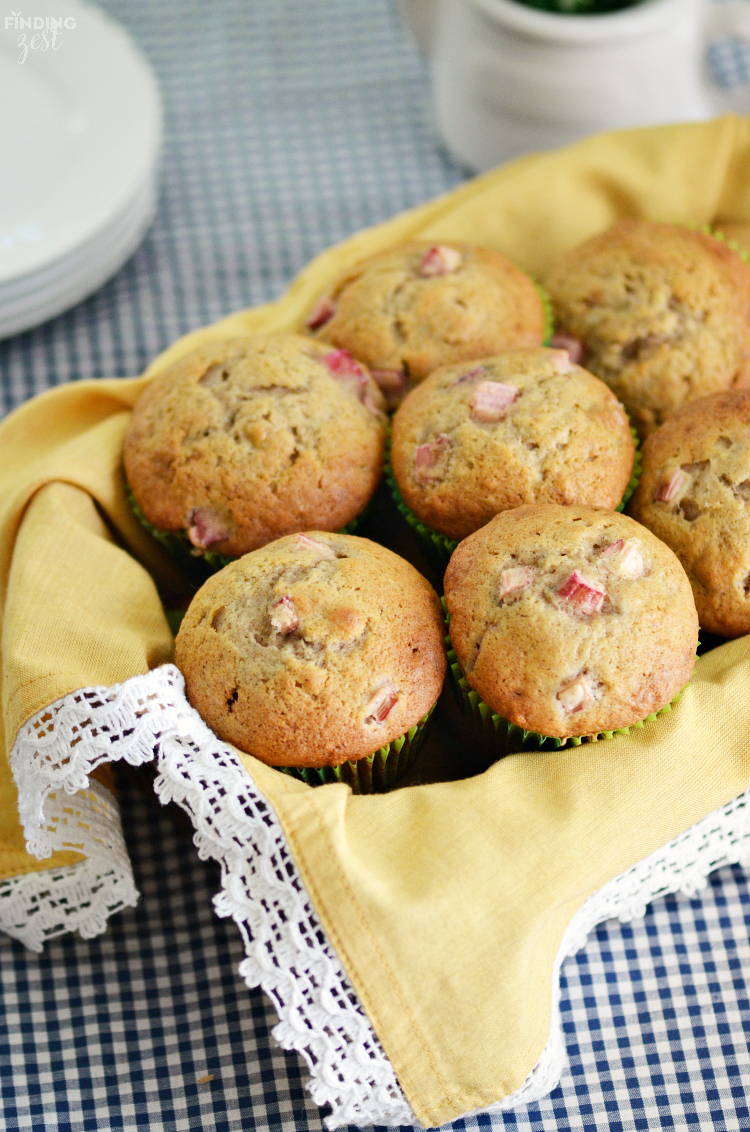 If you give this recipe a try, let me know what you think!