Tropical Mermaid Punch Recipe (Non-Alcoholic)
This mermaid punch recipe is a colorful and refreshing drink for your mermaid party, ocean themed party or pool party. But it also is just a great tropical summer drink featuring lemonade, pina colada mix and pineapple juice! Regardless of whether you serve it for a special occasion or as a way to cool off on a hot day, everyone will love the fruity flavor combination found in this mocktail!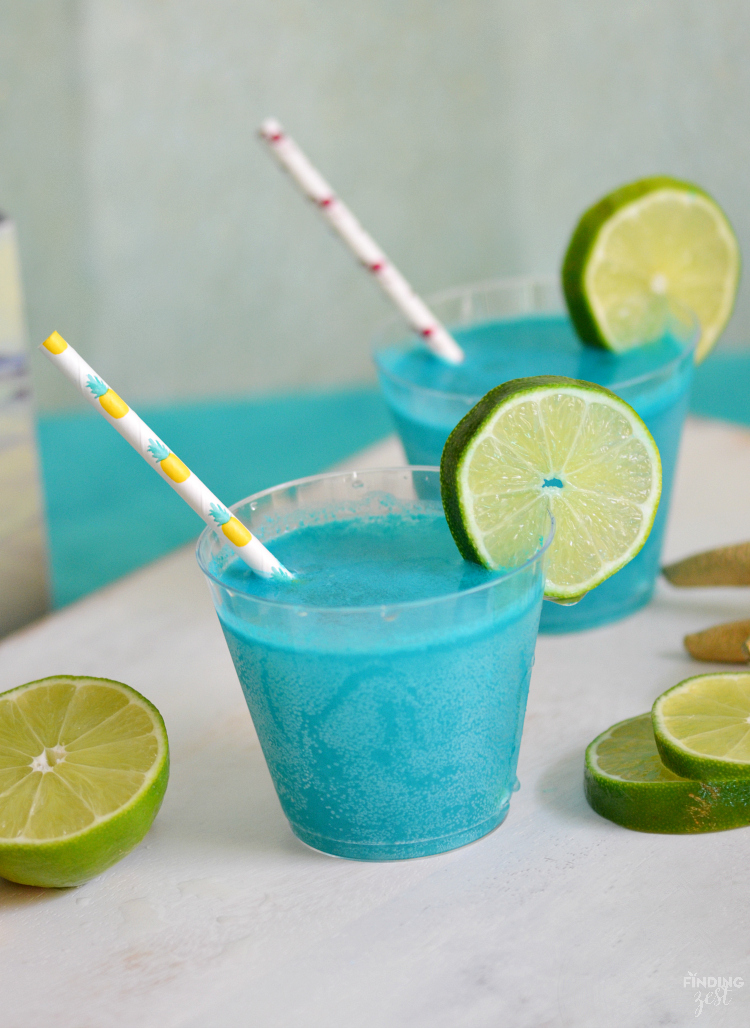 More mermaid party ideas? Absolutely. Although this tropical punch really works well for any summer party like a luau or pool party, just as well. And yes, it is very blue. Normally I try to stay away from adding dyes but to get blue drinks you are typically adding a dye or buying a product that already has it added. So for this mocktail, we threw caution to the wind and felt the two drops of dye for a special occasion drink was worth it to get this bright blue mermaid punch recipe. I love making blue mermaid drinks like this mermaid hot chocolate and this mermaid shake.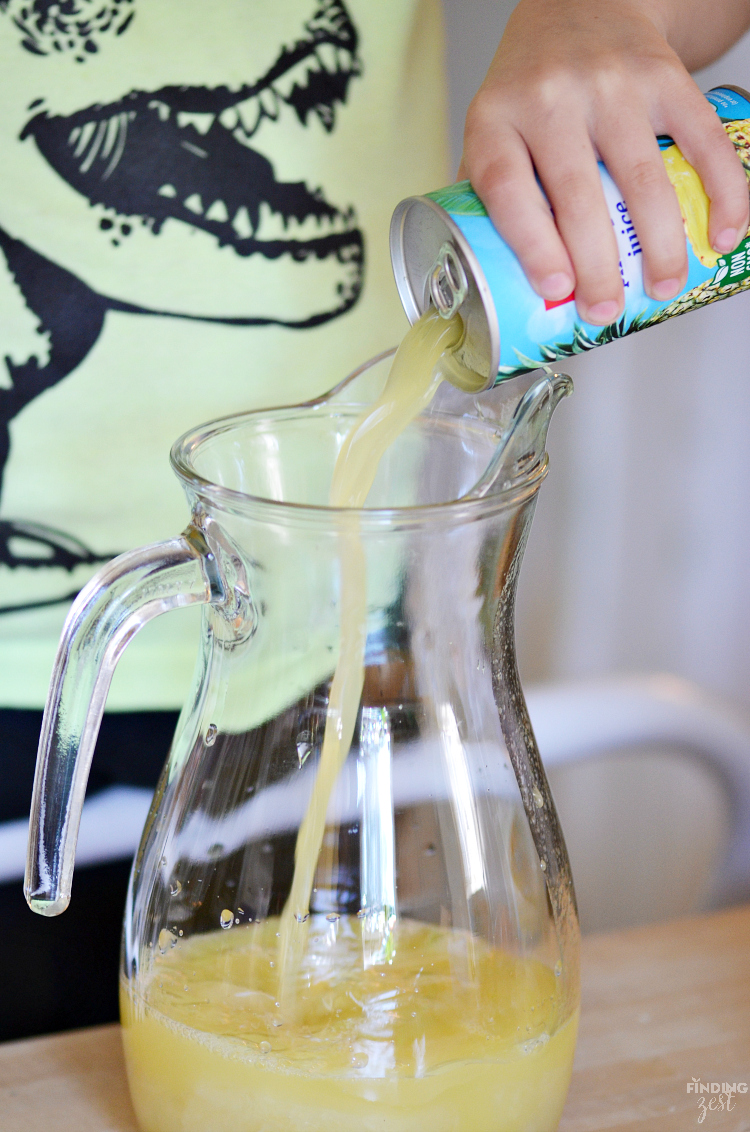 Tropical Mermaid Punch Ingredients:
To make this blue punch, you'll need the following simple ingredients:
lemonade concentrate: This is found in a can in the frozen section of your grocery store.
pina colada mix concentrate: This can be found in the frozen drink section near other juice concentrates in your local grocery store. I used the Bacardi brand.
pineapple juice: You can use a can or bottle, whichever you have available.
sparkling water: A lemon-lime soda can be substituted but the extra sugar is not needed.
lime slices: Can also use other fruit garnishes such as pineapple wedges, orange or lemon slices, maraschino cherries, etc.
blue dye (optional)*
I wanted a no-sugar added option to create a sparkling punch. Instead of soda we opted for lemon and lime flavored unsweetened sparkling water. You can use plain sparkling water as well but we always have this on hand. There is plenty of sweetness from the other products in the punch that soda just isn't necessary.
*If adding dye isn't for you, no worries! This tropical punch recipe is pretty light yellow that can be served just like this.
Why Use Frozen Lemonade Concentrate in Punch?
In place of freshly squeezed lemon juice or any other additional ingredients, frozen lemonade concentrate offers both a sweet and tart flavor. In addition, the frozen concentrate can be conveniently stored until it's needed, and then thawed and added to the punch in a matter of minutes. I especially like the frothy texture it provides any punch!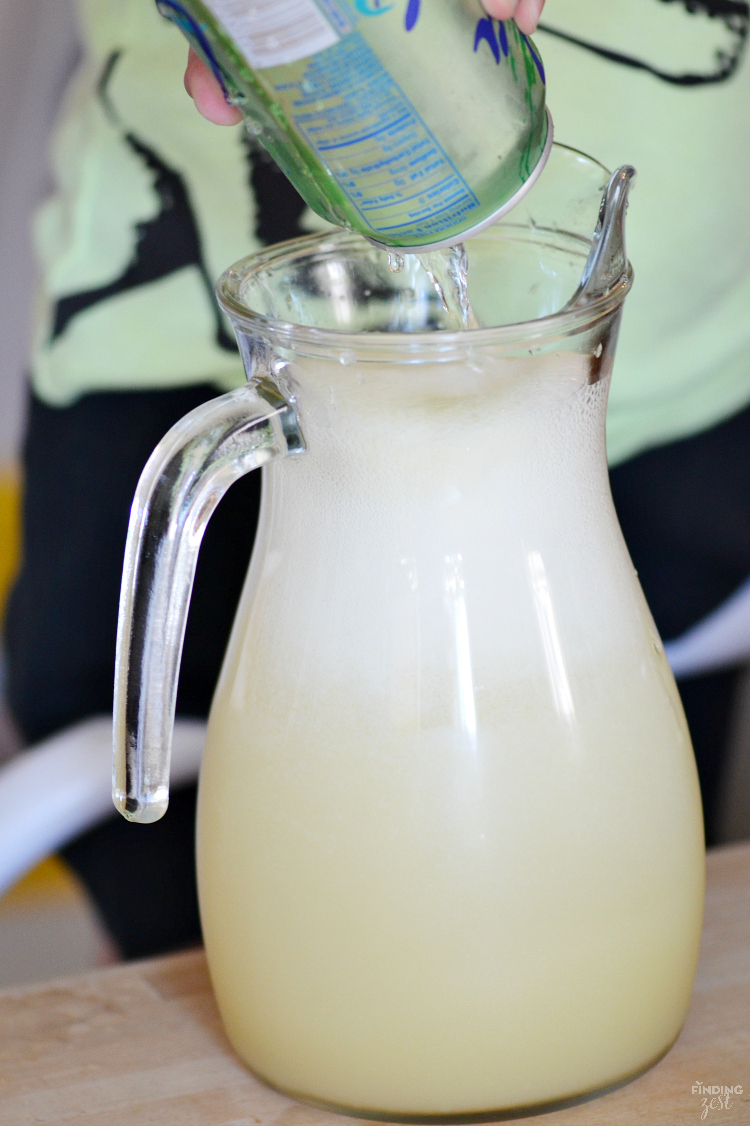 How to Make Mermaid Punch
To make this simple blue pool drink, start by stirring together lemonade concentrate, pina colada mix, pineapple juice and water in a large punch bowl or pitcher until well combined. Add in sparkling water and blue dye if desired. Serve immediately and garnish with lime slices, fun straws and even an umbrella pick if desired.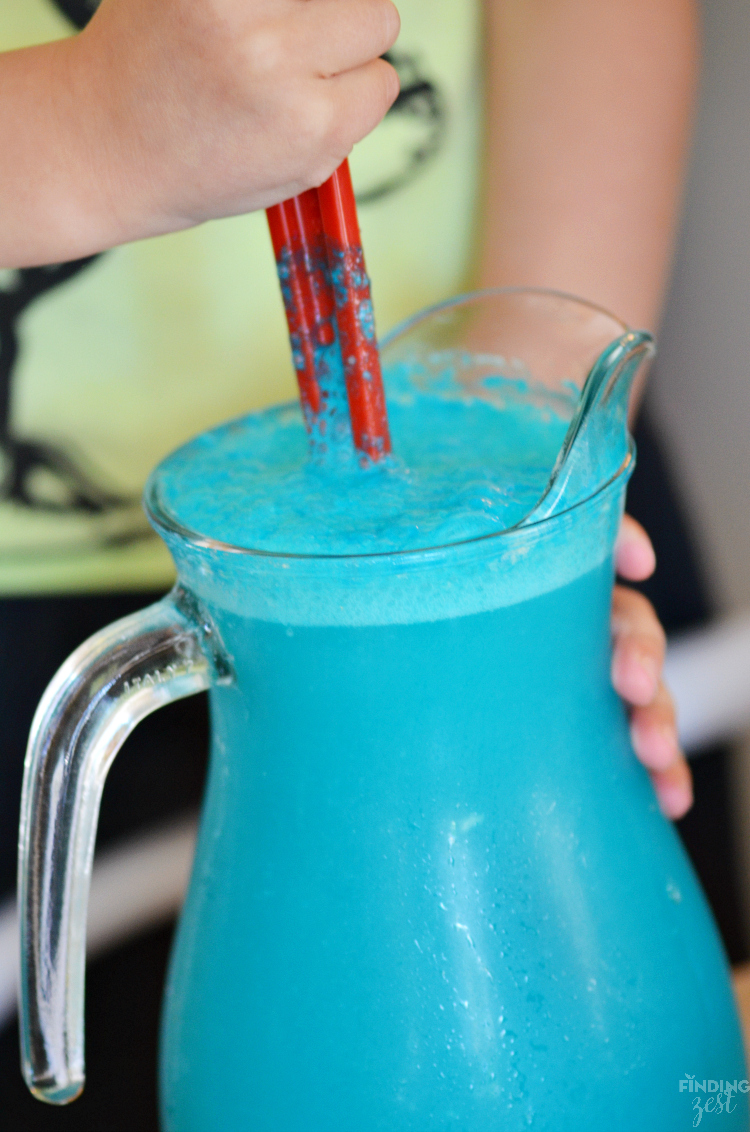 Blue Color Dye in Drinks
I used the color right system from Wilton which I LOVE for accuracy and bright colors to make our mermaid punch blue. It includes an awesome guide that shares how many drops of each dye you need to achieve a particular color. If you don't already have this, I recommend getting it from Amazon. It is a lot cheaper there than local craft stores.
Wilton Color Right Performance Color System, 601-6200
Wilton Color Right Food Color System Refill, .7oz, Blue
I did add two drops and I think one would have been sufficient.
This punch foams up naturally so it works great to mimic ocean water. Lemons, lime or pineapple would work great for garnish.

Need some fun party straws?
Outside the Box Papers Under the Sea Theme Polka Dot Paper Straws 7.75
Let's Be Mermaids Paper Straw Decor – Baby Shower or Birthday Party Striped
Outside the Box Papers Pineapple Theme Paper Straws 7.75 Inches 100 Pack Yellow,
Paper Straws Party Decoration Biodegradable Drinking Straws-Flamingo Pattern ,7.75inch,Pack of 100
The flavors in this punch are awesome!!! My kids absolutely loved it. If you need a fun, tropical mocktail, this recipe is for you!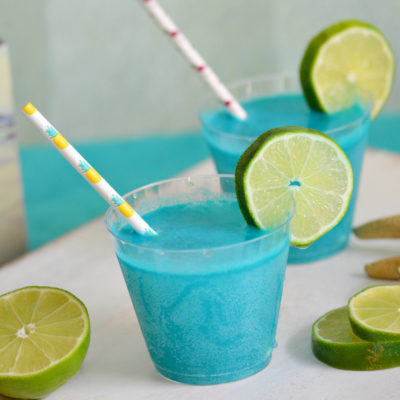 Tropical Mermaid Punch Recipe
This non-alcoholic mermaid punch recipe is the perfect addition to your mermaid birthday party or next summer gathering. A refreshing drink option, this blue punch features lemonade, pina colada mix and pineapple juice. No soda required! Serve it up at a ocean themed party, luau, pool party and more!
Ingredients
12

oz.

can lemonade frozen concentrate

12

oz

can Pina Colada mix frozen concentrate

1 1/2

cups

pineapple juice

6

cups

cold unsweetened sparkling water

can be citrus or other tropical flavor

2

cups

cold water

1 to 2

drops blue dye

optional

limes for garnish
Instructions
In large punch bowl or pitcher, stir together lemonade concentrate, pina colada mix, pineapple juice and water until well combined.

Add sparkling water and stir in dye.

Serve immediately.

Garnish with lime slices.
If you love mermaids, be sure to check out our Under the Sea Fruit Salad and Mermaid Rice Krispie Treats!

What have you been up to with your mini chefs this week?
I am hosting Mini Chef Mondays along with 4 fabulous bloggers, so be sure to visit them this week as well!